YouGov operates an online panel of over 5 million respondents in 38 countries worldwide across the UK, USA, Europe, the Nordics, the Middle East, North Africa, South Asia and Asia Pacific
The panel delivers continuous access to an engaged, responsive audience profiled on important demographic, attitudinal and lifestyle attributes. This ensures that we can execute a wide range of projects – from urban representative samples to re-contact surveys with hard-to-reach audiences.
The largest pure research online panel in MENASA
We have hundreds of thousands of panelists providing truely diverse opinion across 21 countries in the Middle East, North Africa and South Asia.
Benefits of using the YouGov panel in the region include:
The highest survey response rate in MENA
We have a high quality and engaged panel with a 30%+ response rate – the highest in the region.

Representative samples with thousands of profiles
Our respondents represent a wide range of ages, socio-economic groups and other demographics which allows us to access hard to reach groups and create nationally representative online samples.

Fast turn around
A pre-screened panel significantly speeds up the research process - we can achieve 1,000 responses in the UAE, Saudi Arabia and Egypt within 7 days.

Accuracy and honesty
We can achieve greater accuracy and honesty from respondents - there is no middle-man or third party to influence answers.
FIND OUT HOW THE PANEL WORKS
---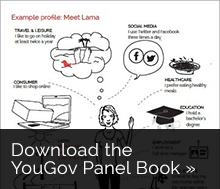 WHAT DOES IT MEAN TO BE A YOUGOV PANELIST?
---