Google tops chart with 'Top Buzz' & 'Buzz Improvement' scores in mid-year review
New entrants from the finance sector, Visa, Mastercard & Emirates NBD, in the 'Top 10 Buzz Improvement'
New entrant Samsung ranks second on Buzz list
Dubai, UAE: YouGov released the UAE 2013 Mid-Year BrandIndex Rankings today. YouGov evaluated the consumer perception of these brands using BrandIndex, a daily measurement of brand perception among the public which assess more than 500 brands across 20 different sectors. The brands were rated using BrandIndex's Buzz score, which asks respondents: 'Have you heard anything about the brand in the last two weeks, through advertising, news or word of mouth, and if so, positive or negative?' Buzz scores measure recent brand sentiment and also indicate the direction of recent awareness
According to the 'Top 10 Buzz' rankings, Google leaped five positions, from sixth to first place making it the top-ranked brand in the UAE with an overall Buzz score of 61.4 points. Samsung, a new entrant on the Buzz list launched some of their most anticipated smartphones in the last year, landing the brand in second place with 60.2 points. Emirates Airlines dropped three ranks, from first to third position with 59.1 points compared to 2012 Mid-Year BrandIndex Rankings. Meanwhile, Dettol took a dip to the fifth position this year from the second position last year, scoring 47 points.
All brands on the 'Top 10 Buzz Improvement' mid-year list are new entrants. With Google Glasses making attracting lots of attention in the MENA region, the Google brand witnessed the biggest increase in Buzz score this year with an improvement of 21.4 points. Financial services brands, Visa, MasterCard & Emirates NBD witnessed Buzz score increases by 17.3, 12.2 and 11.4 points respectively, earning them the second, fourth and fifth position. Samsung made it to the third position with an improvement in the Buzz score by 16.4 points, owed to the success of the campaigns for their new smartphones launched in the first half of 2013.
The Buzz Rankings chart shows the brands with the highest average Buzz scores between January 2013 and June 2013. The Buzz improvers chart ranks the brands with the highest increase in Buzz between January 2013- June 2013 and the same period in 2012. Both scores are representative of this segment.
Mid-year Buzz Scores UAE: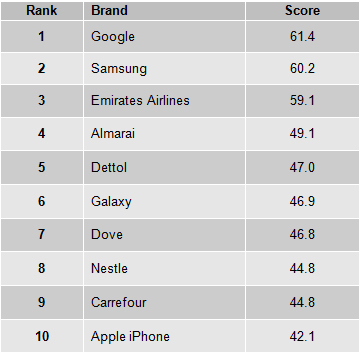 Mid-year Buzz Improvment Scores UAE: