Food becomes a central focus during the Holy Month of Ramadan for Muslims all over the world, and in the UAE it is no different. Iftaar, the meal breaking one's fast, is often comprised of several specialty dishes and is seen as a time for families and friends to eat together.
According to the recent online YouGov Ramadan Survey, which surveyed 1520 Muslims living in the MENA region, 80 percent of online respondents in the UAE prefer to break their fast at home, with another 7 percent preferring to eat at a family member's home. For many families, this translates to a sharp increase in their weekly grocery budget.
Using YouGov's BrandIndex, a daily measure of brand perception, we assessed the impact of Ramadan on the UAE's major grocery retailers, taking a look at which retailers performed best during Ramadan this year. Comparing three of the BrandIndex measures, 'Buzz', 'Value for Money', and 'General Impression', YouGov evaluated the perception of grocery retailers among the general public.
Carrefour fared best during Ramadan in terms of both overall Buzz score and Value for Money score, with 56.2 and 57.9, respectively. Because of the retailer's general high scores in these categories, Carrefour was not impacted as severely as other retailers. The brand most affected by Ramadan is Lulu's Hypermarket, witnessing an increase in Buzz score of 15.6 points to reach 51.6 during the first two weeks of Ramadan. However, the brand also witnessed a drop of -18.6 points in its Value for Money score during the same period, indicating that consumers perhaps would have liked to see further reductions during the Holy Month. Union Co-op saw the largest increase in Value for Money score, increasing 4.8 points to 32.8 during the first two weeks of Ramadan. The Holy Month had the most positive effect on the General Impression score of brands HyperPanda and Géant with an increase of 3.9 and 3.3 points, respectively.
Grocery Retailers: Buzz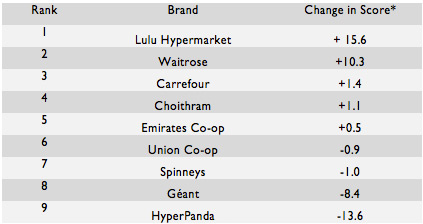 Grocery Retailers: Value for Money