The recently announced acquisition of mobile phone business of Nokia by US behemoth Microsoft has perhaps been on the cards ever since, soon to be ex Nokia CEO, Steven Elop announced in 2011 that the once mighty Nordic conglomerate was abandoning its own operating system to develop phones based on Windows platform. Following news of the deal, YouGov's Global CEO and founder, Stephan Shakespeare conducted an analysis on the rise and fall of Nokia's brand, using YouGov's BrandIndex – his article can be found here.
In the UAE, the long decline of the Nokia brand is just as pronounced but interestingly, there was a brief upturn earlier in the year for both Nokia and another once mighty manufacturer, the equally troubled Blackberry. Not coincidentally, 2013 saw a big push from both manufacturers as they sought to wrest back market share (Nokia with its Lumia and Asha ranges) and BB with its updated OS and Q10/Z10 phones.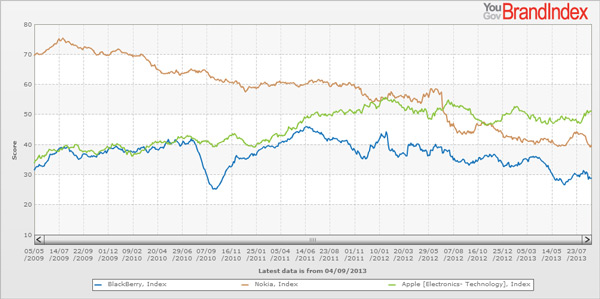 At the launch of BrandIndex in the UAE (May 2009), Nokia's Overall Brand Health (Index) stood at +70 and Blackberry's at +32 (although it did reach a high of +46, midway through 2011). Our latest BrandIndex figures show Nokia at +40 (bouncing off a low of -39 the previous week) and Blackberry at +29 (having dipped to a low of +25 in 2010, following the threat of a ban in the UAE and +26 in early 2013).
Perhaps most interesting of all though is the comparatively high score of the Nokia brand, despite its much publicized woes and missteps versus Apple. Granted, at the start of 2009, Nokia held a lead of 35 points & Apple is now ahead by 11 points, but the relatively small gap will surprise many. Recently, the Finnish firm's brand has been able to stay in range due to a combination of its raft of new devices and no significant recent releases from the Cupertino firm. Despite the perilous state of the company that led to its sale, the Nokia brand is not dead (according to both our BrandIndex data and the terms of the sale) & may yet spring some surprises, despite its change of ownership.