Etihad Airways, the National Airline of the UAE, is considered to be one of the fastest growing airlines in the history of commercial aviation. Following a spate of new initiatives by Etihad recently, YouGov evaluated the perception of the brand for the month of May using BrandIndex, a daily measure of brand perception among the public, using the key brand health indicators: 'Buzz' and 'Attention'.
Etihad Airways' launch of on-board hotel-style suites featuring a bedroom, private bathroom and a dedicated butler on the Airbus A380 has pushed luxury to a sky-high new level. This launch, followed by other announcements has contributed to an increase in the brand's Buzz score.
Buzz, which measures recent sentiment generated across all media (advertising, news, or word of mouth), is assessed by asking respondents, 'Have you heard anything about the brand in the last two weeks, through advertising, news or word of mouth, and if so, was it positive or negative?'
At the start of April 2014, Emirates Airline's Buzz score was ahead of Etihad Airways by 23.3 points. However, Etihad Airways witnessed a jump in its Buzz score from 25.5 points on May 4th to 40.2 points on May 19th, closing the gap between the airlines, and putting Emirates now just 1.6 points ahead.
From launching new luxury cabins, to displaying world-leading innovation at the Arabian Travel Market, the largest annual travel and tourism event in the region, Etihad Airways has been raising its profile in the region recently.
Other key announcements made at the start of May included the launch of a new website providing UAE guests with a one-stop-shop that enables them to search, create, and book tailor-made holidays at any time of the day, winning various awards and strengthening their network by launching new routes. In addition, Etihad Airways launched a free parking promotion at Abu Dhabi international airport and supported this launch with a range of advertising, including outdoor.
Following these announcements, Etihad Airways' 'Attention' score witnessed a considerable upswing from 31 points on 3rd May to 43.4 points on May 19th. 'Attention' measures anything the public has heard about the brand.
Etihad Airways v Emirates: Brand Buzz Score 1 April to 19 May 2014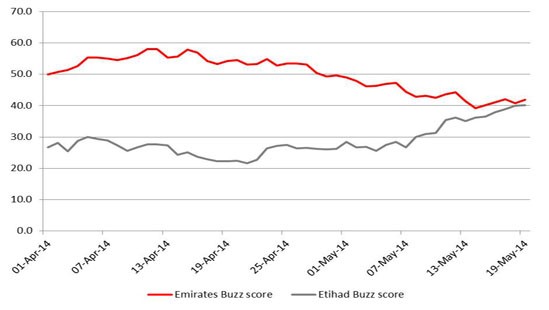 Etihad Airways v Emirates: Brand Attention Score 1 April to 19 May 2014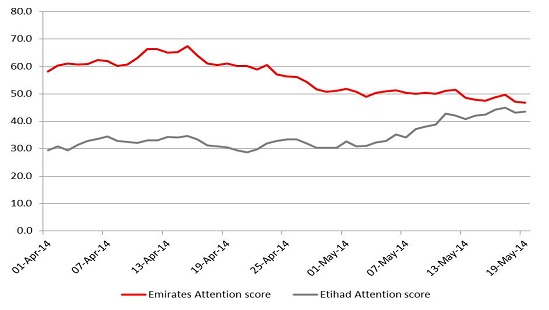 Scores are based on a 2 week rolling average.
YouGov BrandIndex scores range from 100 to -100 and are compiled by subtracting negative feedback from positive. A zero score means equal positive and negative feedback.