The Indian Premier League (IPL), a Twenty20 cricket tournament where different franchise teams participate for the title, is considered to be the most watched cricket league in the world. IPL, known for its commercial success, has benefited its sponsors by increasing brand awareness rights through association with the cricket league.
After PepsiCo bagged the helm of IPL sponsorship as title sponsor for five years from 2013, the Indian Premier League was named Pepsi-IPL. To evaluate the impact of the IPL on consumers' perception of PepsiCo, YouGov used its proprietary brand health tool BrandIndex, to track perception of the brand among the public throughout the tournament in the UAE.
BrandIndex evaluated the PepsiCo brand in the UAE using two key consumer perception metrics, a 'Word of Mouth Exposure' score and an 'Attention' score. Both metrics showed a positive increase during the Pepsi-IPL matches that were played in the UAE, before the tournament returned to India in May.
Looking at the BrandIndex 'Attention' score, which measures whether people have heard anything about the brand over the past two weeks, the score for PepsiCo increased from 35.6 points on 3rd April to 43.6 points on 15th April. The brand maintained an average of 43 points for the period when IPL matches where being played in the UAE, from Wednesday 16th April to Wednesday 30th April.
IPL title sponsorship rights include a number of branding and marketing benefits at every IPL match. With this, PepsiCo not only increased its brand awareness, but there was a strong impact on word of mouth exposure in the region as well. The BrandIndex 'Word of Mouth Exposure' score, assesses brands by asking respondents, 'Which of the following brands have you talked about with friends and family - whether in person, online or through social media?'
PepsiCo witnessed a jump in its 'Word of Mouth Exposure' score from 23.3 points on April 1st to 33.2 points on April 16th with the opening of the first IPL match in Abu Dhabi. YouGov data shows that PepsiCo continued to maintain a high 'Word of Mouth Exposure' score in the UAE throughout the 15 days in which matches were played in Abu Dhabi, Dubai and Sharjah.
PepsiCo's increased brand awareness and word of mouth exposure among UAE residents throughout the event displays how the IPL continues to rival any other sporting brand across the world. Despite some concerns over staging the tournament outside its home country, with proximity to India, the UAE has proved to be a good move for the Indian Premier League and its title sponsor.
PepsiCo Attention Score 15 March to 14 May 2014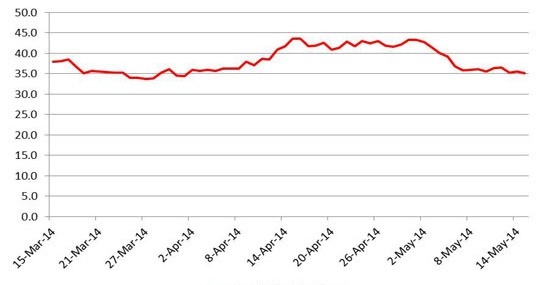 PepsiCo Word of Mouth Exposure Score 15 March to 14 May 2014