The announcment of Jennifer Aniston as the new brand ambassador for Emirates Airline has had a profound effect on the brand's word of mouth exposure among UAE resident's friends and family.
According to new data from YouGov's daily brand tracker BrandIndex, at the time the signing of the Hollywood actress was publicised in early August 2015, Emirates Airline's word of mouth exposure scores increased in the UAE, particularly among females.
Emirates Airline UAE Word of Mouth Exposure Scores: 1 - 30 August 2015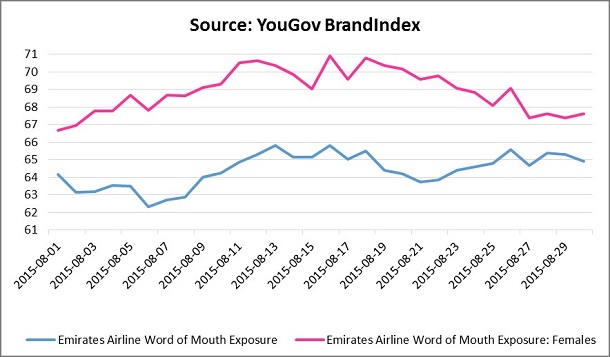 Word of mouth exposure is assessed by asking respondents, 'Which of the following brands have you talked about with friends and family in the past two weeks (whether in person, online, or through social media)?'
As demonstrated by BrandIndex, bringing one of the world's hottest Hollywood stars on board holds fierce potential for Emirates Airline as it continues its mission to become the ultimate lifestyle brand among consumers worldwide. The announcement looks to have held particular appeal as a talking point among females in the UAE, with word of mouth exposure scores increasing from 66.7 on 1 August to a high of 70.9 out of 100 on 16 August 2015.
Emirates Airline has been consistently demonstating its ability to resonate well among UAE residents in recent months by dominating the BrandIndex Top 10 UAE Buzz Rankings in 2015 so far, announced last month by YouGov. BrandIndex Buzz measures recent brand sentiment and indicates the level and direction of recent awareness (positive or negative) about a brand.
The high profile endorsement from Jennifer Aniston comes just months after fellow National UAE airline Etihad Airways caused a stir with the launch of its 'Flying Reimagined' campaign starring its own glamourous ambassador, fellow Hollywood actress Nicole Kidman.
With Eithad Airways also featuring in the BrandIndex Top 10 Buzz Rankings, debuting with the most improved brand Buzz in the UAE for the first half of the year, it will be interesting to see who can maintain postitive momentum in the minds of consumers as Aniston and Kidman battle it out across TV, online and print worldwide.