A recent study into UAE perception of employment prospects indicates that finding a job is the biggest challenge facing the younger generation according to 53% of respondents aged 18 – 34.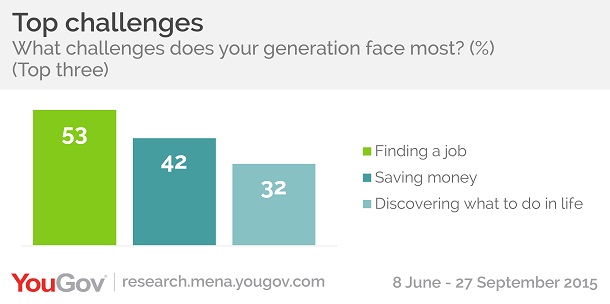 The research indicates that the quality of education is not the route of the problem, in fact youth surveyed claim they are generally satisfied with the quality of college/higher education they received. Qualification of teachers was rated the highest by 76% of respondents, followed by curriculum (70%) and teaching methods applied (66%).
However, interestingly, only 57% of respondents rated 'preparation for employment' highly indicating many feel the current education system is not sufficiently preparing them to enter the workforce. Indeed, 58% also claimed their college or university didn't help them apply for suitable job opportunities.
The overall level of disappointment with the education they obtained was also evident amongst respondents with 71% claiming they would have fared better in the job market with a different major or with a degree from a different school.
That said, whilst college/university may not be suitably preparing students to enter the workforce, the findings also demonstrate students may not be working hard enough to maximize their employment opportunities. Many (39%) claimed they didn't consider the availability of jobs in their chosen field before deciding on a major. Only 56% of respondents claimed they had acquired work experience during or before their time in college, of which 43% had acquired six months or less.
When considering the job landscape, young people in the UAE have a fairly pessimistic view of the availability of jobs for fresh graduates in the country, with most rating this as either 'moderate' (31%) or 'low' (52%). Alarmingly, most (61%) rated their ability to find their first job as difficult, almost a third of whom rated findings a job as very difficult.
Nevertheless, results suggest youth still believe in the value of education, with the majority of respondents (63%) claiming they plan to pursue higher education themselves in the future. Respondents also claimed further education is the most popular avenue their close friends plan to explore in the future (40%), followed by private sector employment (38%) and public sector employment (30%).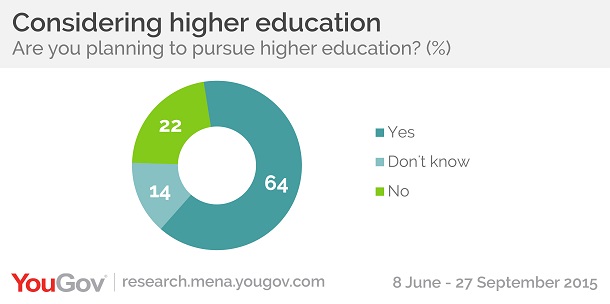 The study found that flexible learning is the most popular method of pursing further education amongst respondents, indeed 48% claimed executive education with a university which provides flexible evening and weekend classes while working as their most favored option to study for their future career.
Joao Neves, Senior Research Director for Education and Human Development at YouGov, commented, "Many UAE students are clearly leaving university or college unprepared to join the workforce. Given the shear scope of the region's youth and the ambitious vision demonstrated by their attraction to higher education, it is imperative young people feel empowered to meaningfully contribute to the growth and prosperity of their economies."
"Higher education institutions and the private/public sector need to collaborate much more closely to define the skills gaps, likely industry growth areas, and degree types their countries require to prosper, and heavily communicate these to students, graduates and young professionals. In turn this information will help inspire and prepare youth to take greater responsibility to seek the best avenue for happy, long term employment."
Joao Neves will be delivering the research findings at Education Investment MENA in Dubai on 17 November 2015, where educators, regulators and investors will meet to discuss the future of education across the MENA region.
Research conducted online by YouGov amongst 596 UAE residents aged 18-34 between 8 June and 27 September 2015. Data is broadly representative of the urban online population aged 18-34 in the UAE.