Each month, we'll be assessing which brands in UAE, KSA and Egypt have had the biggest uplift in Advertising Awareness.
This month, Dubai's Global Village has shown the biggest improvements in its advertising awareness, according to BrandIndex – YouGov's daily brand tracker. With the attraction's 21st season beginning this month, there are multitudes of new pavilions including the all new Far East pavilion, the Algeria pavilion and the Eastern Europe pavilion.
BrandIndex's Advertising Awareness score, which measures whether respondents have seen any advertising for a brand in the past two weeks, shows a sharp increase for Global Village over the last month.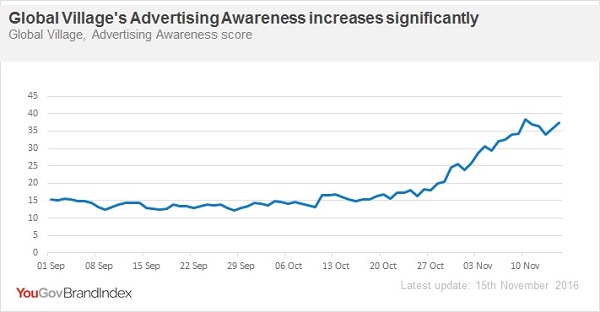 Whether through the fireworks show on Thursday and Friday nights, the Friday parade, the radio advertisements or the various press campaigns Global Village has run, it seems that a large portion of UAE residents are aware of the attraction's reopening.
Of course, high levels of advertising awareness are not the final goal of the brand; increasing visitors is. According to BrandIndex's Consideration score – which measures whether respondents would consider visiting an attraction – Global Village's potential future customers have also seen a marked increase.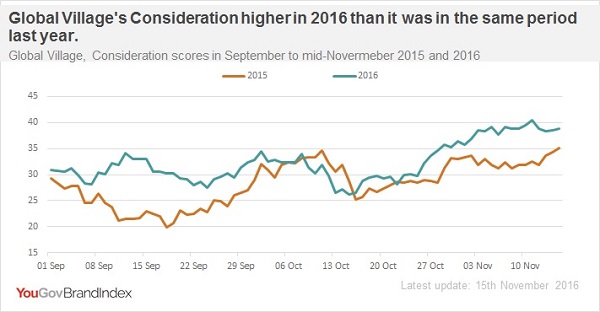 This is especially true in comparison to the same period in 2015, with the 2016 scores largely higher since mid-October, and continuing to increase.
As such, it seems that the brands intense advertising campaigns have borne fruit, at least when it comes to capturing the UAE residents' interest in visiting Global Village. How many people decide to actually visit the attraction this season, remains to be seen.
Image from GlobalVillage.ae