Nokia has been creating quite bit of buzz in recent months with a recent licensing agreement for HMD Global, and the launch of their new Android phone in China capturing the region's attention
As one of the oldest surviving mobile brands, Nokia has seen competitors rise and fall in recent years, but has failed to recapture the position it once held in the sector. Things seem to be back on the rise however, with the recent licensing of Nokia's smartphone brand by Finnish start-up HMD Global seeming to add some zeal back into the brand.
The YouGov BrandIndex Buzz score, which measures whether respondents have heard anything positive about a brand in the past two weeks, shows a significant uplift for Nokia in the past month, seeing an increase from +7.4 Buzz in the beginning of January, to +13.0 in mid-February.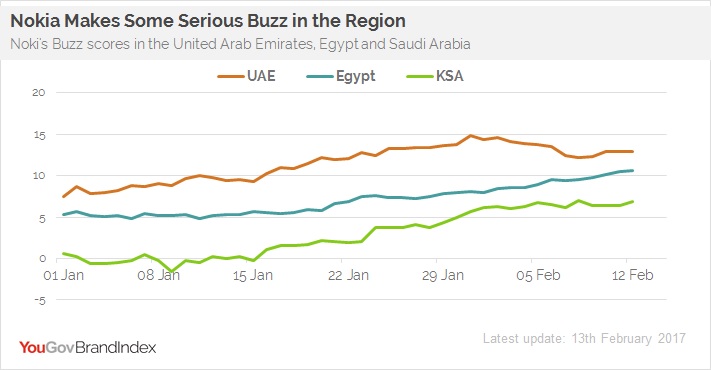 This increase isn't limited to the UAE however, with the brand showing substantial gains in Buzz in Saudi Arabia and Egypt, increasing from +0.6 to +6.9 in Saudi Arabia and +5.3 to +10.6 in Egypt. These spikes were likely caused by the global PR campaigns run by HMD before and after the release of their new Nokia 6 in China, the brand's first Android phone, which also resulted in a great deal of interest on Social Media.
While HMD seems to have captured the region's consumers' attention, it's also important to measure how this has affected Nokia's long-term image. Looking at BrandIndex's Recommendation and Impression scores – which measure whether respondents would recommend a brand and whether they have a positive impression of the brand, respectively – from respondents who are aware of the brand, shows significant increases for Nokia in the UAE.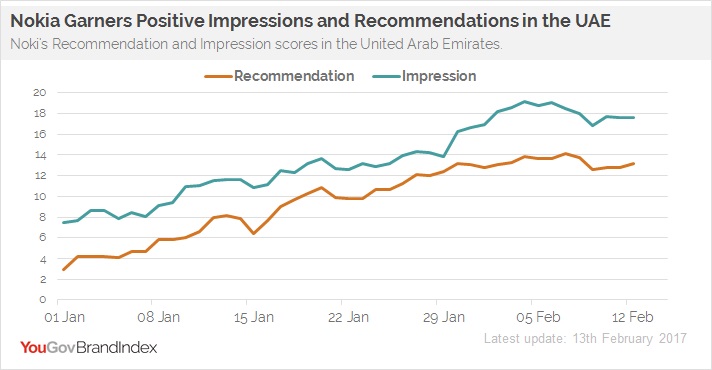 Nokia's Recommendation score increased from +2.9 in the beginning of January, to +13.2 in mid-February, while the brand's Impression score rose from +7.5 to +17.6 in the same time period, showing a positive outlook for the brand's image.
As such it seems that HMD's strategy of focusing largely on global PR and refocusing on Nokia's Nordic roots has begun to pay off, with the brand looking set to gain some ground in the competitive mobile phone market. The extent of Nokia's ability to compete with the other big names in the industry however remains to be seen, and depends on the success of the brand's new flagship Android device that is set to launch later this year.