Each month, YouGov assesses which brands in UAE, KSA and Egypt have had the biggest uplift in Advertising Awareness.
This month, Air Arabia in the UAE has shown the greatest increase in Advertising Awareness, according to BrandIndex – YouGov's daily brand tracker. While Air Arabia's scores have generally been buoyed by continuous online and offline campaigns, new communications in February focused on new products such as the Air Arabia Value Fare, and the sale of 500,000 flight tickets starting from 99 AED have caused a further surge in the budget airline's Advertising Awareness. Additionally, although the '99 AED' tickets campaign lasted only one week, it seems to have driven perceptions of value well beyond its conclusion.
BrandIndex's Advertising Awareness score – which measures whether respondents have seen any advertising for a brand in the past two weeks -- shows a dramatic increase for Air Arabia from 26.9% on first of February to 33.3% by first of March.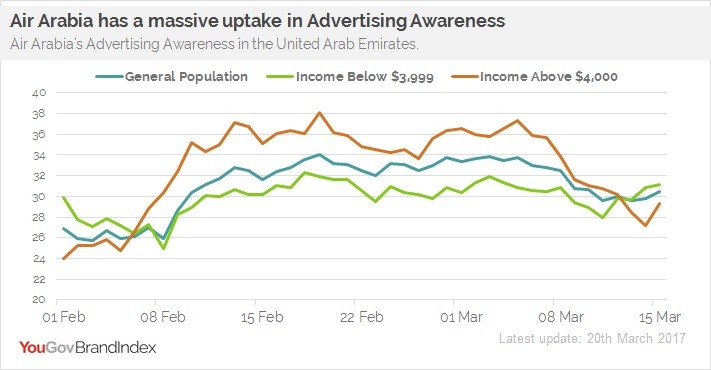 This trend is especially interesting when filtered by income, showing a much larger increase for those earning $4,000 and above per month (from 24.0% Advertising Awareness on the first of February to 36.6% on the first of March), in comparison to those earning $3,999 and below (from 29.9% to 30.4% in the same time period).
Accordingly, it can be seen that Air Arabia's continuous advertising, combined with eye-catching promotions and offers, have been noticed by the UAE consumers. However, increasing sales, as well as improving long-term brand perception, would likely be the ultimate goal of these campaigns.
Looking at consumer perceptions of Air Arabia's Value, as well as growth in Current Customers– which measure whether respondents consider a brand to have good value for money, and whether they have purchased a flight from a brand in the past 12 months, respectively – shows that the brand has succeeded in achieving both of these goals.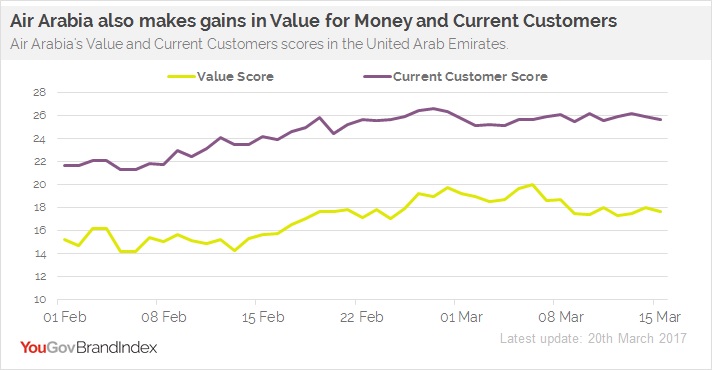 The Brand's Value score rose from +15.2 on first of February to +19.2 on first of March, while the proportion of Current Customers rose from 21.7% to 25.8% in the same time period.
"Air Arabia have grown tremendously in the past few years on a promise of providing value to travellers in a number of Middle Eastern markets. We can see the resonance this positioning has with consumers in the reaction to such an aggressive budget-fare campaign." Remarked Scott Booth, YouGov MENA's Head of Data Products. "BrandIndex shows us an uptick in advertising awareness from the first day of this campaign and allows us to not only track the awareness of the campaign during and after its run, but the lasting impact on brand health."
It is clear that Air Arabia's recent marketing approach not only captured the UAE consumers' attention, but also had a positive effect on one of the budget airline's core branding principles and drove engagement in February. Whether the most recent marketing campaigns will have a long-term positive impact on the brand's image remains to be seen.