New YouGov research reveals what media professionals value most in PR

YouGov's latest research among media professionals across the GCC has found widespread consensus about the value and components of a compelling PR story and the positive impression of PR agencies in the region.
The findings indicate there is clear value in adding research to a press release with eight in ten (79%) media professionals across the region believing that data adds weight to a story. Journalists also see market research as impactful, with nearly three-quarters (73%) agreeing that market research sways public opinion.
As many as three-quarters of those surveyed (76%) say a story with research is more likely to be picked up if it has interesting demographic statistics. Respondents also highlight there are important factors they consider when deciding whether or not to run a story, such as sample size, which is cited as important by 91% of respondents.
Subject title is the most important factor in grabbing journalists' attention
Of media professionals who have PR responsibility, subject title is the factor taken into account by the highest proportion of journalists (51%), making it the most important factor in grabbing their attention. When asked which emailed press releases they choose to read, other important factors include a catchy headline (selected by 50% of respondents) and a familiar sender (chosen by41%).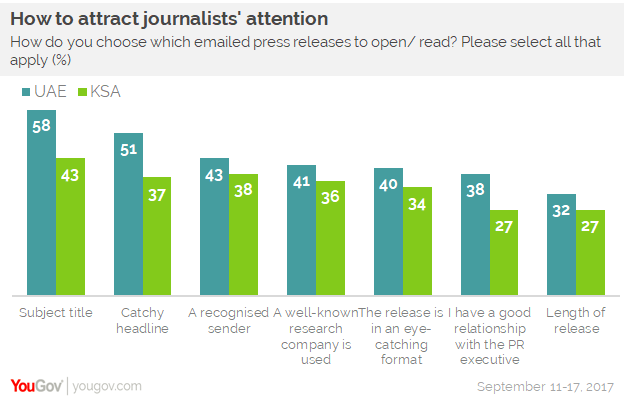 However, priorities differ across the region. For example, media professionals in the UAE are 15% more likely to take into account the press release's subject title and 11% are more likely to value the relationship they have with a PR executive than those in the Kingdom of Saudi Arabia.
Across the region, factors that media professionals say are less important when deciding which press releases take priority include the length of the press release, which just three in ten (29%) say is important, and whether the press release is in an eye-catching format (27%).
Seven in ten say their impression of PR and communications agencies has improved over the past 18 months
The majority of media professionals hold a positive opinion of PR and communications agencies in the region and welcome their contribution to content creation. Overall, 78% of respondents say they are confident PR and communications agencies are truthful and 69% would describe their relationship with them as either "good" or "very good". Furthermore, a third of respondents say that PR and communications agencies are knowledgeable (35%) and/or have a role to play (33%).
As many as seven in ten of those surveyed (71%) say that their impression of PR and communications agencies has improved over the past 18 months. The top reasons include: because they are seen to have a better understanding of the business they are promoting (cited by 37%); their communication has improved (cited by 36%); and that they are more creative (cited by 35%).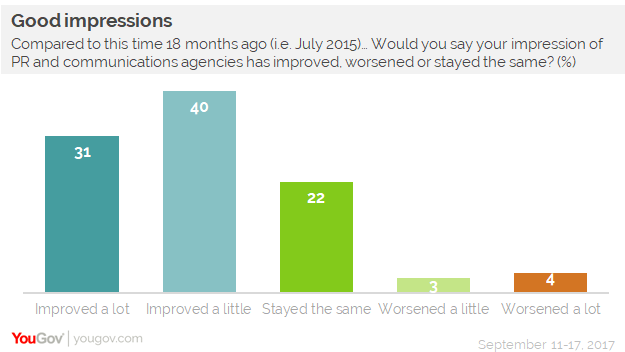 Data collected online between 11 and 17 September 2017 using YouGov's online Omnibus service among 505 media professionals in the GCC.