YouGov BrandIndex shows Vimto had the strongest improvement in Ad Awareness among KSA residents
Throughout the Holy Month of Ramadan, Vimto is the brand that achieved the greatest uplift in its Ad Awareness score (whether someone has seen its advert in the past two weeks) in the Kingdom of Saudi Arabia.
The brand's current campaign, which was shown on Arab Satellite TV, focusses on the connection between the brand and the holy month of Ramadan.
Over the years the soft drink has become a staple beverage to be consumed at Iftar, when Muslims break their fast. This is partly due to the high sugar content which works to quickly restore energy levels in the body and is also a result of the beverages associations with sharing, as the nature of the cordial is that it is prepared for a group to share, which ties in with the togetherness themes of Ramadan.
YouGov brand tracking data shows the campaign has resonated with the general public, with its Ad Awareness score throughout Ramadan increasing by +13.3 points compared to the average of the previous 30 days.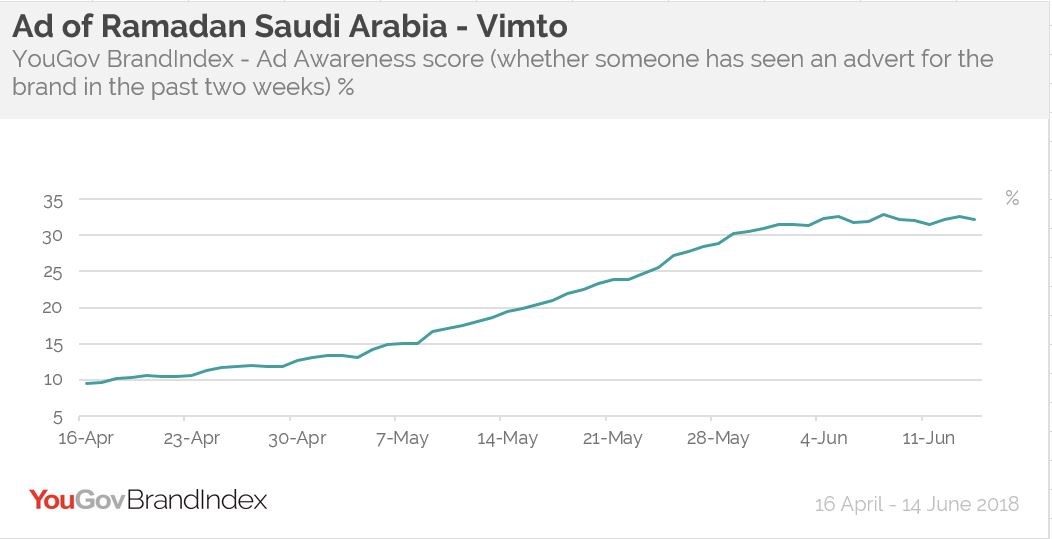 The brand has a huge stake in the concentrated drinks market in Saudi Arabia already, but its recent campaign has seen its Purchase Consideration score (whether someone would consider purchasing from the brand) climb even more, from +14 to +20.
Scott Booth, YouGov's Head of Data Products in MENA said, "Vimto can be pleased to know that their campaign was noticed by residents of the Kingdom of Saudi Arabia and generated significant positive sentiment around the brand during the Holy Month. BrandIndex scores demonstrate the power of the brand's unique and long-earned resonance with the Ramadan period in the market."