Dubai's flag carrier airline continues to have the best brand health among UAE consumers
Emirates again tops YouGov BrandIndex's annual brand health rankings for the UAE. In a list otherwise dominated by digital brands, the airline reigns supreme for the second year in a row.
The airline maintains its dominant position among UAE consumers, sitting ahead of global search engine giant Google, messaging service WhatsApp, and streaming service YouTube.
The rankings are based on the YouGov BrandIndex Index score, which measures overall brand health. The score takes into account consumers' perception of a brand's overall quality, value, impression, reputation, satisfaction and whether consumers would recommend the brand to others.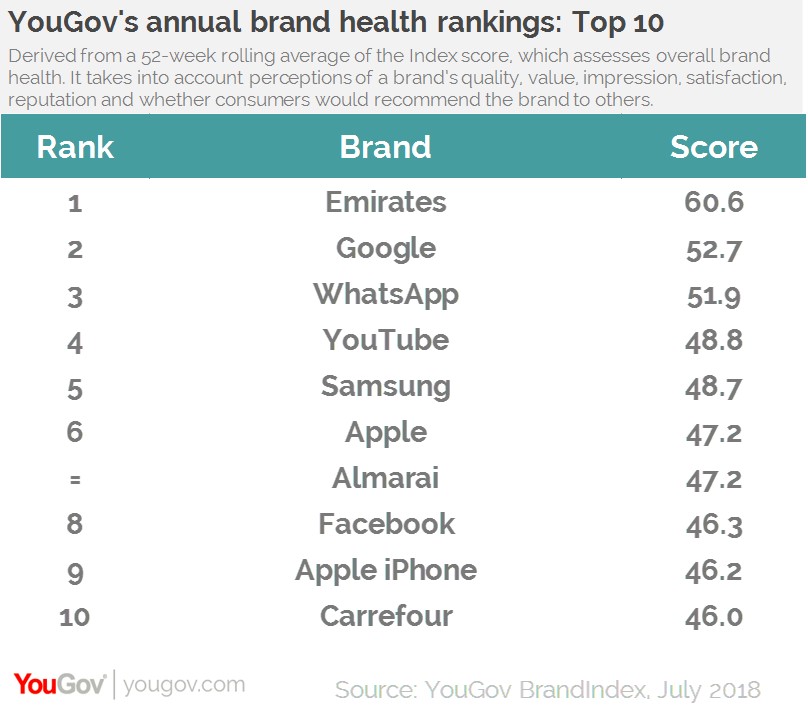 YouGov's data shows that Samsung has seen the greatest improvement in its scores in the past 12 months. The consumer electronics giant has jumped ahead of rival brand Apple to become the fifth most popular brand in the region.
Both device manufacturers launched their high end models, iPhone 8 and Samsung Galaxy S8 & S8+ last year. Apple's iPhone brand makes to the top ten in its own right – coming in ninth – while Samsung's Galaxy brand is one of the top ten improvers, increasing its score by +5.7 points over the past year.
Social media giant Facebook has dropped from fifth to eighth in the rankings in the last 12 months. However, despite this fall it has actually seen an improvement in its score among consumers in UAE compared to a year ago – increasing from 44.2 to 46.3.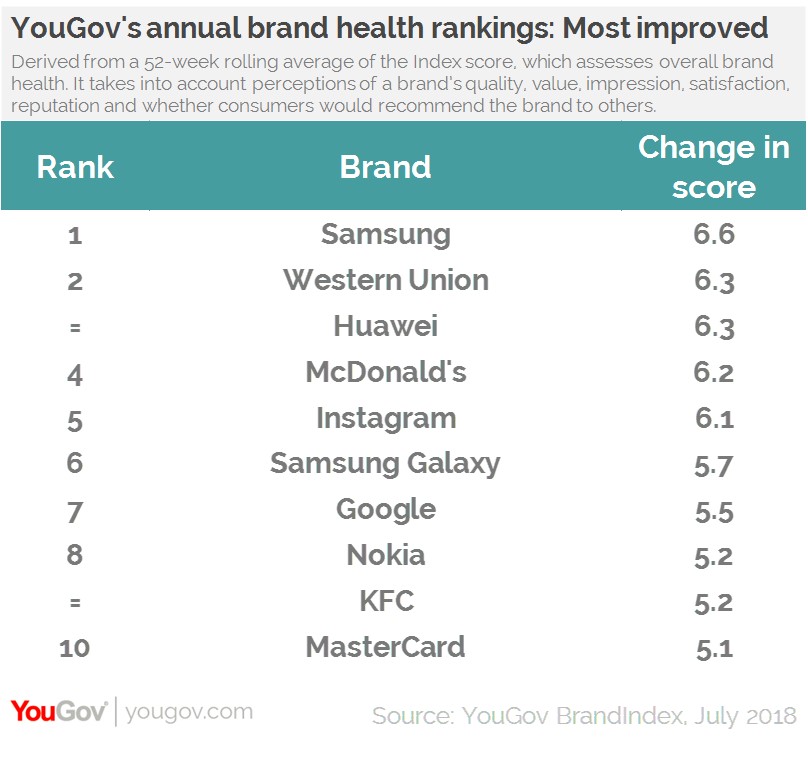 Huawei has seen the third largest increase in its overall brand health. This follows the Chinese device manufacturer opening its first experience store last year to offer customers the chance to see and touch its products.
Global rankings
YouGov also releases the global annual brand health rankings for 2018. These rankings are based on six million interviews conducted in 26 countries.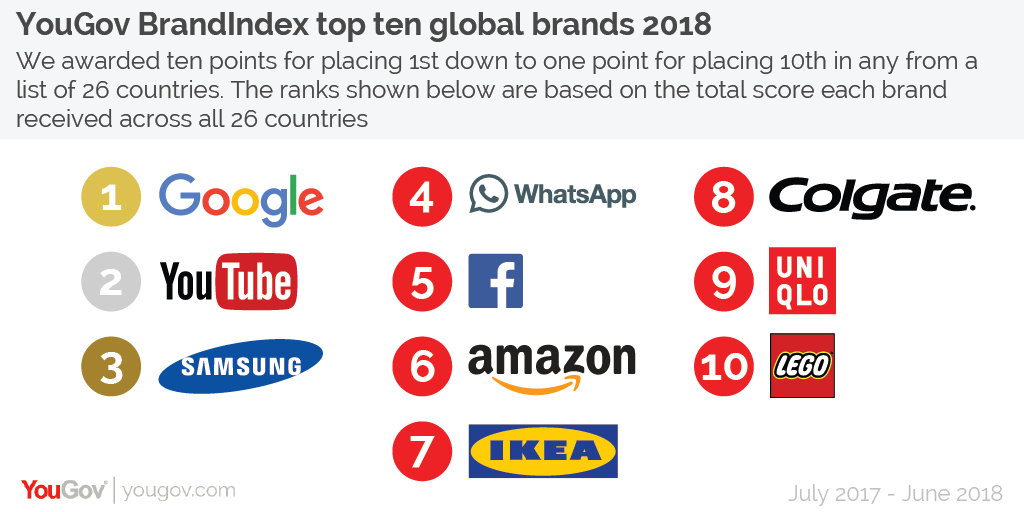 Google tops the annual global brand health rankings, followed by YouTube. Samsung jumps one place from last year, climbing to third position as does messenger service WhatsApp, which rises to fourth. However, WhatsApp's parent company, Facebook, falls two places to fifth. While Amazon remains sixth on the list, IKEA and Lego enter the rankings at number seven and ten, respectively.
To assess the global brand health rankings, YouGov looked at data from across 26 countries. YouGov created top 10 lists for each country. The global top 10 was created by scoring brands in each list – the top brand scored ten points while the tenth brand scored one point. The brands with the most points overall form the global top ten. All data is from 1 July 2017 to 30 June 2018.