The social network has the best brand health among Egyptian consumers
Facebook again tops YouGov BrandIndex's annual brand health rankings for Egypt. Search giant Google is in second place, with messenger service WhatsApp in third.
Streaming service YouTube and Apple's iPhone slip down two places to the fifth and sixth position, respectively. However, Galaxy – the chocolate brand, has made an impressive entry into the list at number four.
The rankings are based on the YouGov BrandIndex score, which measures overall brand health. The score takes into account consumers' perception of a brand's overall quality, value, impression, reputation, satisfaction and whether consumers would recommend the brand to others.
New entries include leading food producer El Rashidi El Mizan in eighth spot, Cadbury (ninth), and Dettol (tenth). Food and beverage producer Almarai moves down two places to the seventh position.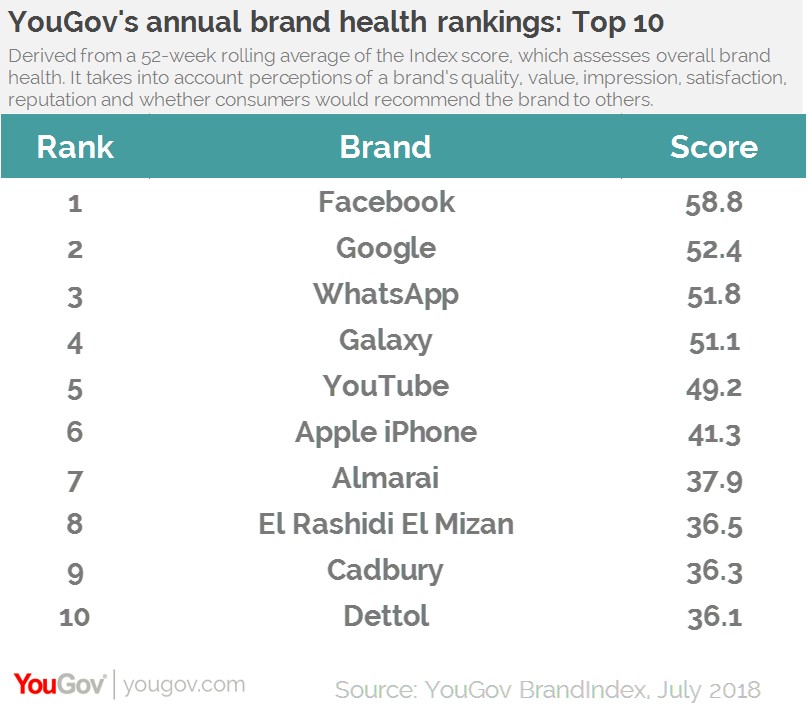 Most improved brand health
For the second year in succession, biscuit manufacturer Oreo has seen the greatest improvement in brand health among Egyptian consumers, increasing its score by +8.0 points (moving from 21.2 to 29.2).
Pepsi has also been steadily improving its perception over the last 12 months. The brand's Ramadan campaign last year generated a lot of noise and was a big hit among the masses. Pepsi is the most positively perceived brand in the beverages category and is in second place on the overall improvers list (increasing its score by +6.2 points).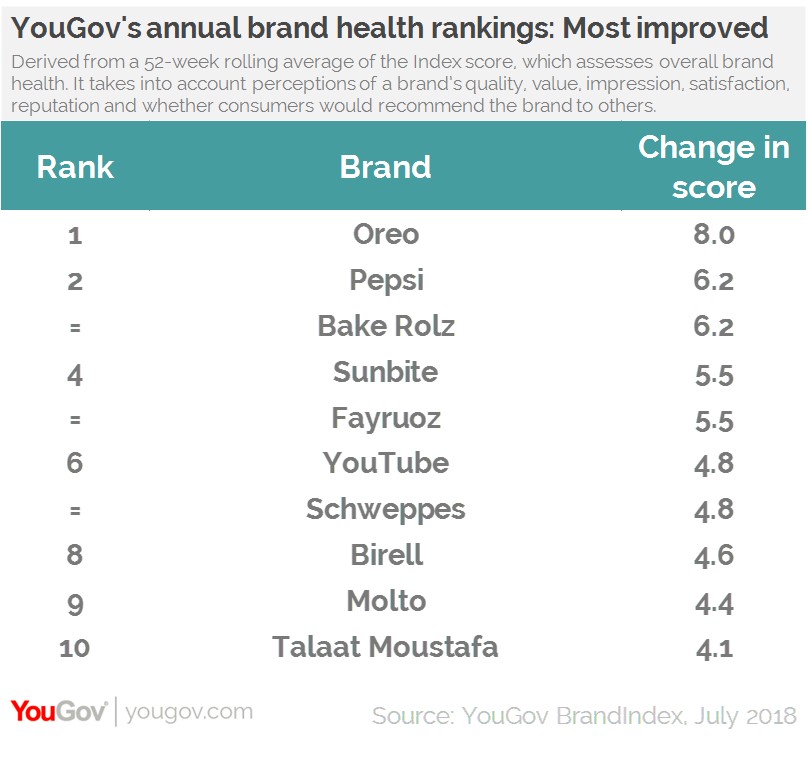 Global rankings
YouGov also releases the global annual brand health rankings for 2018. These rankings are based on six million interviews conducted in 26 countries.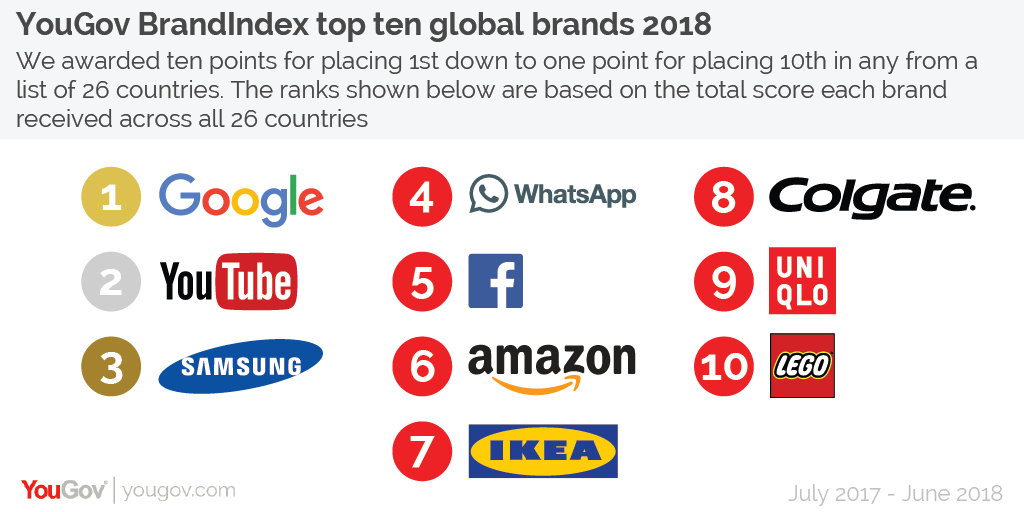 Google tops the annual global brand health rankings, followed by YouTube. Samsung jumps one place from last year, climbing to third position as does messenger service WhatsApp, which rises to fourth. However, WhatsApp's parent company, Facebook, falls two places to fifth. While Amazon remains sixth on the list, IKEA and Lego enter the rankings at number seven and ten, respectively.
To assess the global brand health rankings, YouGov looked at data from across 26 countries. YouGov created top 10 lists for each country. The global top 10 was created by scoring brands in each list – the top brand scored ten points while the tenth brand scored one point. The brands with the most points overall form the global top ten. All data is from 1 July 2017 to 30 June 2018.