YouGov BrandIndex data shows iPhone perception scores equal with Samsung Galaxy for the first time since 2016
Apple iPhone is one of the most popular smartphone brands among consumers in the UAE. Despite the recent launch of its latest smartphones iPhone XR, iPhone XS and iPhone XS Max amidst a lot of noise and publicity, overall perceptions of the brand are on the decline.
YouGov BrandIndex data shows iPhone has seen a decline in Index score from 51.8 in July 2017 to 44.3 in July 2018, hitting an even lower score of 41.8 as of mid-October 2018. This decline has put it in the same league as rival brand Samsung Galaxy, whose Index score though lower than iPhone's score last year, has only seen a marginal reduction this year (41.3 at the end of October 2018).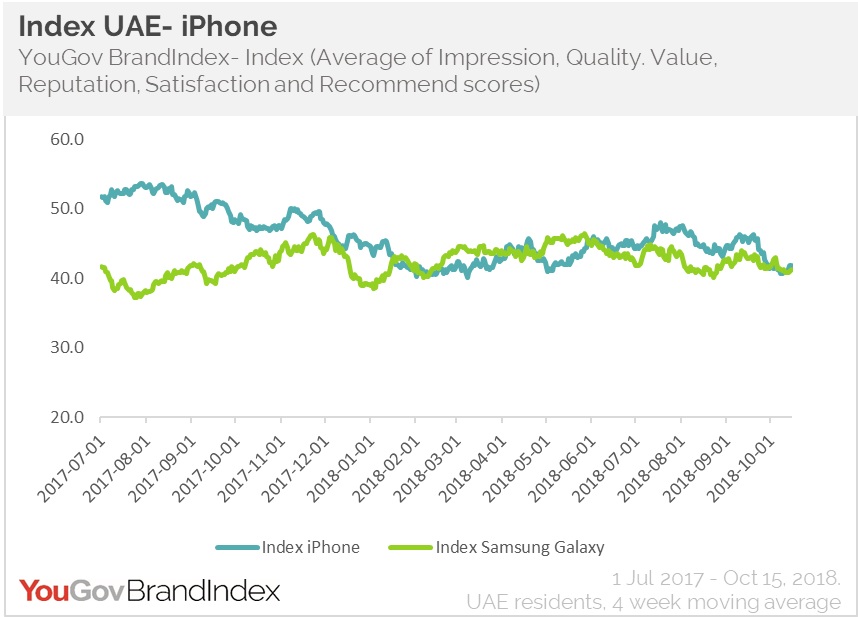 Last year, iPhone launched iPhone 8 and 8 Plus in September and its anniversary edition iPhone X in November. Despite temporary positive bounces in perception around each of these launches, the brand saw a huge drop in its Index score from mid-November 2017 to February 2018. While it showed signs of recovery this year, it's taken a downward turn again following the launch of its latest smartphones.
With Index being a composite metric, if we look at some of the individual metrics that make up the Index score we can see that historically, Samsung Galaxy normally scores higher than iPhone on the Value metric. On Quality, however, iPhone has typically dominated Galaxy. Looking at scores since July 2017, we can see that while iPhone is still perceived as higher quality than Samsung Galaxy, the gap in perception is less than half of what it was a year ago—20.4 points in July 2017 to 8.2 points in mid-October 2018.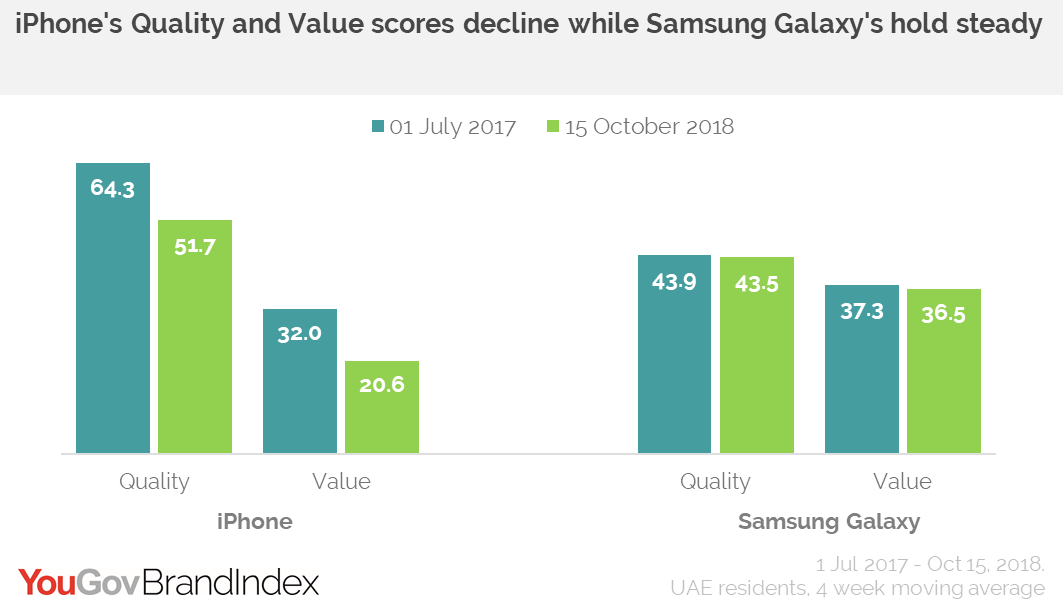 On a more positive note, Consideration (whether one would consider purchasing from this brand) and Purchase Intent (whether one is likely to purchase from this brand) for iPhone have improved with the brand's most recent device launches. However, comparatively the gap in Consideration and Purchase Intent for the two brands is much smaller than last year.
The gap between Consideration for iPhone vs Consideration for Samsung Galaxy was 11.7 points in July last year. It dipped down to 0.7 points prior to the announcement of the iPhone XS launch (12th Sept. 2018) but is now back up to 5 points as of October 2018. Even the Purchase Intent gap between the two brands, which was 15.2 at the beginning of July 2017, went down to 1.5 points at the time of the iPhone XS launch announcement, but has recovered up to 9.2 points in October 2018.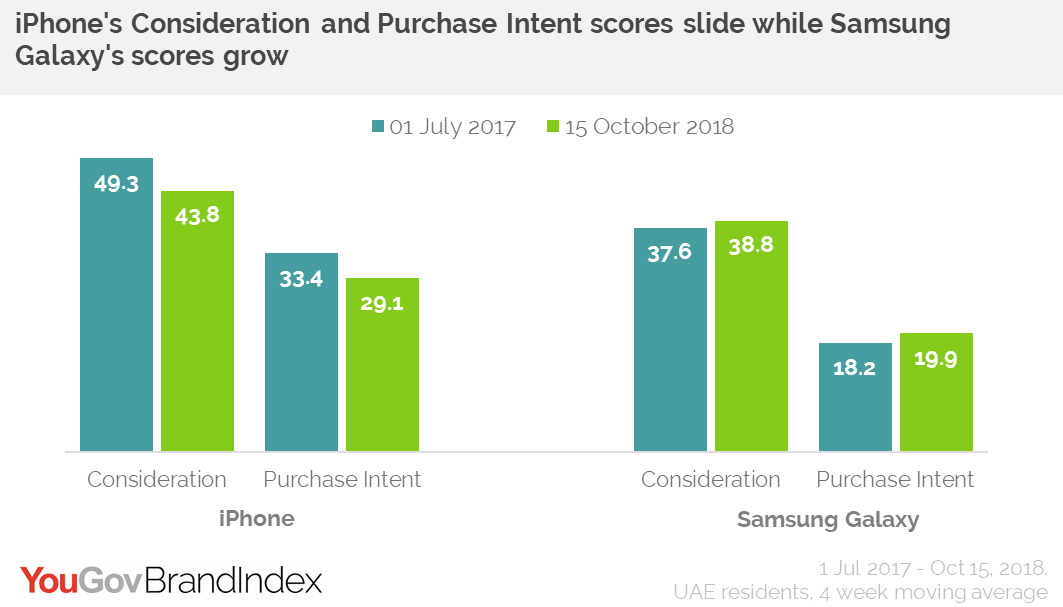 Commenting on this Scott Booth, Head of BrandIndex, MENA, said, "Consumers in the smartphone segment are always hungry for the next big thing, but it seems they are tiring of the slow, incremental change of the past few years. The data shows that despite iPhone's recent product launches and huge advertising spends, consumers are not demonstrating the same enthusiasm for the brand as we have seen historically. The huge decline in iPhone's Index score puts it on par with arch rival Samsung Galaxy, showing us a hint of vulnerability in the venerable smartphone power brand. At this point, the smartphone landscape is nearly at parity while major brands proceed with incremental handset changes, suggesting consumers are waiting to see who will bring the next major evolution."