YouGov BrandIndex reveals mada has achieved the biggest uplift in its Ad Awareness in Saudi Arabia in the month of October
National payment scheme, mada, has wooed viewers with its latest digital adverts showcasing mada Pay app benefits and has garnered millions of views on YouTube.
mada is the new identity of the Saudi Payment Network (SPAN) and the advanced generation of the electronic payments in Saudi Arabia. It connects all automated teller machines (ATMs) and point-of-sale (POS) terminals throughout the country to a central payment switch that in turn re-routes the financial transactions between a merchant's bank and the card issuer bank.
In recent months the brand has partnered with Visa to bring mada Pay (an Android-based mobile application that enables cardholders to make fast, easy and secure contactless mobile payments at NFC-enabled merchants) to Saudi consumers. This development has been the focal point of current campaign efforts. A number of digital adverts have been released on social media showing various scenarios in which the mada Pay app benefits consumers, with each having over one million views on the brand's YouTube channel, and one in particular featuring a younger consumer attracting over three million views. (Link of the ad: https://www.youtube.com/watch?v=DajVgM9g4AQ)
The results of such efforts are clear to see, with the brand's Ad Awareness score (whether someone has seen an advert for the brand) increasing by 11 percentage points, from 31% national Ad awareness on the 23rd September to 42%, a month later.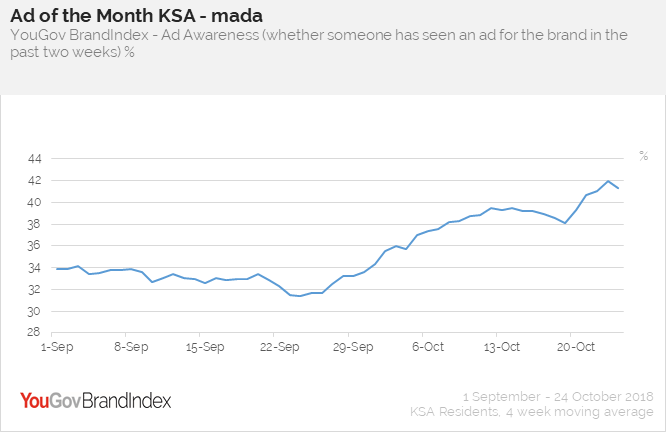 Not only are people noticing the ads, but they have also got people talking. The Word of Mouth score for mada (whether you have talked about a brand with friends of family) has improved from 29% at the end of September to 37% on October 24th.
mada can be confident that their campaign is being noticed by residents of KSA and in coming months our brand tracking data will be able to analyse what successes in brand perception have occurred as a result of the campaign.