The vast majority of UAE residents think this initiative will make their lives better
The overwhelming majority (82%) of people in the UAE think that the Smart Dubai Initiative will make Dubai the happiest city in the world, new YouGov research reveals.
The Smart Dubai initiative founded following the vision of His Highness Sheikh Mohammad bin Rashid Al Maktoum aims to make Dubai the smartest city on earth through the use of technological innovation.
The research shows that not only do people think it will have a great impact on Dubai, making it a world-leading city, the vast majority believe that most of the initiatives that make up "Smart Dubai" will make their lives better.
The adoption of advanced transportation modes such as hyperloop and flying taxis – designed to reduce traffic congestion – comes out top in this respect, with more than nine in ten (92%) believing it will have a positive impact on their lives.
Almost as many (89%) feel the same about ensuring food security, and the movement towards a decentralized energy system is believed to do the same (also 89%).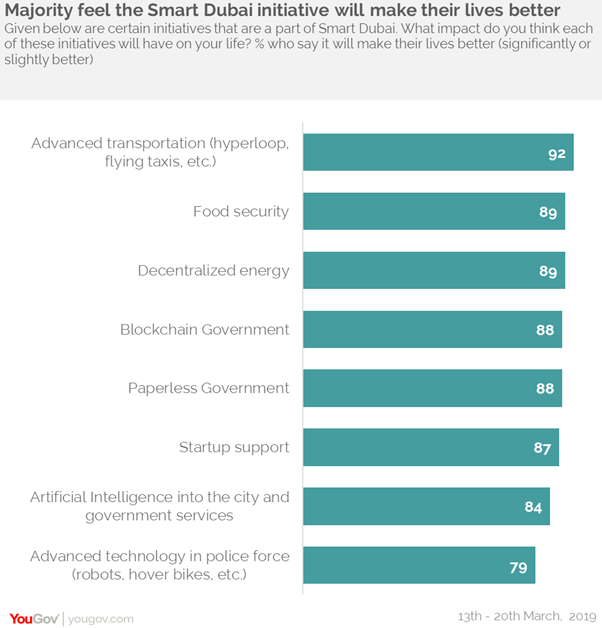 More than eight in ten (84%) feel the use of artificial intelligence in all government services and city experiences will have a positive impact on their personal lives. Men seem to be more excited about this development as compared to women (41% vs 24%).
People feel the same about changes in the government processes (paperless government, blockchain powered government) as well as the startup support offered under this scheme.
Even the initiative that scores the lowest – advanced technology in the police force, still scores highly with the public, with around eight in ten (79%) UAE residents believing it will improve their quality of life.
YouGov's research also explored the outcomes UAE residents expect to see as a result of the Smart Dubai initiative. Three in ten (30%) think there will be time benefits (such as reduced travel time, faster processes, etc.), while about as many (29%) think it will make things more convenient as all government processes will be transferred online.
Around a quarter expect it will improve the quality of life (26%), make Dubai more secure with a reduced crime rate (26%) and will deliver better connectivity between cities (24%).
However, one in five believe that this technological advancement may have an adverse effect on people and society, either by increasing the dependency on technology and machines (21%) or by actually replacing humans with technology (20%).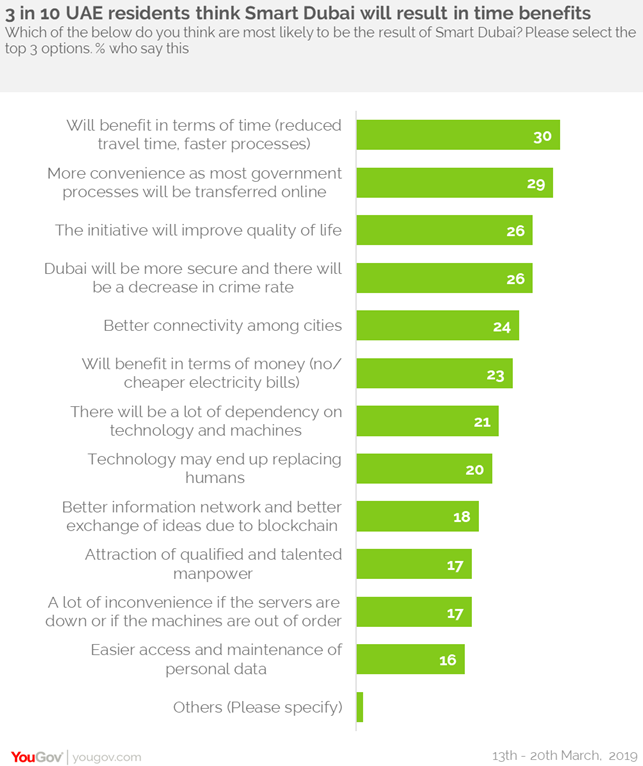 Data collected online by YouGov Omnibus among 1,087 respondents in the UAE between 13th and 20th March 2019 using YouGov's panel of over 6 million people worldwide. Data is representative of the adult online population in the country.