The original content by the company seems to be enhancing its Buzz and Impression scores in these countries
Global entertainment giant Netflix is a titan in the streaming market, with an estimated 159 million subscribers in over 190 countries. In 2016, it scaled internationally launching in 130 new markets simultaneously, including the Middle East.
Just over three years after Netflix's dramatic overnight globalization, YouGov's daily brand tracker, BrandIndex, shows how the celebrated streaming company is reaping the rewards of its expansion into the Middle East.
Examining Netflix performance using YouGov's BrandIndex data, we can see a steady increase in the brand's Buzz score, which measures whether UAE residents have heard something positive or negative about the brand, up by 9.4 points between 4th January and 5th March. The same is also true for Word of Mouth, with an almost identical uplift of 9.3 points between 4th January and 12th February, highlighting the increased chatter amongst consumers about Netflix.
It seems like the company's strategy of launching original and localised content in the UAE seems to be winning already. These uplifts in the Buzz score are likely to be linked to original programming launched early this year, such as "Star Trek: Discovery" (released at the end of January) and "Velvet Buzzsaw" (launched at the beginning of February), among others.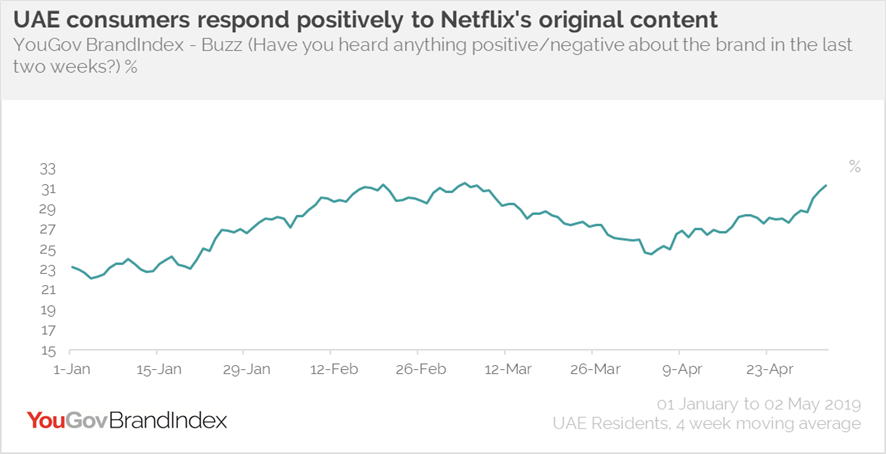 News regarding launches of locally-produced content, for example the worldwide launch of the first Middle Eastern drama series "Justice", is also likely contributing to uplifts in positive Buzz around the brand. "Justice" which is based in Abu Dhabi, launched mid-January 2019, in line with the steady increase in Buzz received by Netflix in the UAE.
The uplift in Buzz is even more exaggerated when looking at the differences by demographic groups, with the score among those aged 35 to 44 years increasing from +19.0 on the 14th January to +37.4, a little over a month later, in mid- February.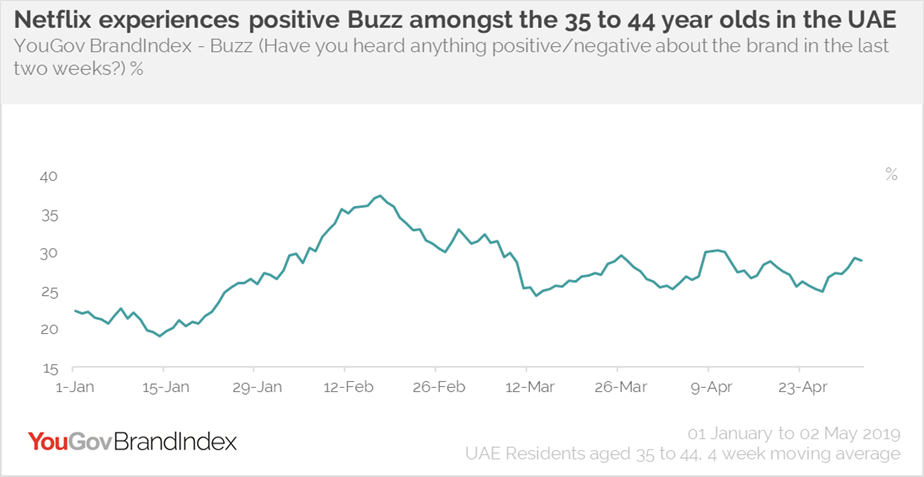 The story is equally positive for Netflix Egypt, with BrandIndex data showing an 8.0-point increase on the Impression metric between the 2nd January and 2nd March 2019. This increase may be related to the Netflix Original content mentioned previously (such as Star Trek: Discovery).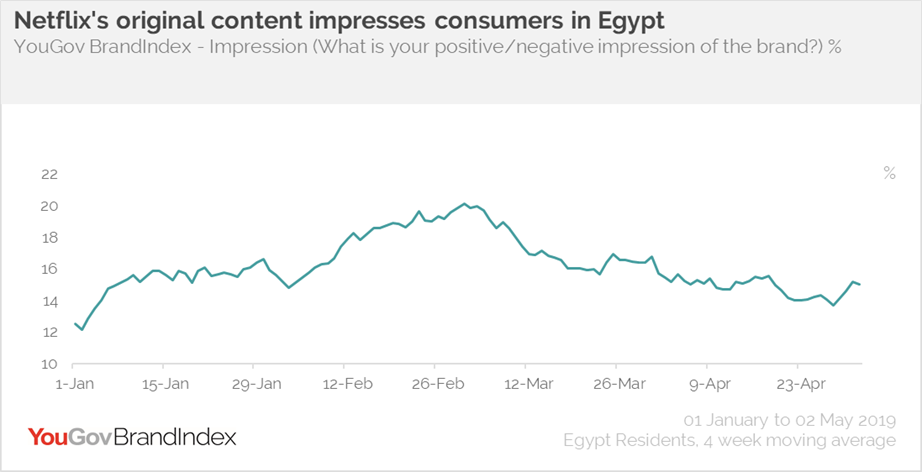 It is apparent that any time Netflix launches high-profile original content, residents in the UAE and Egypt respond positively. The well-received diversified content the region is receiving goes hand-in-hand with Netflix's plan to invest in the Middle East, including producing content to be shared worldwide. As YouGov data shows, at this point, the strategy seems to be working for the company.