The Dubai-based firm records significant improvement in Brand Health and Media Metrics over the past year
Dubai-based holding company Meraas, with a diversified portfolio of brands in various sectors, has seen substantial improvement in brand perception over the past year, YouGov's data reveals.
YouGov's daily brand tracker, BrandIndex, shows Meraas's Index score—a measure of overall brand health—had an increase of +3.2 points from May 2018 to April 2019. This is a significant increase in brand health primarily driven by a +4.6-point uplift in overall Reputation for the same time period. Impression (whether one has a positive/ negative feeling about a brand) and Quality (whether a brand is perceived to be good or poor quality) also saw significant increases in the past year achieving +4.3 and +4.2-point uplifts, respectively.
Meraas's impressive improvement in Reputation (which asks respondents "Would you be proud or embarrassed to work for this brand?"), also saw the brand top the improvers list among Development and Holding Companies in the YouGov BrandIndex 2019 Workforce Rankings in the UAE (which were published in April this year).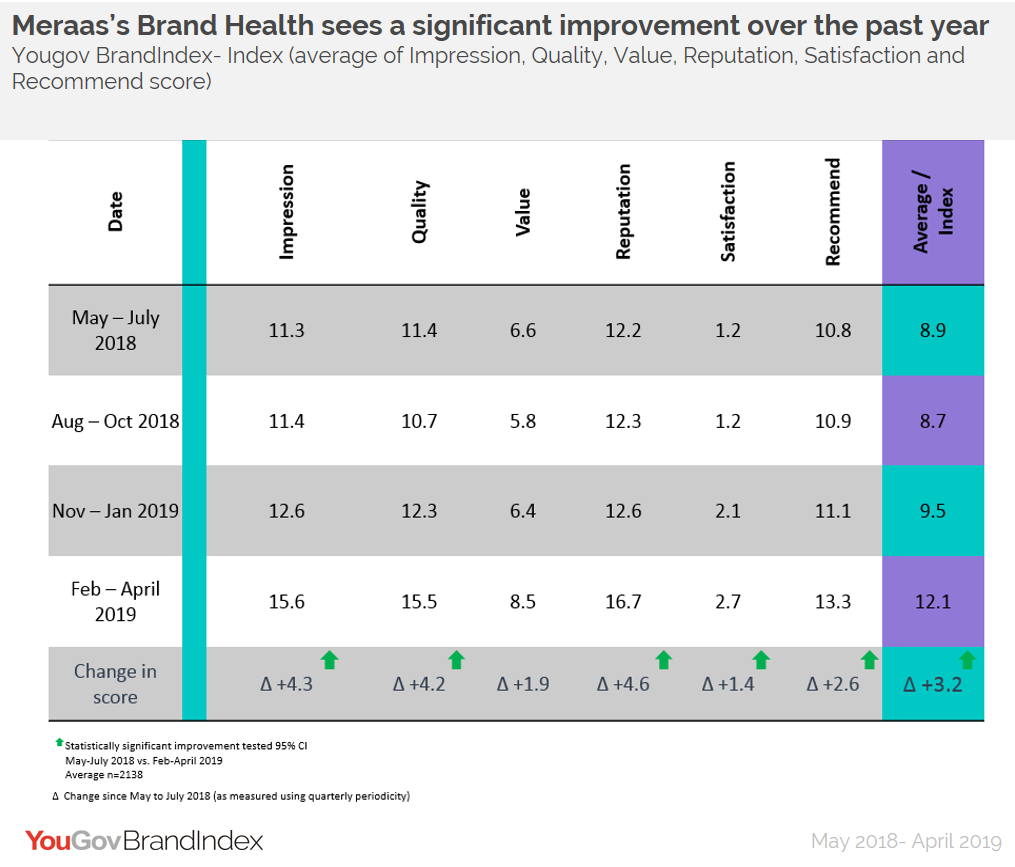 In addition to the brand health measures, the salience of the Meraas brand—as measured by Awareness—has also seen a statistically significant increase of +11.2 points, from 27.1 in May 2018 to 38.3 in April 2019. Other measures of media health also improved significantly over the past year (comparing May 2018 to April 2019), with Meraas's Ad Awareness score recording a +6-point increase (from 9.8 to 15.8), Word of Mouth almost doubling from 6.3 to 11.6 (+5.3 points) and Buzz increasing by +4.5 (from 8.5 to 13.0).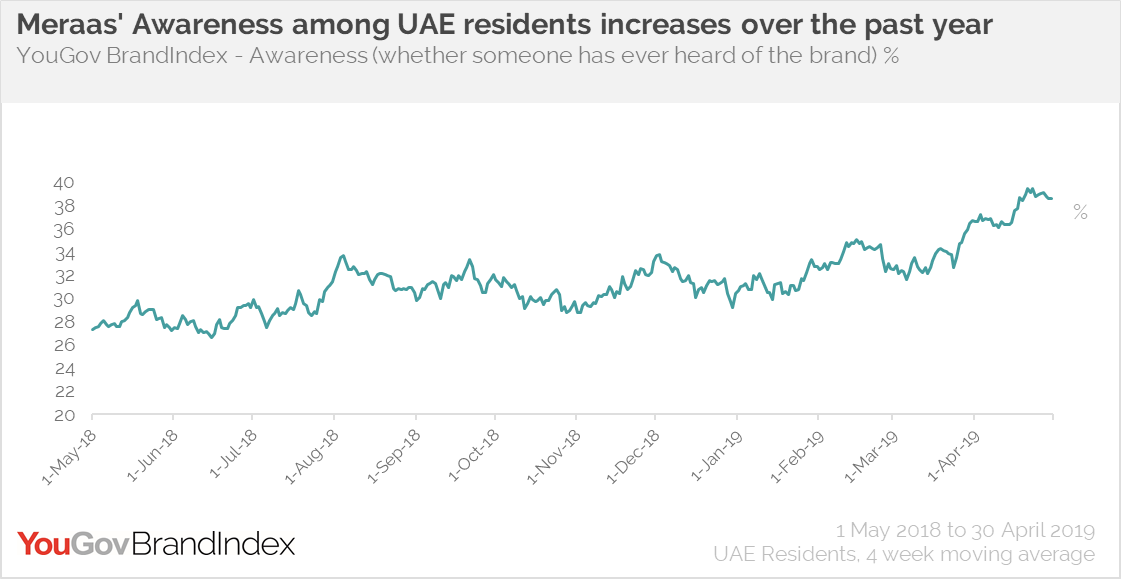 The maximum uplift in most brand health and media metrics was seen in the second quarter of 2019, most likely indicating a positive reaction towards the announcement of Meraas's new projects such as the inauguration of the Coca-Cola Arena, the plans for Dubai's Central Park and the news of Dubai's Harbour.
Moreover, Meraas destination brands such as Bluewaters also see positive improvements from May 2018 to April 2019. Bluewaters - a relatively new destination hosting the renowned Caesar's Palace Hotel, saw a significant increase in Awareness from 15.3-points in May 2018 to 27.6-points in April 2019 (up +12.3-points). The Index score for Bluewaters has also doubled over the same time period, driven by Impression which saw a +7.2-point uplift from May 2018 to April 2019.
With a number of high-profile projects launching in the coming months and years, we can expect Meraas's profile to continue to grow substantially in the future. The extent of this success will continue to be tracked in BrandIndex, and we will get a clear idea of how satisfied visitors are with the new offerings.