The home-grown pizza chain has improved its brand health over the year and is giving tough competition to global pizza brands in the country
Saudi Arabian local Quick Serve Restaurant (QSR) chains have proven they can compete locally with global power brands. Some of Saudi's better known local brands in the QSR industry are chains like Al Baik and Al Tajaz – imperial long-standing brands that have dominated the market for years, proving the Saudi market values home-grown offerings. The same trend can be seen in Saudi's pizza market, where much smaller newcomers like Maestro Pizza are able to equally compete against international pizza brands.
Having launched in 2013, Maestro Pizza's six years in the Saudi market has been evidently well received. YouGov's daily brand tracker, BrandIndex, shows Maestro Pizza's overall Brand Health at 16.3, at par with one of its biggest competitors- Pizza Hut, with an Index score of 16.6, when looking at a year's worth of data since July 2018. Taking a closer look at the BrandIndex data, Maestro Pizza has raised its overall Brand Health score year on year by +2.3 points, ranking second most-improved in Dining sector in Saudi Arabia.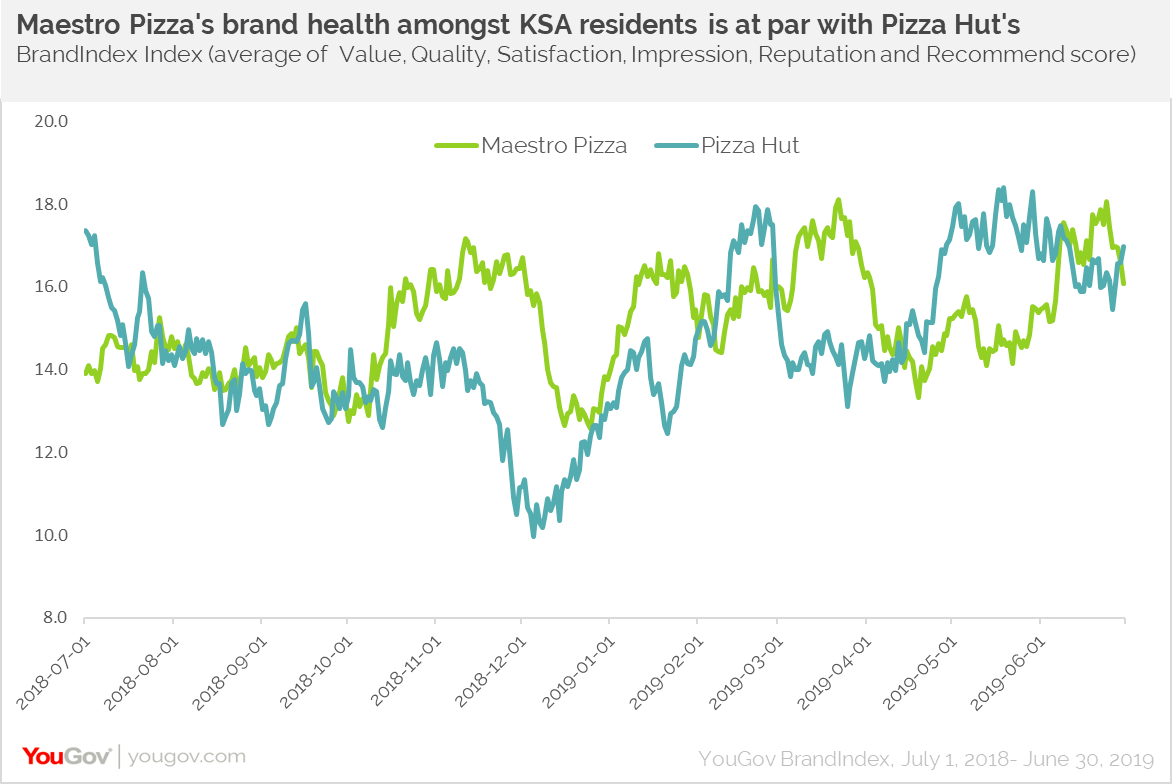 Disrupting the Saudi pizza market with its low-price strategy, the difference between Maestro Pizza and Pizza Hut's Value perception amongst different nationality groups is even more evident. When Arab residents (Saudi and Arab Expats) were asked whether they believe the brand offers good/poor value for money, respondents scored Maestro Pizza with 13.0 points, +6.6 points higher when compared to Pizza Hut's Value score of 6.4 amongst the same audience. When looking at other expats (Western, Asian, and other expats), they scored Pizza Hut at 19.4 compared to Maestro's 15.6 Value score – a +3.8 difference between brands. This demonstrates a clear distinction in perception between these two audiences, and by focusing on the Arab audience which makes up the majority of the population, Maestro has successfully disrupted the overall Pizza sector in KSA.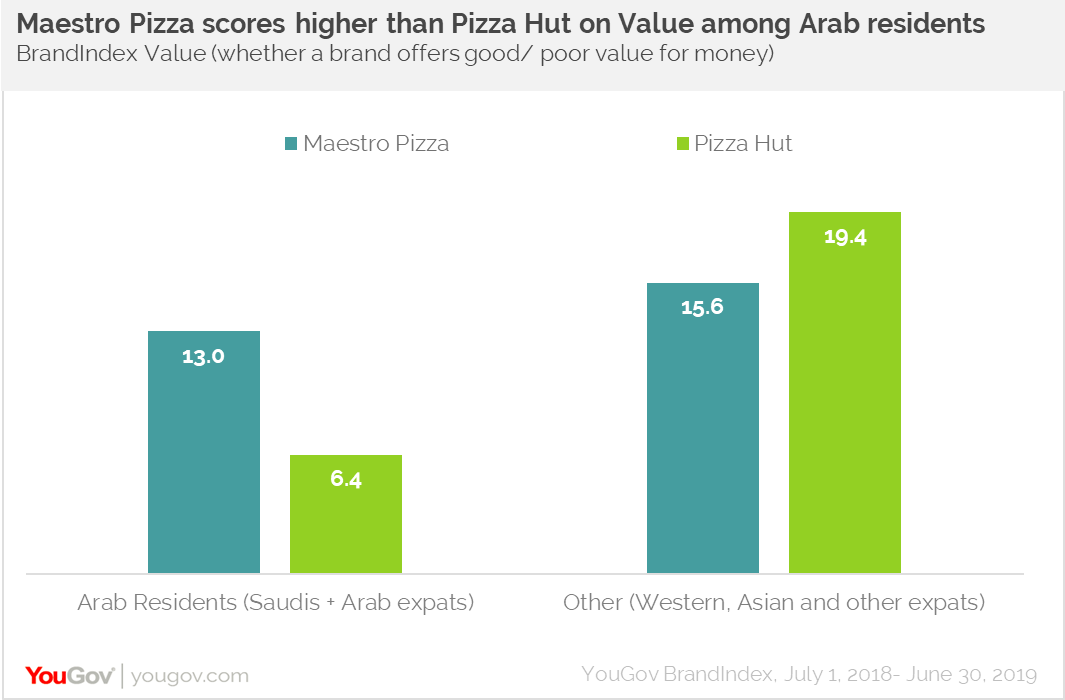 Looking closer, Maestro Pizza's mission "to Master Saudi Pizza" comes to life when we examine YouGov's BrandIndex data and see the difference in Satisfaction scores between Arabs and Other expats. On the Satisfaction metric, this local brand scores 13.9 amongst Arabs, while Pizza Hut scores 10.7 in the same metric amongst the same demographic – a 3.2 point different between brands. Conversely, other expats give Pizza Hut a higher Satisfaction score at 19.8 versus Maestro's 10.3.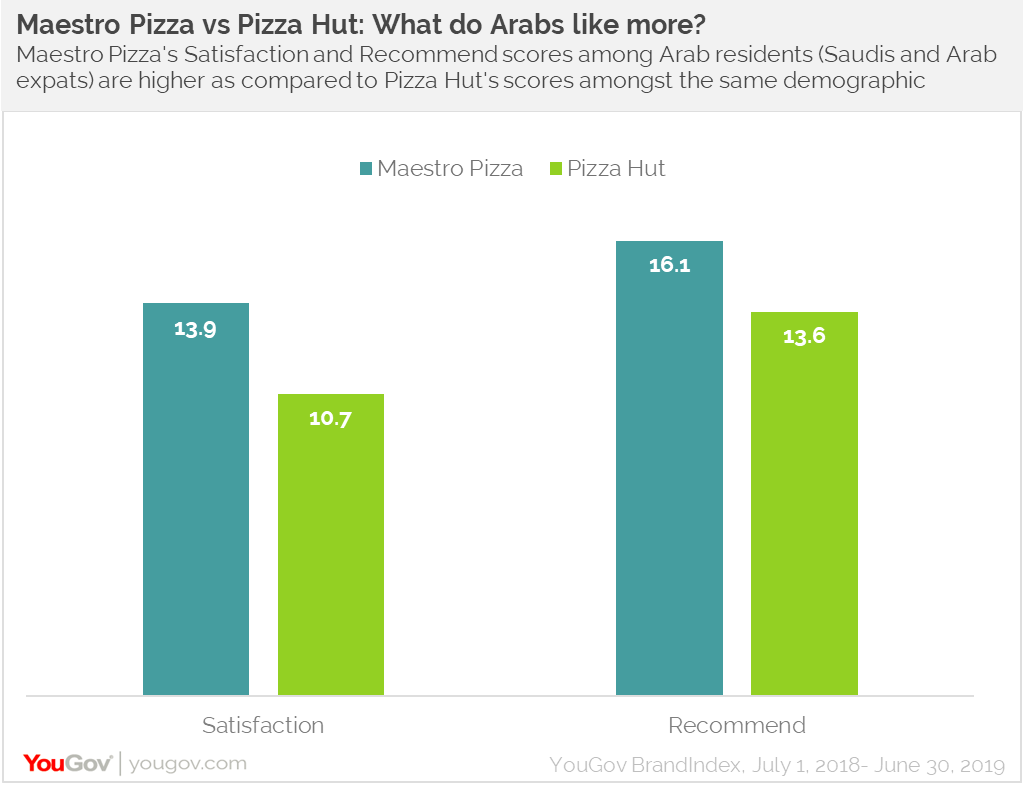 Additionally, when thinking about whether or not they would recommend this brand to a friend or tell them to avoid it, Arabs rank Maestro Pizza at 16.1 in the Recommend score. Whereas Pizza Hut's recommend score stands at 13.6 points amongst the same demographic, -2.5 lower than Maestro. This may be driven by the higher Value perception amongst Arabs in a time when consumers are more price sensitive. Being the vast majority of the Saudi population, Arabs' preferences in the QSR market could present a great opportunity for smaller local brands competing with international brands to make their mark in the market.