The brand's latest adverts have had the largest cut through in terms of Ad Awareness in UAE
YouGov recently reported that in the UAE, KFC ranked 5th in the most improved brands and top within the dining sector for the 12 months ending 30th June 2019 as seen in the YouGov BrandIndex 2019 annual brand health rankings.
Following up on this, in August, YouGov's brand tracker shows that KFC achieved the highest uplift in Ad Awareness (whether someone has seen an ad for the brand in the past two weeks) during the month out of all 590 brands tracked in the UAE. Ad Awareness showed a statistically significant increase of 7.1 percentage points from 37.3% to 44.4%.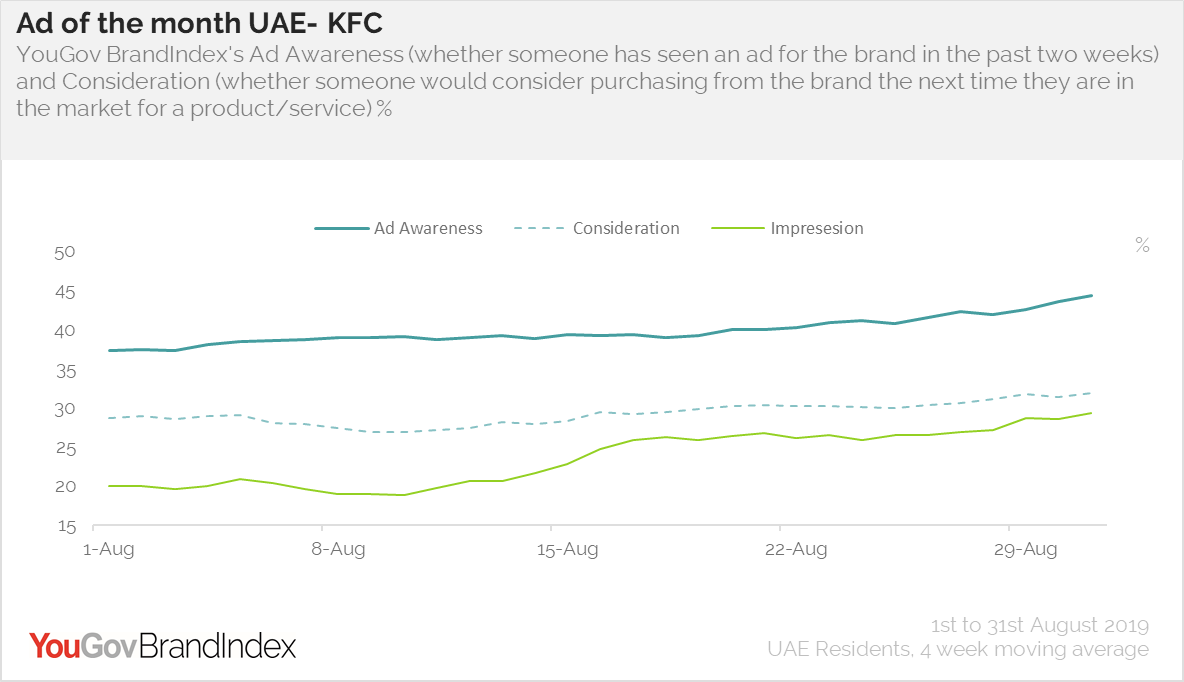 The Eid Mubarak advert, along with the 'Not traveling this summer? Travel to KFC' adverts and the Double down Promotion also resonated with the general public. We can see an improved general impression of the brand, with Impression scores (whether someone has a positive or negative impression of a brand) up 10.4 points from its lowest point to its highest in August. People's reactions to the brand has also changed, with Consideration scores (whether people would consider purchasing from KFC the next time they are in the market to purchase food and drinks) improving by 4.9 points from the lowest point to the highest at the end of the month.
As the increased Ad Awareness and Consideration scores in August suggest KFC's brand health has improved which is a positive sign for how the brand is performing in the UAE recently.
Having recently announced an intention to open up to 70 new outlets, we will continue to monitor KFC scores on BrandIndex in the coming year to see whether they are able to sustain the growth seen in August.