Most brand health metrics continue to show improvement post rebrand
Nearly two years after Amazon purchased Souq for over $500 million, the US online retail giant officially launched in the UAE this year as Amazon.ae in May. New data from YouGov BrandIndex –a daily brand tracker, revealed that the transition has been positively received and has helped the brand strengthen its perception among UAE residents.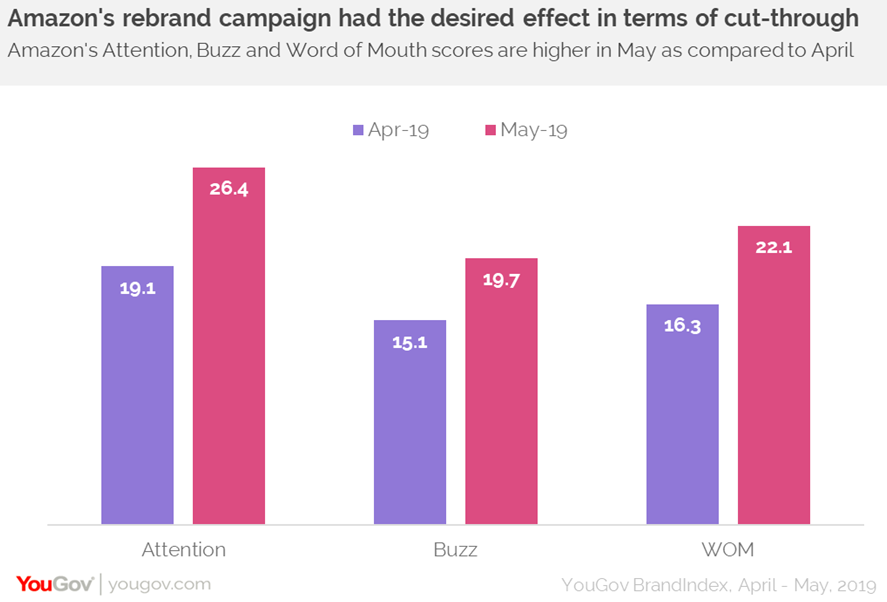 The launch campaign in May had the desired effect in terms of cut-through, as Amazon's Attention score increased by 7.3 points in one month, rising from 19.1 in April to 26.4 at the end of May 2019. For the same time period, Buzz, which measures whether one has heard something positive or negative about a brand, saw an uplift of +4.6. Word of mouth, which measures whether one has said something good or bad about the brand to friends or family, also saw an increase of 5.8 points in May as compared to April scores. Not only did Amazon manage to grab people's attention, but it also generated substantial positive chatter with the launch. Other brand metrics rose as well following the launch, including Amazon's Reputation score which was up by +2.1 points in one month since April 2019.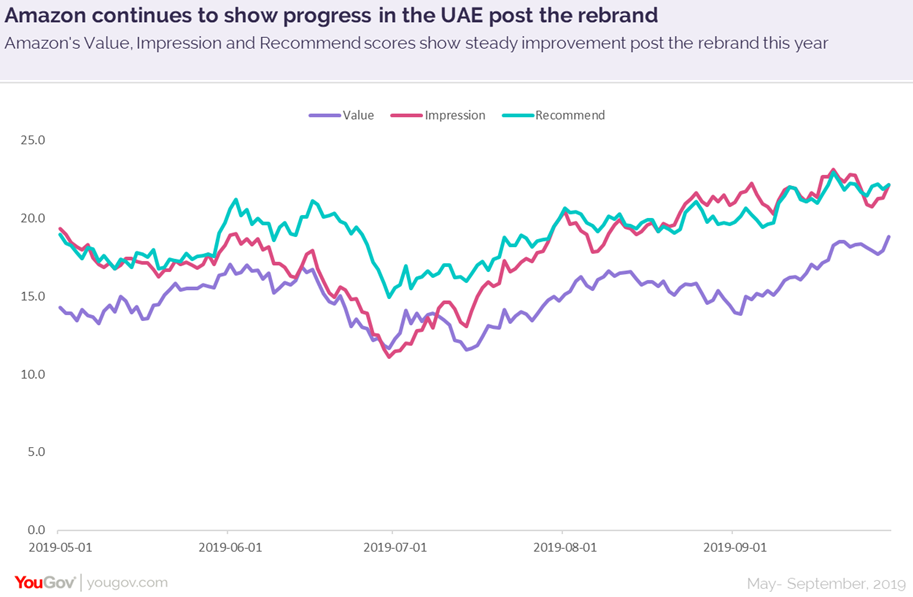 When looking at the scores post the rebrand, we see that most brand health metrics continue to show progress and have registered improvement in the five months since the announcement was first made. Amazon's Value (whether a brand gives good value for money), Impression (whether one has positive/ negative impression of a brand) and Recommend (whether one would recommend a brand to others) scores have witnessed an uplift of +4.6, +2.8 and +3.2, respectively from May to September 2019, showing a steady improvement in these brand health metrics.
Introduction of Arabic language and local payment options that were rolled out since May this year to enhance the e-shopping experience are also likely contributing to this movement. Furthermore, the positive impact of the rebrand is evident in Amazon acquiring new buyers with its Current Customer score increasing by 4.3 points in September, implying that the chatter has moved people to become customers of the brand.
When looking at the overall brand health of Amazon in the UAE, the story looks equally positive. On examining Amazon's performance on YouGov BrandIndex, we see that Index- which is an average of quality, value, satisfaction, reputation, impression and recommend, has registered an increase of 2.1 points, increasing from 17.1 in May to 19.2 in September 2019, and the rebrand is likely to have played a role in uplifting the scores.
As YouGov data suggests, at this point it seems like the rebranding exercise has been a success for Amazon and the future looks positive for the brand.