These brands have created the most positive chatter among young adults in the UAE, Saudi Arabia and Egypt, respectively
YouGov's daily brand tracking tool, BrandIndex, considered the opinions of respondents aged between 18 and 34, collected online over the past year, to discover the 10 brands they have been talked about the most positively with friends and family, whether in person, online or through social media.
In the UAE, the top 10 list is dominated by digital brands. However, KFC is the brand that has shown the greatest positive movement and has climbed up to fifth from eighth last year. On the other hand, WhatsApp has had the toughest year out of the top 10 brands and fell four places to tenth in this year's rankings.
In Saudi Arabia, Almarai has witnessed the greatest movement in the top ten rankings and has jumped up five places from tenth in 2018 to fifth in 2019 rankings. In Egypt, three brands made a fresh entry into the list of top 10- Dream Park, Huawei, and Souq.com while in the UAE, Emirates NBD re-entered the top 10 list, after falling out last year.
One of the interesting movements in the region concerns two of the leading electronic giants- Apple and Samsung. In the UAE, Apple remains in third this year, while Samsung slipped down one place to sixth. In Saudi Arabia, both brands have noted a decline in their ranks by one place and currently sit at fourth and ninth, respectively. In fact, Apple has recorded a year-on-year decline in Saudi Arabia, from leading the rankings in 2017 to third in 2018 and now fourth in the 2019 rankings. In Egypt, neither of these brands rank in the top 10 brands.
YouGov also revealed which brands have experienced the greatest uplift in positive Word of Mouth score over the past 12 months. In the UAE, global streaming giant Netflix has recorded the greatest improvement in its brand perception since last year, increasing its Word of Mouth score by 10.9 points, from 57.5 last year to 68.4 this year. In Egypt, YouTube recorded the greatest improvement, increasing its score from 52.0 last year to 62.8 this year. In Saudi Arabia, Huawei is the top improver of 2019, with an uplift of 8.0 in Word of Mouth score.
In fact, Huawei seems to be creating positive chatter across all three markets and has shown the greatest improvement in all three countries. In Egypt, it ranks seventh in the list of top 10 brands of 2019, while in the UAE, it is the fourth-best improver of this year. In Saudi Arabia, not only is the Chinese manufacturer the top improver of 2019, but its consistent progress has also landed it a spot in the list of top 10 brands this year at eighth.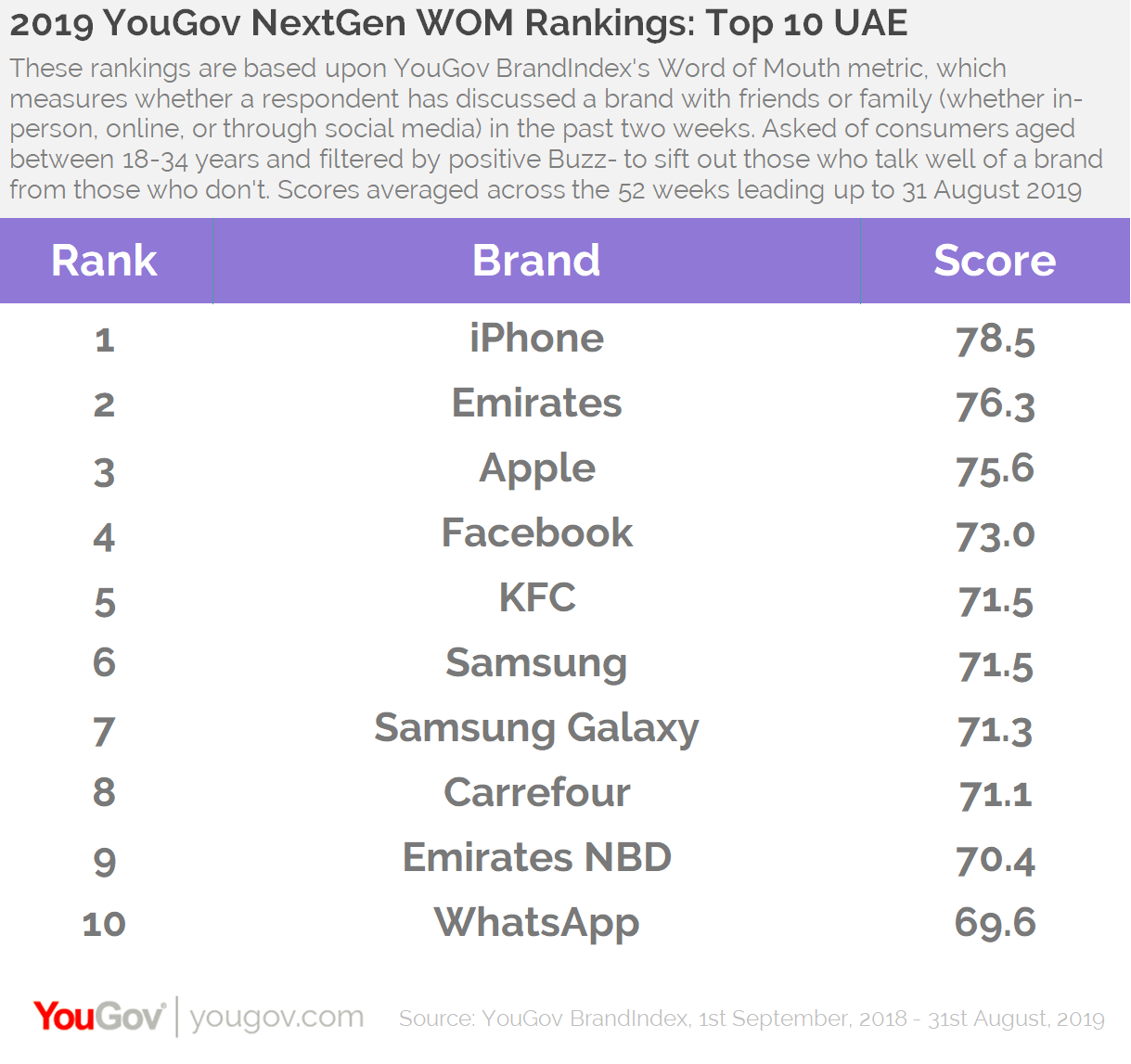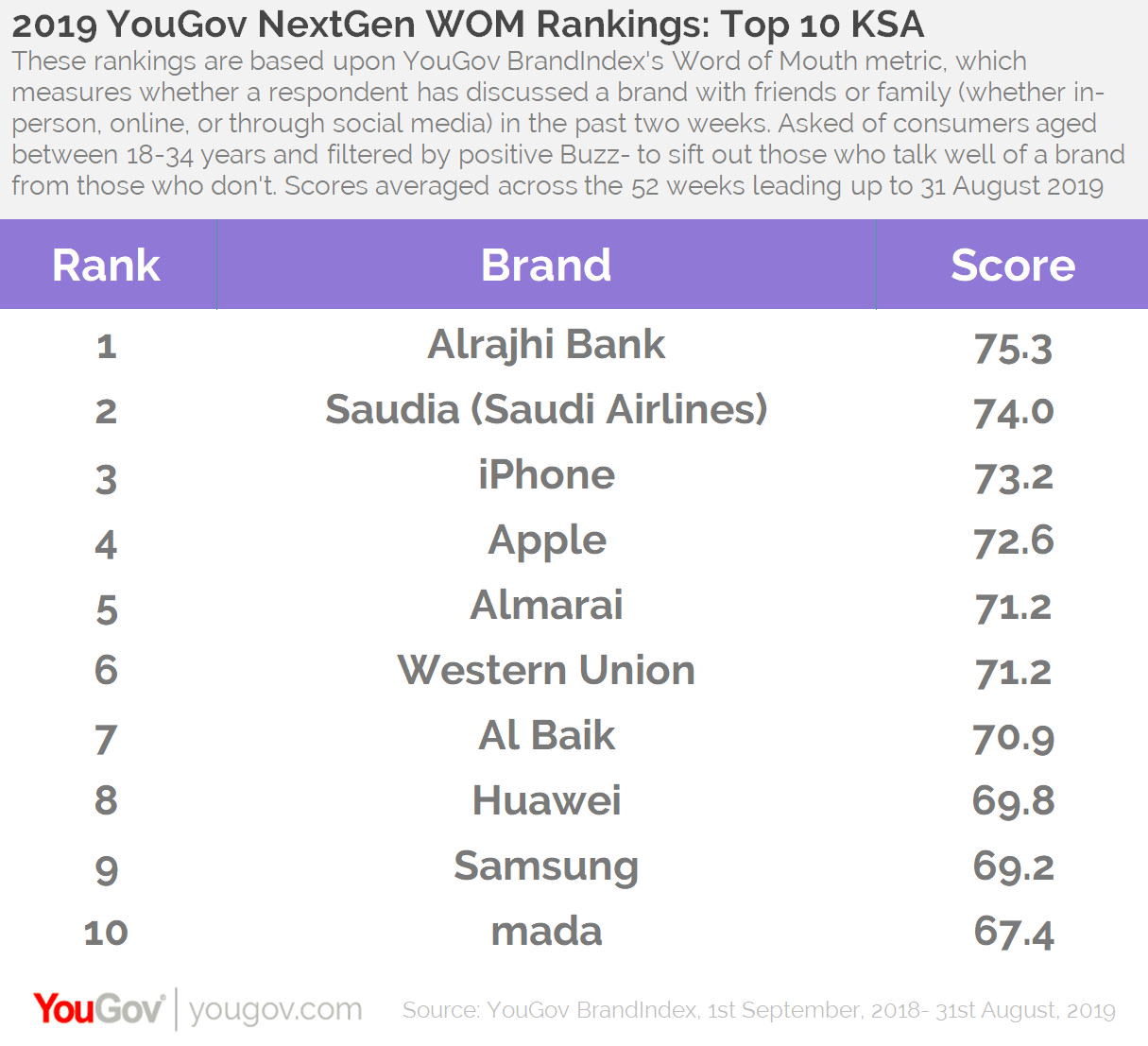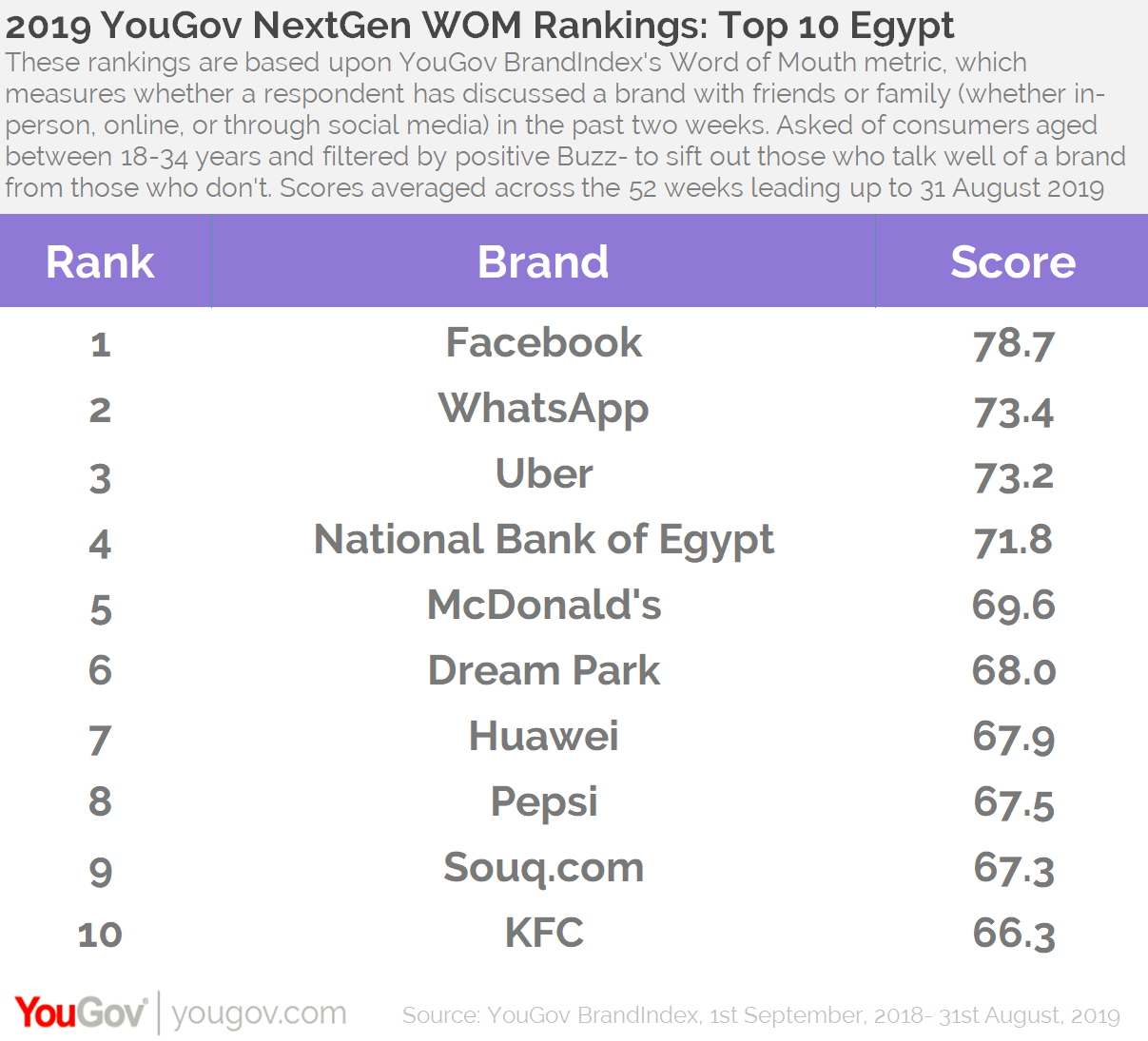 Methodology
YouGov BrandIndex first screened all of its 1428 brands for positive Buzz, which asks respondents "Have you heard anything positive about the brand in the last two weeks, through advertising, news, or word of mouth?" Brands with low response volume were eliminated. Brands that were tracked for at least 6 months (top 10) and at least 18 months (top 10 improvers) were then ranked on Word of Mouth scores, which asks respondents "Which of the following brands have you talked about with friends and family in the past two weeks (whether in person, online, or through social media)?" All respondents for this research were young adults 18 through 34 years old. Data was collected between September 1, 2018, and August 31, 2019, for top 10 and September 1, 2017, to August 31, 2019, for top 10 improvers