The haircare brand has achieved the biggest uplift in its Ad Awareness in the UAE in December
Sunsilk has achieved the greatest Ad Awareness (whether someone has seen an advert for the brand) in the UAE in December and has risen its score by 7 points, from +13 on the 9th December to +20 at the end of the month.
The brand which is on a mission to inspire and empower women is continuing to build on their Rethink Pink campaign that was initially launched in October. The campaign aims to give "Pink" a new perspective" and is described to "celebrate what 'Pink' means – standing for possibilities instead of limitations". The campaign features on digital platforms and also includes an inspirational documentary series titled "Our girls don't".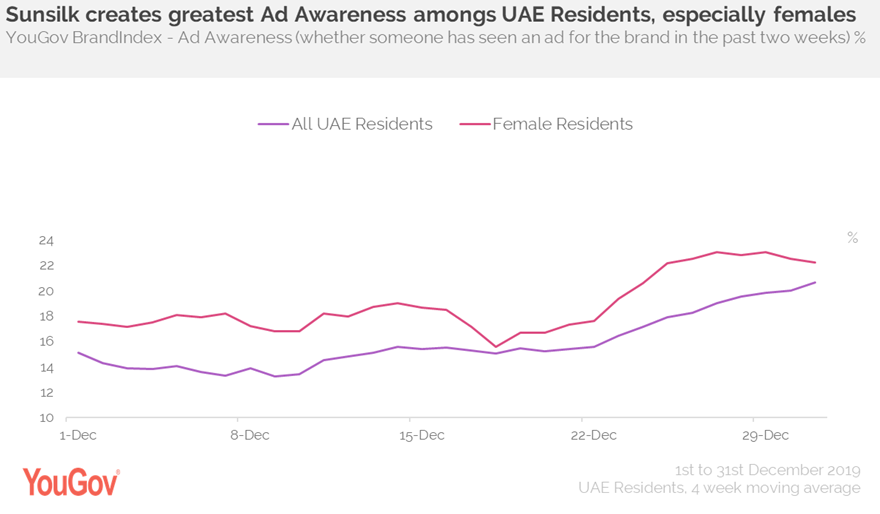 With 'Rethink Pink' Sunsilk has managed to generate Ad Awareness among UAE residents. Among females these numbers are even higher, with Ad Awareness reaching +23 at the end of December, highlighting the campaign is resonating with the brand's target audience.
Not only are people noticing the ad, but it has got people talking too, with an equal 7-point increase in Sunsilk's Word of Mouth score (whether you have talked about a brand with friends or family) by the end of December.
YouGov BrandIndex will continue to track the overall success of the campaign, not just in Ad Awareness, but also in terms of its impact on Consideration and subsequent Purchase Intent.