Most people associate the design with the 'Seven Emirates and the seven founding fathers'
More than eight in ten (86%) UAE residents like the new national logo, either a lot or a little, new YouGov survey reveals.
Earlier this month, the UAE government revealed its new logo for the next 50 years that will represent the UAE as part of its nation brand and help convey its story to the world.
Amongst the various nationality groups, Arab expats are most likely to favour the new logo, with more than nine in ten (91%) of them saying they like the logo.
At the time of the survey, close to half of the UAE residents (46%) said they were aware of the logo change and were familiar with the new design. On the other hand, 23% had heard of the logo change process but were not aware of the new design while 31% were totally unaware of it.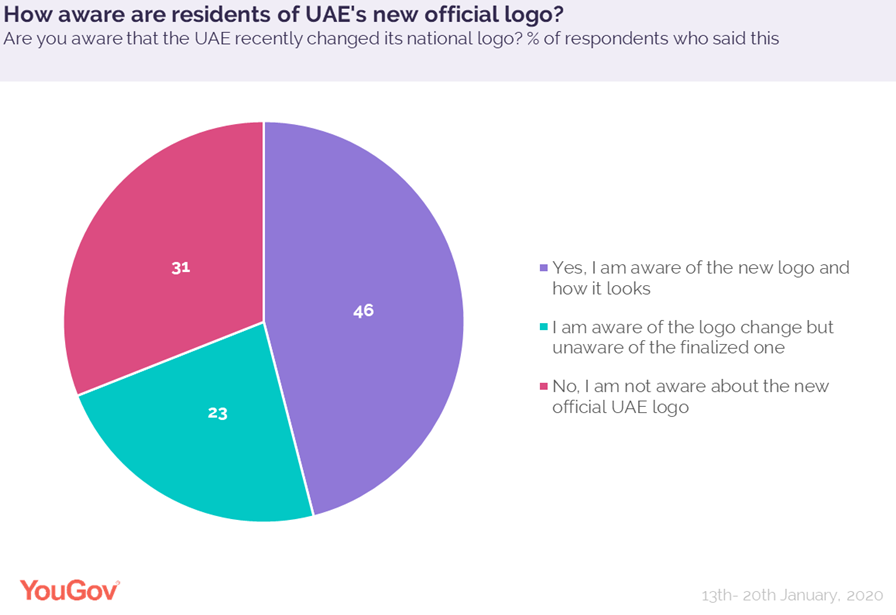 When shown the new logo and asked which attributes do they associate the 'seven lines' logo with, three in five (59%) people said they associate it with the 'Seven Emirates and the seven founding fathers' the most. Females were more likely than males to draw this association (64% vs 57%). Similarly, people who were 35+ were more likely than the rest of the age-groups to make this conclusion.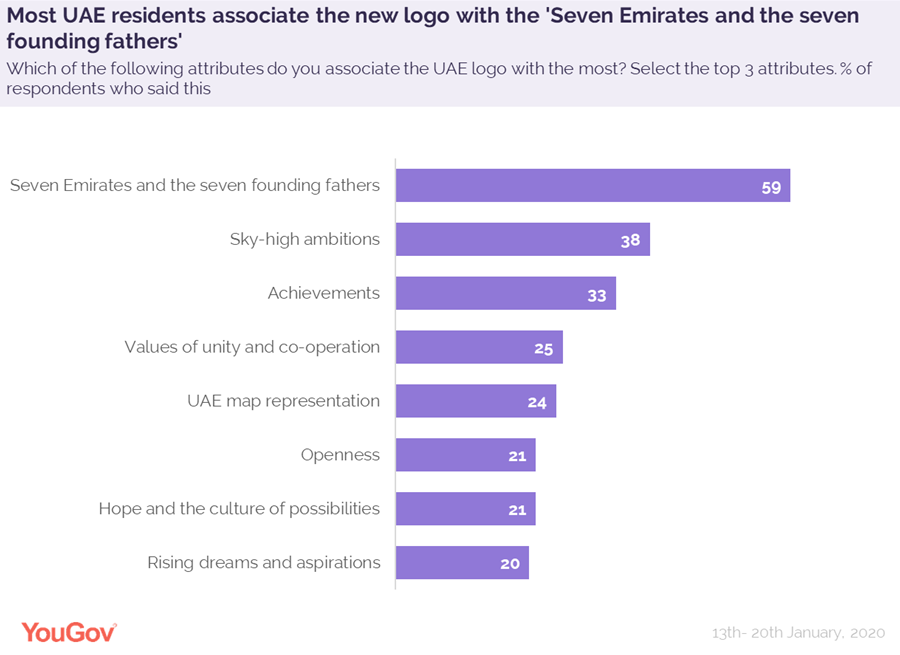 After this, two in five people (38%) draw parallels of the new logo with the nation's sky high ambitions, and a third (33%) link it with the country's achievements. A quarter connect the logo with 'Values of unity and co-operation' (25%) and 'UAE's map representation' (24%), with a higher number of women than men saying this for both these attributes (29% women vs 23% men and 29% vs 22%, respectively).
For a nation endeavouring to position itself as a global centre for trade, innovation and opportunity, the new design signifies its aspirations for the future. Speaking about the look of the logo, more than four in five UAE residents agree that it fits the national brand (82%). Just as many think it looks modern (80%), is attractive (79%) and is unique as compared to other national logos (78%).
Three-quarters (75%) feel it helps convey the UAE's story to the world. Slightly lesser respondents (72%) agree that a lot of thought has been put through when designing the logo and 68% agree that it complements the slogan 'Make it Happen'.