During February, Colgate achieved the highest uplift in Ad Awareness of any brand in the UAE
YouGov BrandIndex's latest data reveals Colgate enjoyed the greatest improvement in Ad Awareness of any brand during February. This success follows the launch of its new product, Natural Extracts toothpaste, containing activated charcoal and mint.
In addition to the messaging around the Natural Extracts toothpaste, Colgate also released a health focussed animated video titled "Spread Smiles not Germs", which highlighted good hygiene practices and the suggestion one should purchase a new toothbrush once recovered from illness.
Ad Awareness (whether someone has seen an advert for the brand) has risen by an impressive 11.2 points, from +18.3 on the 1st February to +29.5 at the end of the month. Among females these numbers are even higher, with Ad Awareness reaching +33.6 at the end of February, increasing by 13.2 points throughout the month.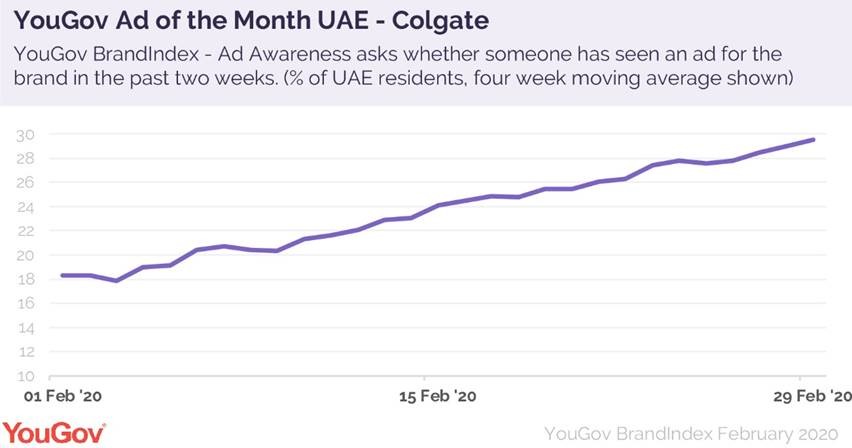 Not only are people noticing the current campaigns, but they may also be contributing to increasing Impression perceptions of the brand ("Overall, of which of the following brands do you have a positive/negative impression?"), which has achieved the second highest uplift (of the 16 metrics tracked on YouGov's daily brand tracker, BrandIndex), rising by 6.5 points from +26.4 on the 1st February to +32.9 at the end of the month.
The extent of this success will continue to be tracked in BrandIndex over the coming weeks, and we will get a better idea of whether these campaigns have increased Consideration for Colgate.