While KSA residents show similar level of optimism for both national and global recovery, UAE public are less confident about things improving globally
As the UAE and KSA governments ease lockdown restrictions in many cities, the latest data from YouGov's ongoing global COVID monitor show more than half of UAE and KSA residents (54% and 58%, respectively) think the current COVID-19 situation in their respective countries is getting better. On the other hand, 34% in the UAE and 29% in KSA think the situation is getting worse.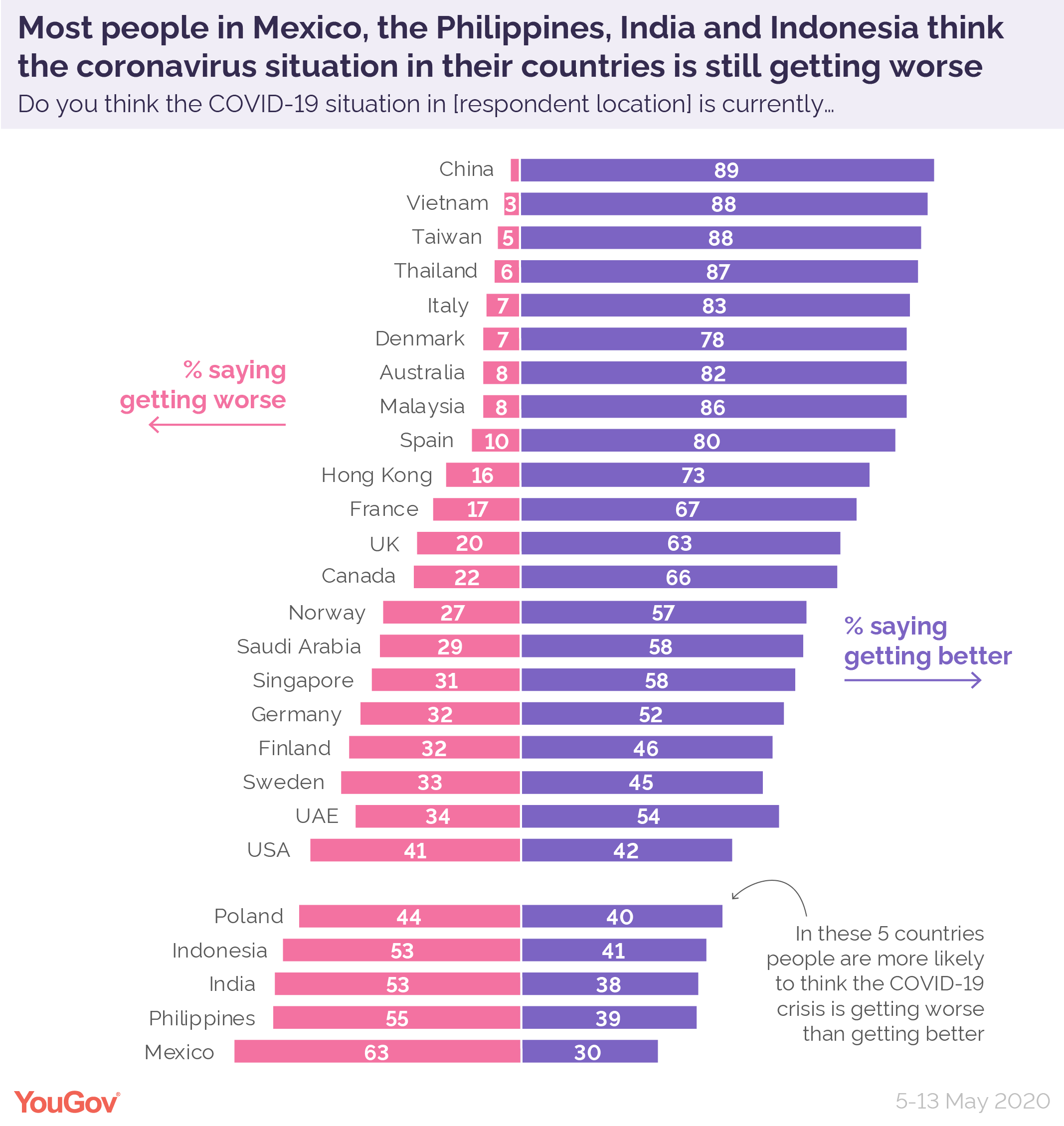 Amongst the 26 surveyed countries, most respondents in Asia think the Covid situation is improving in their respective countries. Topping the list is China, where 89% believe they're on the road to recovery and just 2% think that the worst is yet to come.
Not far behind is Vietnam, where 88% think the situation is getting better and only 3% say it is getting worse. In Taiwan too, 88% of people say they're on the path to improvement and only 5% think they aren't yet over the hump.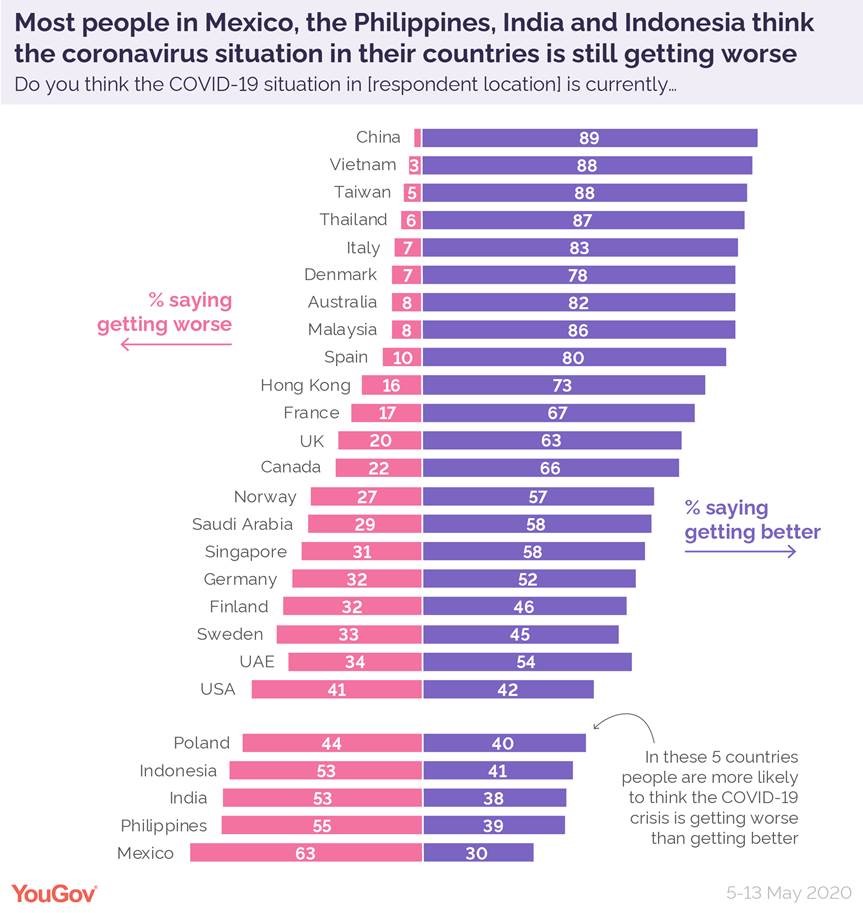 The most optimistic European country is Italy, where 83% believe they have put the worst of the crisis behind them, compared to 7% who think they have yet to get there.
At the other end of the scale, Mexicans are the most likely to think things are getting worse, with nearly two-thirds (63%) saying so. Only 30% think they've already passed the peak.
Majorities in the Philippines (55%), India (53%) and Indonesia (53%) also believe that things are still on the decline.
In the recent past, some of the worst hit western countries such as the US, Italy and Spain have partially re-opened their economies and resumed public life to some extent. When it comes to the international Covid situation, residents in the UAE and KSA appear less optimistic about recovery. Although KSA residents show similar levels of optimism for both local and global progress made in this matter, UAE residents are less hopeful about the situation improving globally than locally (54% locally vs 47% globally).
Despite most residents believing they are on a road to recovery, the public in both the countries have some concerns regarding lingering implications of COVID-19.
Among UAE residents, the vast majority (81%) are very or fairly worried about the pandemic's long-lasting negative impact on the society and its severe impact of their finances (79%). Many are anxious about their friends or family becoming seriously unwell or dying due to Coronavirus (with 74% saying they are very or fairly worried), and about losing their jobs (69%). Concern about their children's education and their own health deteriorating is comparatively lower- at 57% and 55%, respectively.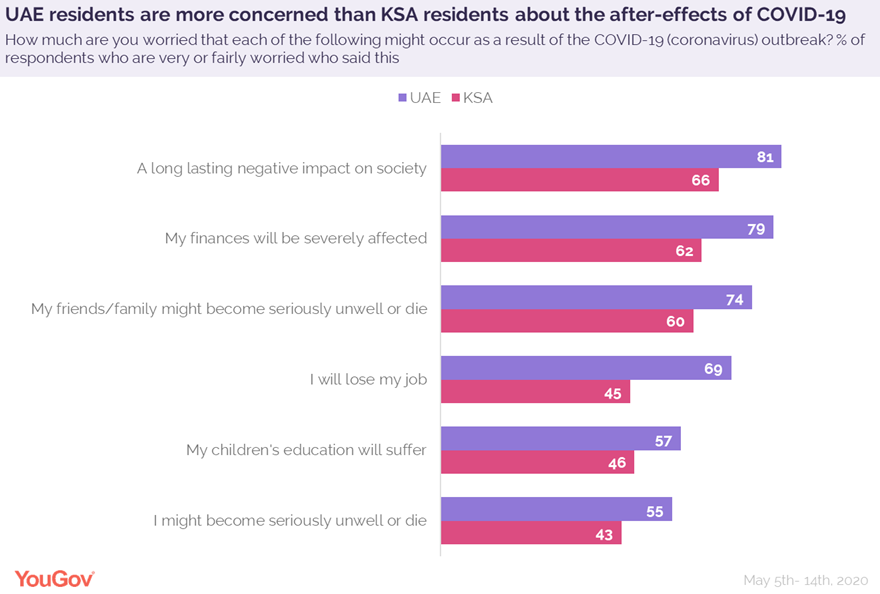 Saudi residents have similar worries, with a long-lasting negative impact on the society (66%), adverse effect on their finances (62%) and the health of their loved ones being affected due to the pandemic (60%) being some of the top fears. However, for all the listed concerns, worry among Saudi residents for each is lower than UAE residents.
Data collected online by YouGov Omnibus among 2092 respondents in the UAE and Saudi Arabia between 5th and 14th May 2020 using YouGov's panel of over 6 million people worldwide. Data is representative of the adult online population in each country.
Global data is collected among more than 27000 respondents in 26 countries between 5th and 13th May.