Despite receiving backlash on social media, the overall sentiment around the brand has improved following the launch of its new commercial
Community real estate developer Talaat Moustafa Group (TMG) Holding has recently provoked public outcry in Egypt, with the launch of their Madinaty TV commercial in May. The three-minute video, released at the beginning of the Holy month of Ramadan, features short clips focussing on residents highlighting their favourite things about living in Madinaty - a gated community in New Cairo.
Critics immediately accused the advert of being insensitive and social media was flooded with memes and comments calling out the provocative theme of class segregation. Viewers described the commercial as wealth flaunting and boastful, exposing the hostility between classes in Egypt.
Indeed, recent data from YouGov BrandIndex confirms the "noise" the campaign has created, with Attention (hearing positive or negative buzz about the brand) increasing 18.5 points by the end of May. Ad Awareness and Word of Mouth for Talaat Moustafa also both increased significantly in May, showing residents of Egypt are not only noticing the advert, they are also discussing it.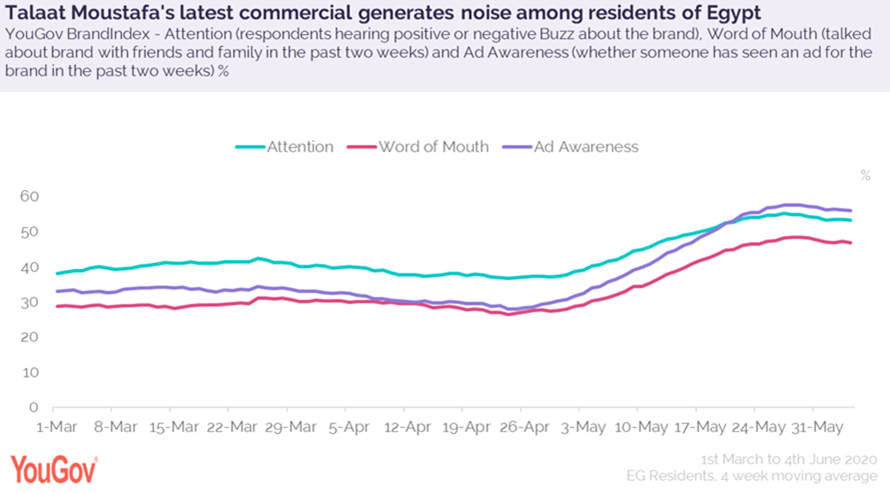 Interestingly though, despite the criticisms and negative comments surrounding the commercial online, overall sentiment towards the brand actually improved. The proportion of respondents hearing something positive about the brand increased by 15% throughout May, compared to a 4% increase in the proportion hearing something negative about Talaat Moustafa.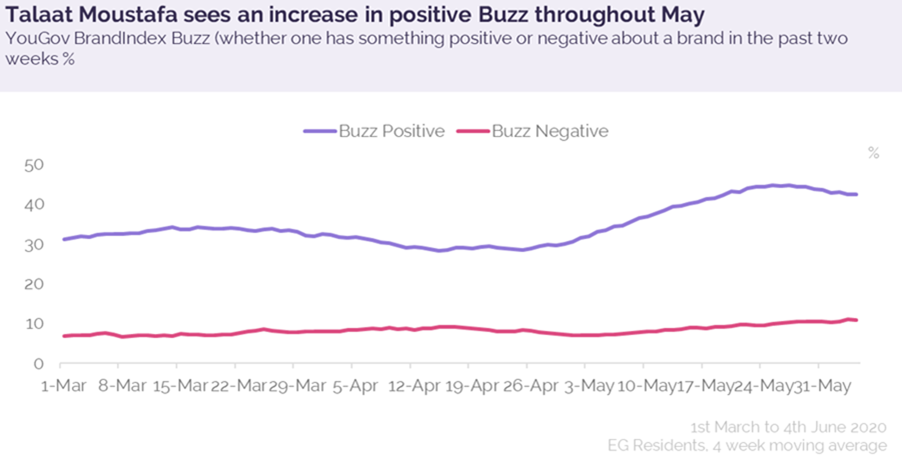 It is therefore not so surprising to learn among the general population in Egypt the campaign has had a positive impact on brand perceptions of Talaat Moustafa. As well as raising the brand's profile (Awareness on BrandIndex tracking around 70% at the end of May, compared to 65% at the end of April), the campaign appears to have had a significant impact on consumers' Quality perceptions, as well as increasing Recommendation and Reputation metrics.

YouGov brand tracking data also underlines how successful the brand's new advertising campaign has been in terms of shifting consumers' purchasing intentions. May results show Consideration and Purchase Intent were both at the highest level recorded so far this year indicating that despite the controversy from some quarters, the public continue to be aspirational, with an increasing number setting their sights on Talaat Moustafa communities.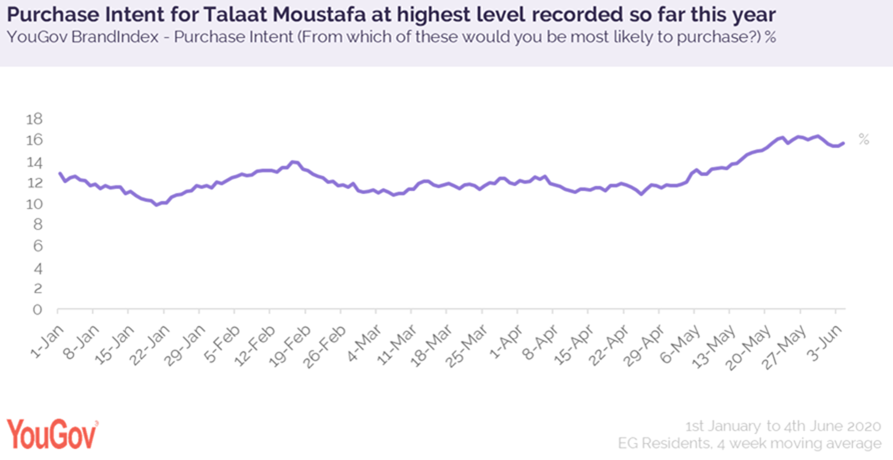 This advert and the impact it has had lends weight to the notion 'there is no such thing as bad publicity', with BrandIndex data confirming the success not only in terms of cut through, but also in terms of sentiment towards Talaat Moustafa.