More than half claim to have paid in cash less often since the Coronavirus outbreak
YouGov's latest survey reveals a large majority of UAE residents (63%) consider it very or fairly positive if their country became cashless. Men are more likely than women to hold this view (67% vs 55%). Preference for electronic payment is also higher among high-income households (earning AED 25000+ monthly) than the rest at 76%.
In general, ever since the Coronavirus pandemic engulfed the country, people seem to prefer going cashless and slightly more than half (52%) claimed to have paid in cash less often since the outbreak. Respondents within the income group of AED 10,001- 20,000 were more likely to say this than the rest of the income group members.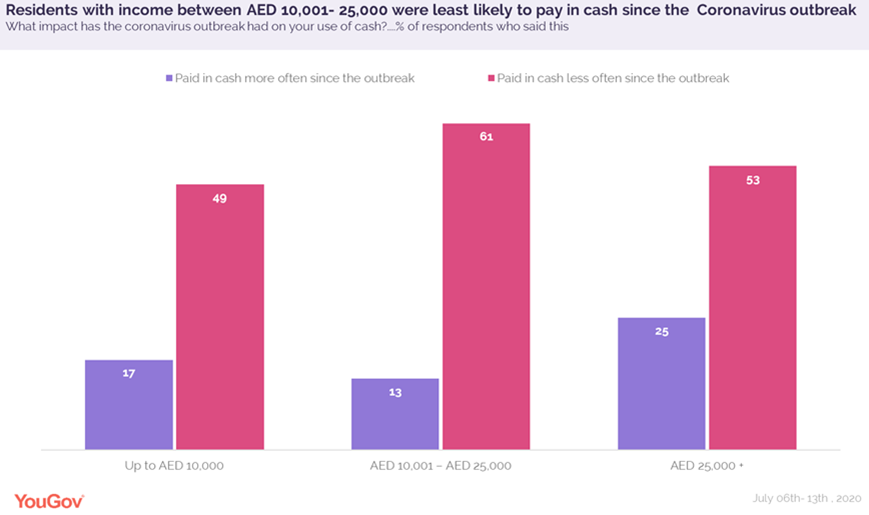 However, a small proportion (17%) have paid in cash more often since the outbreak with high-income individuals (AED 25,000+) more likely than others to have done so.
The availability of cash has not been affected amidst the crisis and residents have access to cash both from free ATMS ( with 85% saying they find it very or fairly easy to access cash from here) as well as from an ATM that charges a fee for a transaction (68% saying this).
In their day-to-day lives, cash is mostly used to make payments for very or fairly cheap items in physical stores, while cards (debit or credit) are used to make expensive (fairly or very expensive) purchases. Very few are using digital modes of payment for any of these purchases.
When it comes to making purchases in shops, a higher number of respondents consider it important to be able to make payments through credit or debit cards (79%), compared to cash (56%) or digital means like Apple Pay, Samsung Pay etc. (58%). Contactless payment, either through cards (86%) or digital wallets (69%), appears to be more important to high-income members (AED 25,000+) than the rest of the population.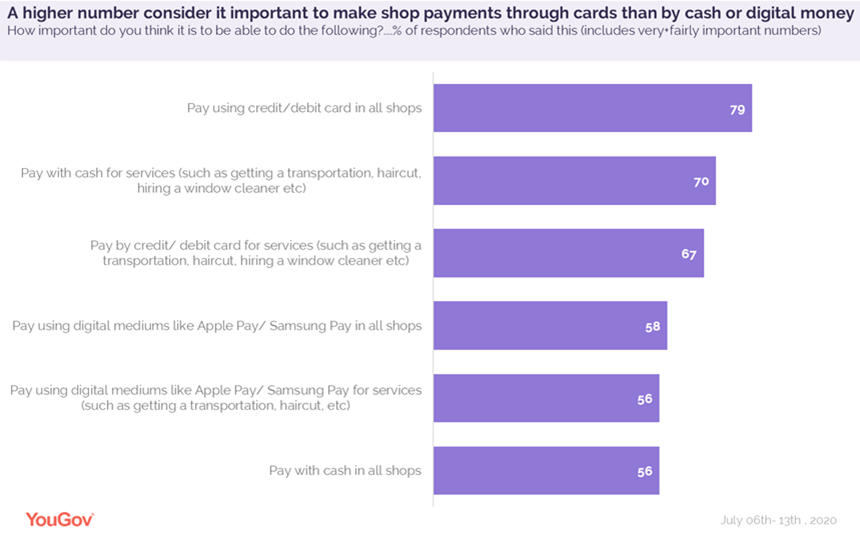 However, when it comes to personal services such as getting transportation, haircut, hiring a window cleaner, etc, seven in ten prefer making payments in cash (70%). Perhaps despite the ongoing Covid-19 situation, residents may not always have a choice of making these payments in any other form. The data indicate a large proportion of residents (67%) consider it important to have the option of paying with a card for these services, regardless of the circumstances. Comparatively, fewer favour digital modes of payment (56%) and it seems the use of this medium is less popular among residents than the other forms of payment.
YouGov Omnibus data collected online among 1000 respondents in the UAE between 6th and 13th July 2020 using YouGov's panel of over 6 million people worldwide. Data is representative of the adult national population in the UAE.