The survey shows residents are more likely to travel domestically than overseas in the near future
YouGov's new survey reveals half of UAE residents (49%) are willing to travel domestically (in a separate emirate for a duration of more than 2 days) sometime within this year, while only 3 in 10 (29%) are looking to travel internationally (for any number of days) in the remaining months of 2020.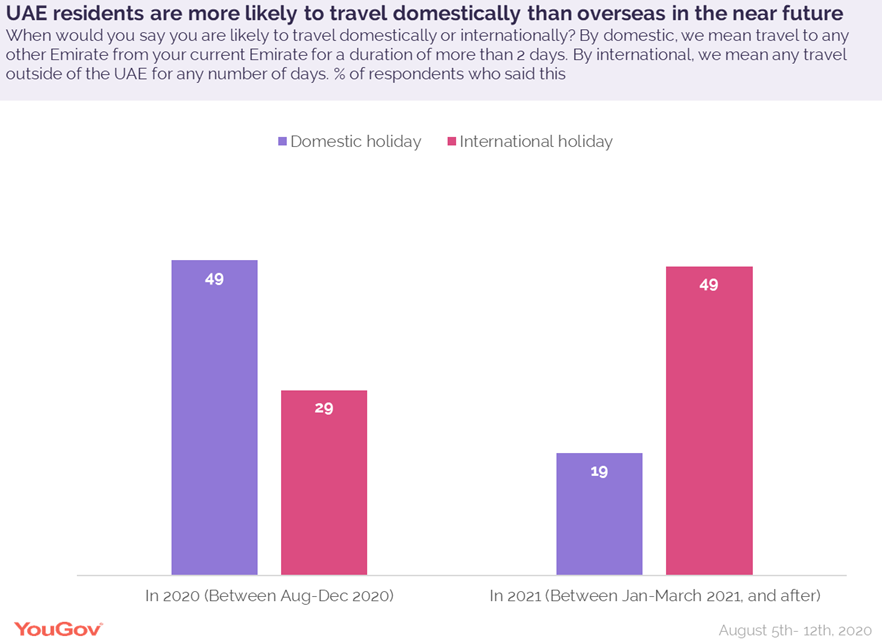 Households earning between AED 20,001- 40,000 are most likely to take a domestic trip in the coming months, with 67% of them saying this.
The data also show the likelihood of taking international trips is higher next year than now- with half (49%) the surveyed public saying they are likely to travel internationally some time in 2021.
Apart from this, 31% are not planning to holiday domestically, while 22% do not intend to travel overseas either now or in the next year.
Among those who are looking to travel domestically or internationally in 2020, most will be travelling to visit family (69%), followed by a holiday (54%). Only one in six (17%) will be taking a trip for business and fewer (12%) will be moving around to be in a much safer environment.
Females were more likely than men to say they would be travelling for a holiday (63% vs 50%). Similarly, respondents aged above 35 were more likely than their younger counterparts to anticipate traveling for a holiday.
Among those who are not likely to travel in 2020, fear of Covid-19 emerged as the biggest reason for not wanting to do so (as said by 50%). Following this, concerns for the safety of family, kids and friends (40%), lack of confidence in the safety measures of the destination country (33%), costly air tickets (31%) and not being able to afford a trip currently (31%) are some of the other reasons for unwillingness to travel this year.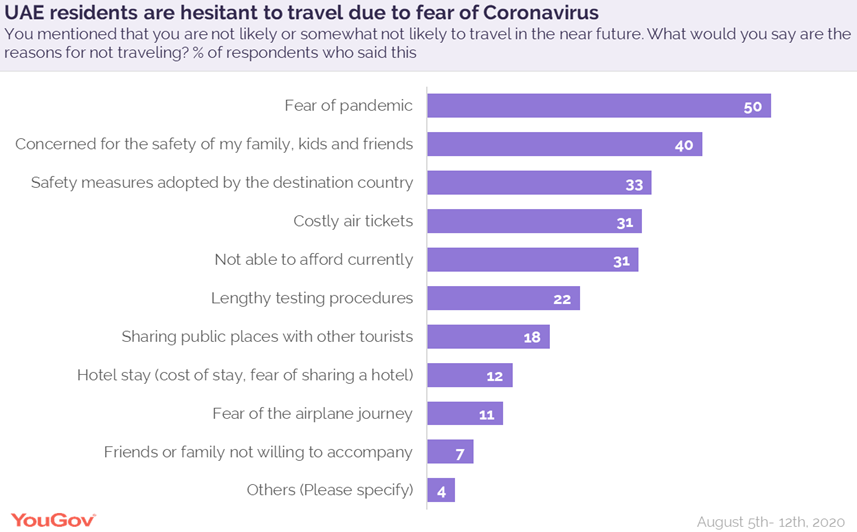 The pandemic has had a huge impact on the tourism industry and in order to encourage tourists to engage in international travel, the governments of many countries are offering special offers and discounts to entice travellers. When asked how likely are they to travel if a destination country incentivised travel, 73% respondents said they are very or somewhat likely to do so if some benefits are offered- such as covering partial flight costs or health insurance or if the entire trip or a part of is paid for by the destination country in some form. Respondents within the income bracket of AED 20,001- 40,000 are most likely to respond to these offers- with 83% saying this.
YouGov Omnibus data collected online among 1011 respondents in the UAE between 5th and 12th August 2020 using YouGov's panel of over 6 million people worldwide. Data is representative of the adult national population in the UAE.