As economic uncertainties increase, residents seek measures that help protect their financial position and reduce or avoid any debt obligations
The Coronavirus outbreak has led to tectonic shifts in individuals' personal financial situations. With plunging stocks and many people out of work, managing finances is a top priority among people. Amidst an environment of economic distress, banks in the UAE have rolled out a stimulus package offering financial relief to their customers and businesses.
YouGov's latest survey reveals nearly one in two respondents (48%) believe banks in the UAE are doing an excellent job of helping them during the COVID19 crisis. High-income households earning AED 40, 000+ were more likely than the rest to say this (at 65%).
27% of residents, however, do not think banks are doing a good job in this regard. Among the various banks in the country, consumers banking with international banks were more likely to hold this view as compared to those engaging with regional banks (32% vs 17%).
The data show at present consumers appear to be most interested in acquiring savings accounts (44% very interested) and least interested in personal loans (21% very interested), demonstrating a clear desire to protect current assets and a resistance to accumulating new debt obligations within the current financial environment.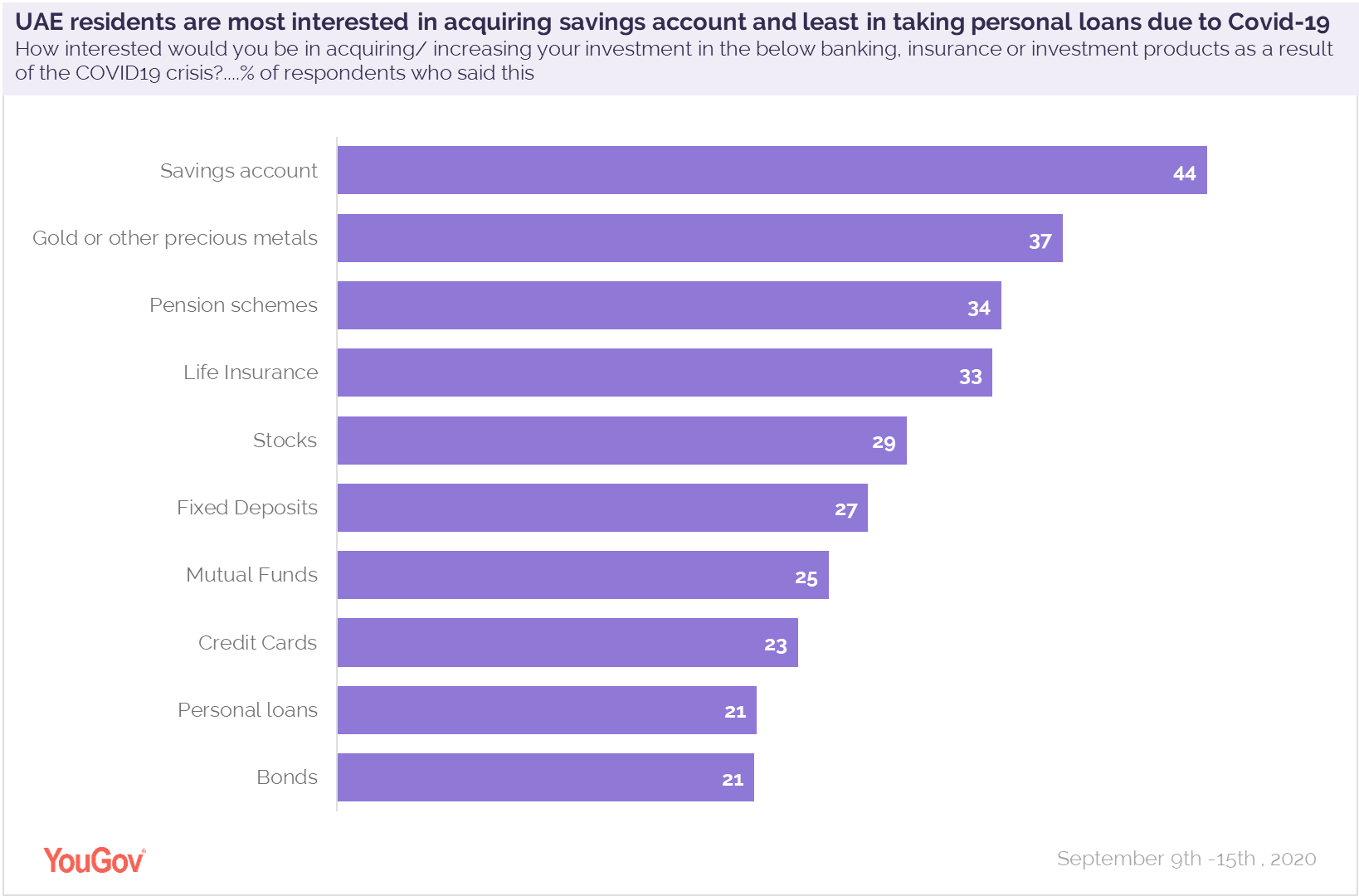 After Savings account, many are interested in increasing their investments in gold and other metals (37%), followed by pension schemes (34%).
Financial prudence is observed even in terms of interest in banks' relief offers where the largest proportion of respondents (30%) have either taken up or plan to take up offers related to basic financial responsibilities such as, "Interest-free instalment plans for payments (e.g. school fees, utility bills, etc.)".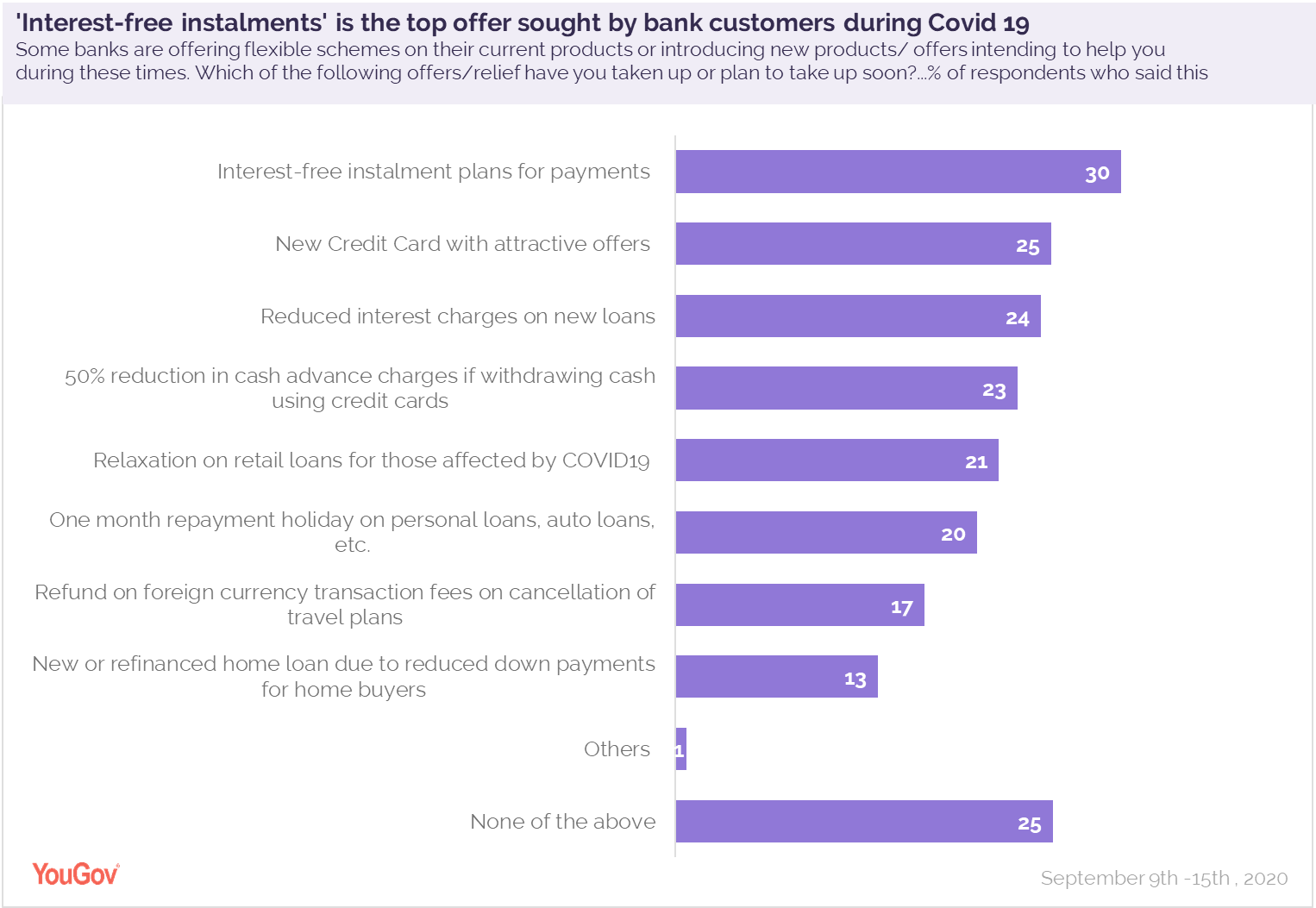 One in four (25%) have either already taken or plan to take advantage of "New Credit Card with attractive offers (such as better cashback, extended limits, etc.)", with men being more likely than women to say this (27% vs 20%).
Comparatively, fewer are seeking relief offers concerning debts, such as relaxation on retail loans for those affected by Covid (21%) or new or refinanced home loans (13%).
The Central Bank of the UAE has encouraged the citizens of the country to take advantage of digital and online banking services as a measure to curb the spread of the novel coronavirus.
Before Covid-19, a majority (62%) already preferred digital banking with only a quarter (24%) favouring traditional in-branch banking. The pandemic has accelerated digital transformation at banks, with 70% of those banking with major local and foreign banks claiming they are now using digital banking more, while 44% of respondents also said they are using traditional banking less.
Among those using digital banking, 72% rated their digital banking experience during Covid-19 as "Excellent" or "Very Good". It seems like digital banking is likely to grow further as 85% of those who had a positive experience claimed they would continue using online banking medium in the future as well.
YouGov Omnibus data collected online among 1000 respondents in the UAE between 9th and 15th September 2020 using YouGov's panel of over 6 million people worldwide. Data is representative of the adult national population in the UAE.