Among those planning to travel, staycation appears to be the most popular form of holiday during the pandemic
YouGov's latest survey reveals 27% of UAE residents are unwilling to travel anywhere until a cure for Covid-19 is available. Women were more likely to say this as compared to men (32% vs 25%).
The fear of the pandemic seems to be universal among the different age groups; with both young adults aged between 18-24 years, as well as those aged 45+ years showing similar levels of apprehension about travelling during the pandemic (35% and 33%, respectively).
Among those who are willing to travel, nearly a quarter (24%) are considering taking a staycation or shorter trips within the country. On the other hand, one in six (16%) are willing to take a longer domestic holiday, for a week or more.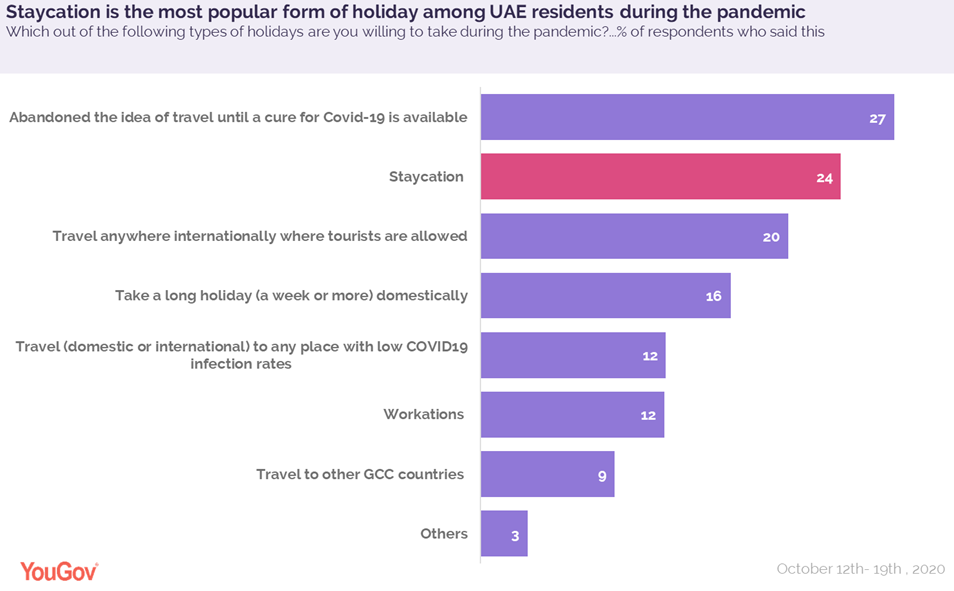 Some residents (20%) are comfortable travelling to international destinations where tourists are welcome, while some other (12%) are only ready to venture into places with low Covid infection rates.
The boredom of staying and working from home has inspired a new form of travel called 'Workation' or travel to a new or off-beat destination where one can work as well as relax. One in eight (12%) UAE residents are looking forward to go on a workation during the pandemic. This particular form of holiday seems to be more popular among high-income households (earning AED 40,000+), with one in three out of these individuals (29%) wanting to take a workation.
When it comes to choosing a travel destination during the pandemic, scenic locations such as beaches or mountains top the preference list of residents (at 45%). After this, luxury resorts are preferred by a third of respondents (33%), followed by wildlife sanctuaries (29%) and health & wellness retreats (27%).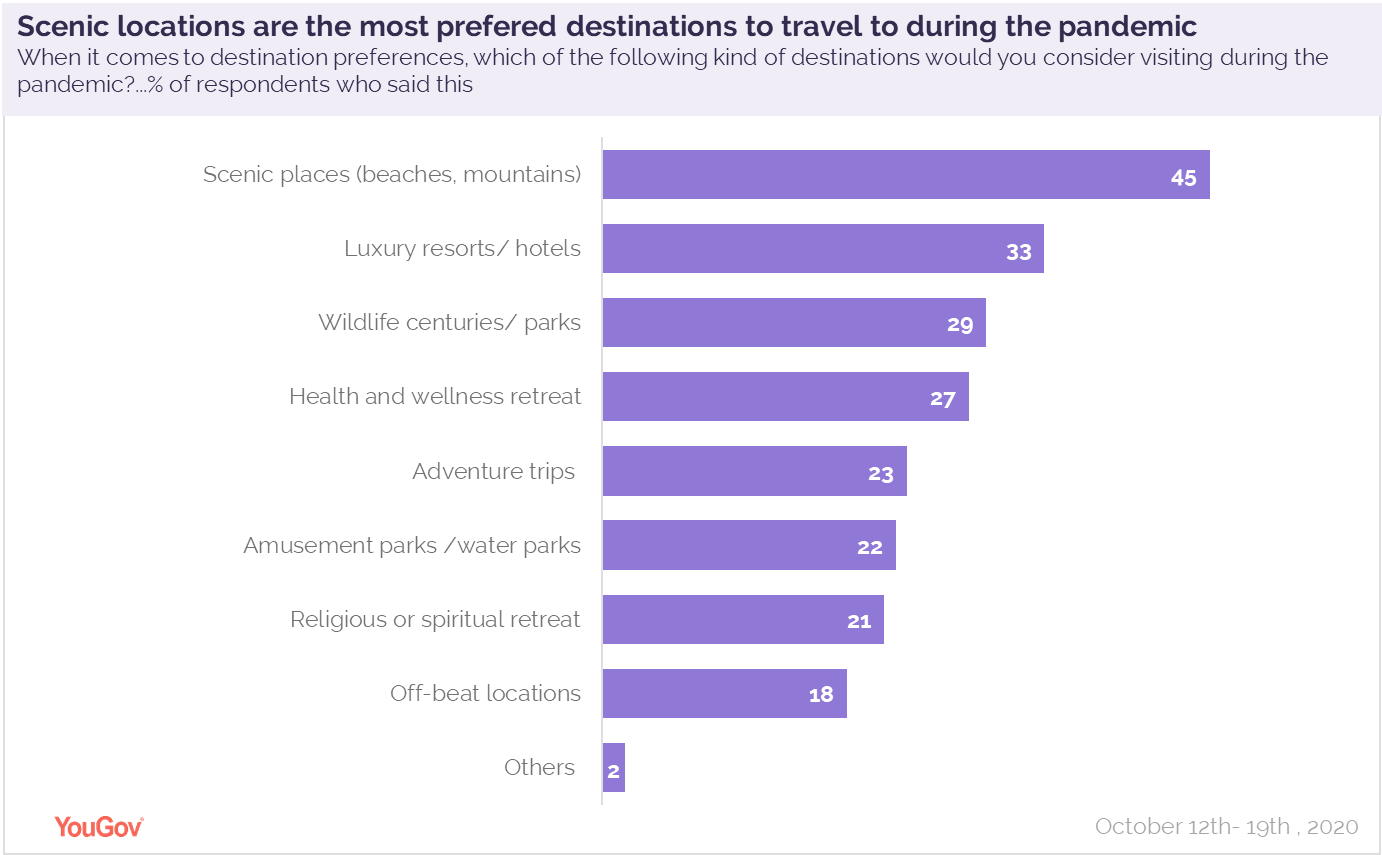 Some residents prefer adventure trips such as Scuba diving, etc., (23%) or trips to amusement parks (22%). Residents earning AED 40,000+ in particular were more likely than the other income group members to choose these kind of destinations.
Even though many people are now willing to travel, they are being cautious about their safety as well as their spending. Close to a third (30%) prefer budget hotels that follow all the safety norms. Just under a fourth (23%), on the other hand, would opt for five star hotels.
Private villas (15%), private flats on rent (12%) or staying at a friend's house (12%) are some of the options people seem to be comfortable with in terms of their accommodation.
Although people have opened up to travel, they are still not comfortable with being around other people. A majority of residents (59%) are comfortable travelling only with their immediate family members. One in six (16%) are happy travelling with a smaller group of friends or family, and just as many (16%) prefer travelling solo during the pandemic.
YouGov Omnibus data collected online among 1011 respondents in the UAE between 12th and 19th October 2020 using YouGov's panel of over 6 million people worldwide. Data is representative of the adult national population in the UAE.