Despite flight restrictions, Dubai's flag carrier airline continues to have the best brand health among UAE residents
YouTube makes an improvement of +2.5 and jumps ahead three places to third in the top 10 list
Dettol registers a +5.6 uplift, making its entry into the top 10 brands in the UAE
Google takes the top spot for best brand globally alongside tech giants WhatsApp, YouTube, Samsung and Amazon
Emirates tops YouGov's 2020 Best Brand Rankings in the UAE for the fourth year in succession (59.9). Despite the flight restrictions that have been in place for an extended period, the airline maintains its dominant position among residents in the UAE. It did however record a marginal decline (-0.9) in its year-on-year brand health score.
Emirates is followed by global messaging service WhatsApp, which remains in second (50.4) this year as well, with a marginal improvement (of +0.7) in its score year–on-year.
The rankings were based on the Index score from YouGov BrandIndex, which is a measure of overall brand health calculated by taking the average of Impression, Quality, Value, Satisfaction, Recommend and Reputation1.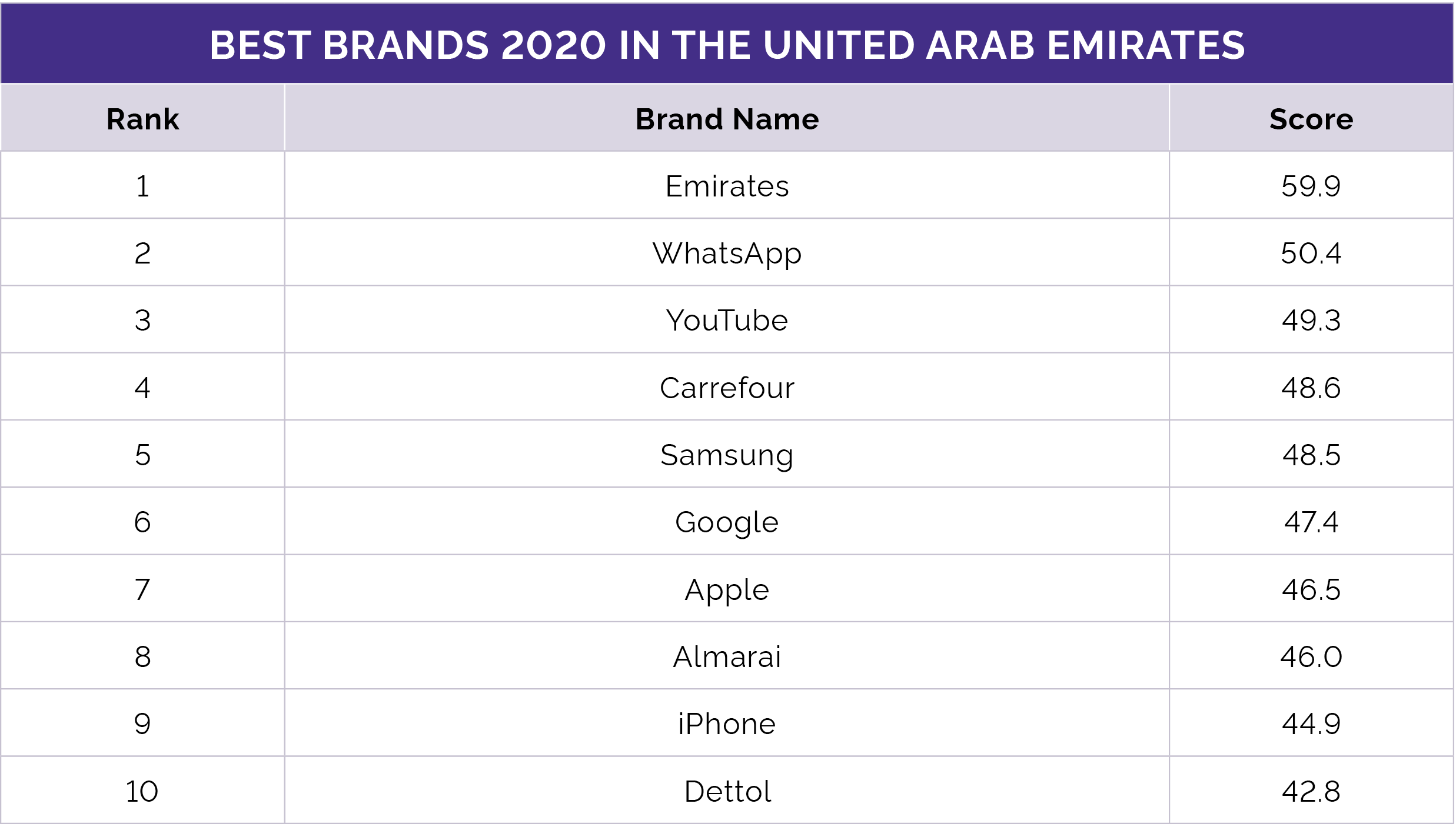 YouGov's data shows that YouTube has made a significant improvement (uplift of 2.5) to its brand perception among UAE residents and has jumped ahead three places to become the third healthiest brand in the country (49.3). Carrefour followed in fourth (48.6), maintaining its ranking with an improved year-on-year score (+1.1).
Samsung (48.5) and Google (47.4) both recorded similar scores to last year but fell in the rankings by two and one spots, respectively. Conversely, Apple and iPhone brands both saw their brand health improve year-on-year.
Dettol had a very strong year in terms of brand health perception with a significant 5.6-point uplift (42.8), making its entry in the top 10 brands in the UAE, replacing Samsung Galaxy.
The rankings also show the brands which have improved the most over the past 12 months. Majid Al Futtaim is the most improved brand of 2020, with a change in score of +11.0. Al Futtaim in the second-best improver, with a change in score of +8.7.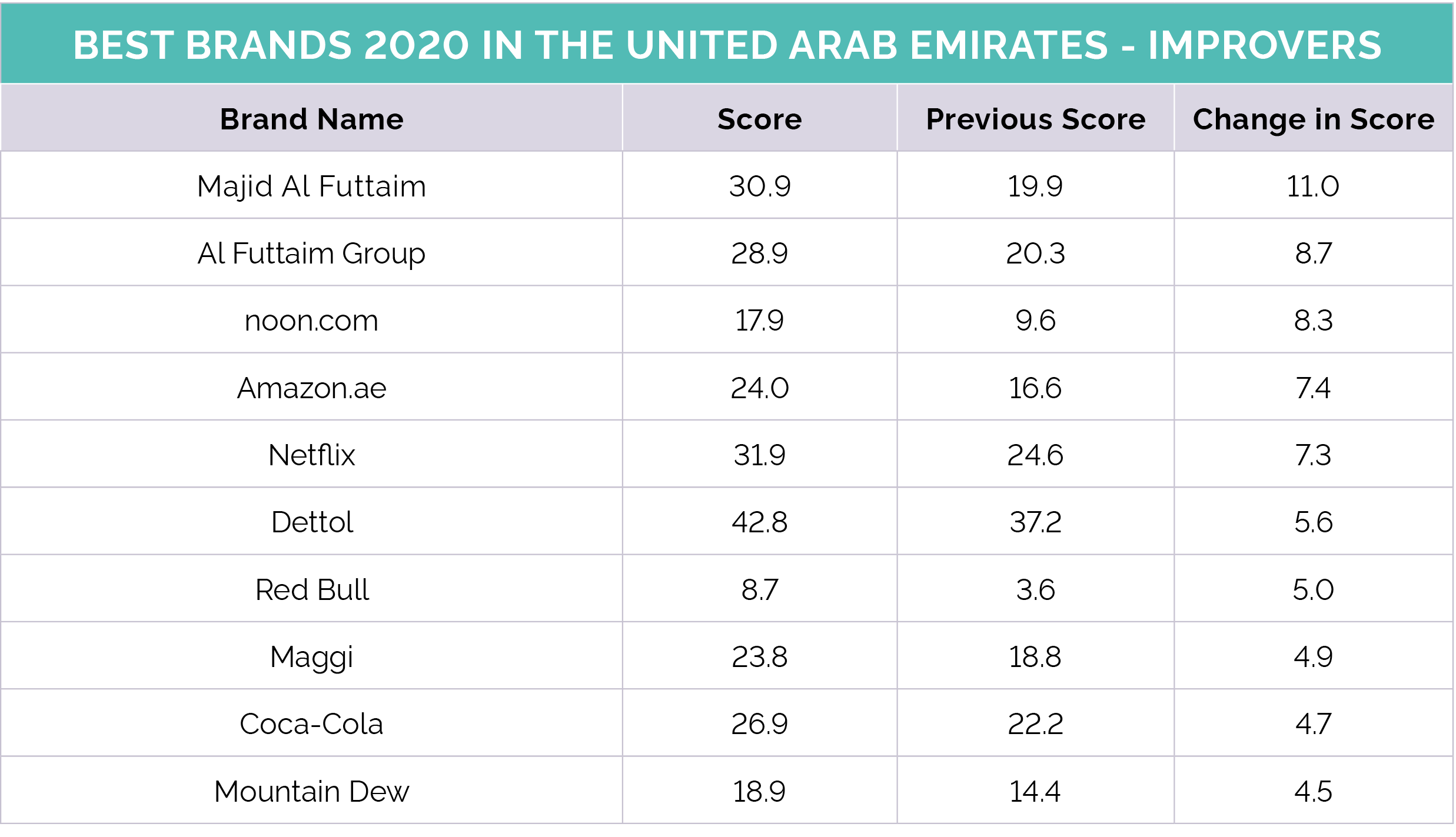 E-commerce giants such as noon.com (+8.3) and Amazon.ae (+7.4) have also made marked improvement to their scores, reflecting the rising engagement with e-commerce platforms during the ongoing global health crisis.
Whilst residents endured lockdowns, restricted options of going out and precautionary self-isolation, we saw Netflix see its brand health capitalise on having a captured audience with a 7.3-point uplift in year-on-year brand health score.
Dettol's improved score means it also features in the Top 10 Improvers this year, along with being in the Top 10 brands in the UAE.
Food & beverage brands such as Red Bull (+5.0), Maggi (+4.9), Coca-Cola (+4.7) and Mountain Dew (+4.5) complete the list of improvers, highlighting the role of familiar consumer brands in comforting the customers during difficult times.
Want to know your brand's rank? Or learn more about YouGov BrandIndex?
Complete the form below and one of our experts will be in touch
Tech companies dominate the global best brand rankings
YouGov also released this year's annual global best brands rankings with Google taking the top spot. Tech brands dominate the top of the list with the search and advertising giant followed by WhatsApp, YouTube, Samsung and Amazon.
With Netflix and Facebook in sixth and seventh respectively, the only non-tech-related brands in the top ten are Singaporean ecommerce platform Shopee (eighth), Swedish retailer IKEA (ninth) and US sportswear titan Nike (tenth).
YouGov BrandIndex conducts 8 million interviews across the world every year who answer questions about a company's quality, value and their level of satisfaction with the brand, among other measures. YouGov BrandIndex operates in over 40 countries across the globe, covering markets in North America, South America, Europe, Africa, Asia, the Middle East and Australasia.
For this year's global list, YouGov used data from 33 markets – data from countries that cover three sectors or fewer were not counted in the top 10.
Digital brands dominate the global ranking and with good reason. By their very nature the likes of Google, YouTube, and WhatsApp are available in most places on Earth to anyone with internet access. However, while much of the list has only been around for the last couple of decades, classic brands IKEA and Nike that have been around a good while longer also make the list.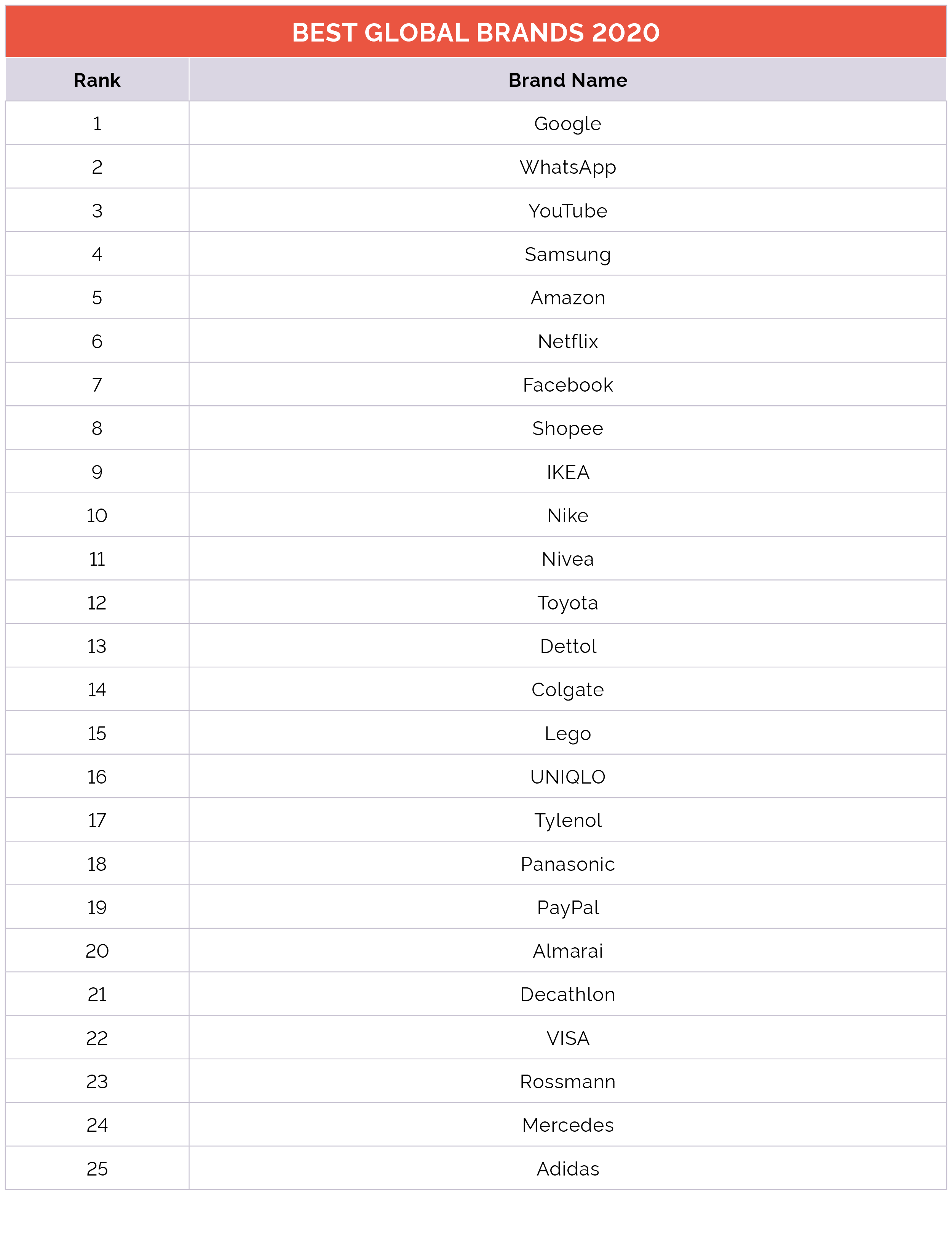 Commenting on the research, Scott Booth, Head of Data Products and Services MENA at YouGov said, "The best brands globally featured heavily in the UAE best brand rankings again with the most notable and unsurprising change in the UAE being the inclusion of Dettol in the top 10. Attitudes and behaviour changes around cleanliness and sanitization relating to the global pandemic clearly playing a part in this improvement. More interesting however is how e-retailers, streaming services and food and beverage related brands have benefited from captive audiences over the past months to dominate the top improvers list."
Methodology
The rankings are drawn from interviews conducted between October 2019 and September 2020. Each day consumers are asked their view on 632 brands in the UAE, which allows YouGov to build a picture of how different brands are perceived by the general public through comparing Index scores – which is a measure of overall brand health calculated by taking the average of Impression, Quality, Value, Satisfaction, Recommend and Reputation.
1Impression – whether someone has a positive or negative impression of a brand
Quality – a net measure of whether consumers think the brand represents good or poor quality
Value – a net measure of whether consumers think the brand represents good or poor value for money
Satisfaction – whether someone is a satisfied or dissatisfied customer
Recommend – whether someone would recommend a brand to a friend or not
Reputation – whether someone is proud or embarrassed to work for a brand