Giant soft-drink brand, Pepsi, enjoyed the greatest improvement in Ad Awareness of any brand in Egypt during January. The uplift coincides with the brands new creative campaign, featuring famous icon Amr Diab, which appears to have resonated with the public. The advert was released at the beginning of January and using nostalgic themes looks back on the last 20 years of the Amr Diab and Pepsi collaboration. In addition to the adverts (released on digital and out of home across Cairo), Pepsi also launched Amr Diab limited edition Pepsi cans and a competition whereby consumers could collect Pepsi bottle caps and cans and exchange them for Amr Diab branded gifts.
YouGov brand tracking data shows that people are certainly noticing the ads, with Pepsi's Ad Awareness score rising by 10 points, from +43.1 on January 1st to +53.1 on January 28th. Looking at the data by age group shows among 35 to 44 year olds, these numbers are even higher, with Ad Awareness reaching +60.2 at the end of January, increasing by 14 points throughout the month.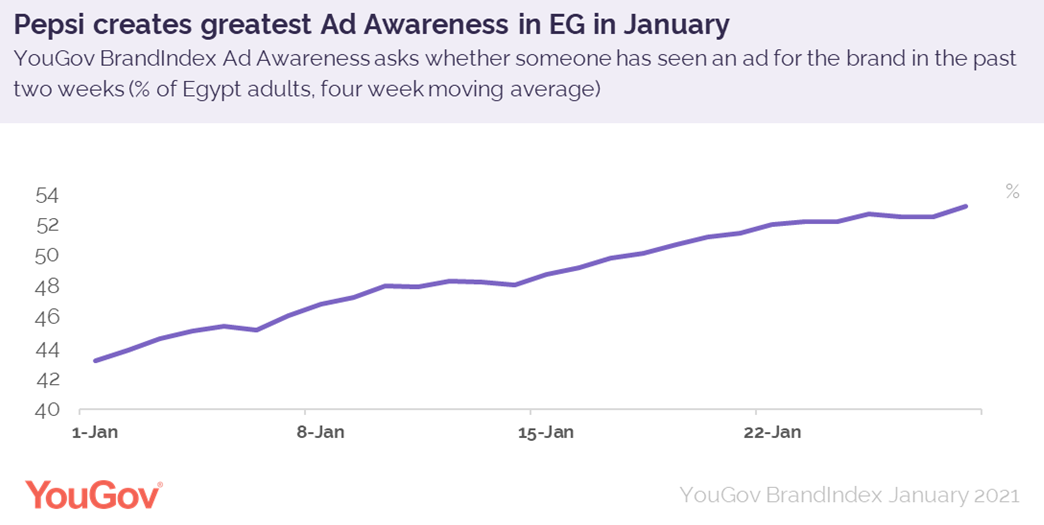 Not only are people noticing the campaign, but it has got people talking too. Pepsi's Word of Mouth score (whether you have talked about a brand with friends or family) improved by 6.5 points throughout January, while Buzz (sentiment tracking) increased by 5. In terms of behavioural changes, BrandIndex Consideration tracking (whether a respondent would consider a brand) shows an uplift of 3.1% throughout January.
The success of this campaign will continue to be tracked in BrandIndex over the coming weeks, and we will get a better idea of whether the newest Amr Diab and Pepsi collaboration has translated to greater Current Customer numbers for Pepsi in Egypt.