Young kids up to age six are more likely to own a separate device than use an adult's or share among siblings
YouGov's latest research shows more than a third (36%) of young children in the UAE, up to the age of 6 years, possess their own iPad or tablet.
The survey questioned parents on their child's interaction with digital devices to understand the likely impact of this engagement.
The data shows at present two in five children (43%) in the UAE have their own tablets or iPads. Out of this total proportion, 36% of iPad/ tablet owners belong to the group age of 0-6 years. Private device ownership is highest in this age group when compared to using an adult's device or sharing it among siblings (36% vs 22% and 16% respectively).
Apart from the iPads and tablets, a considerable number of children within this age group (0-6 years) have their own smartphones (31%), laptops or computers (27%) and handheld computer games (23%). The ownership of gaming consoles is comparatively lower at 18%.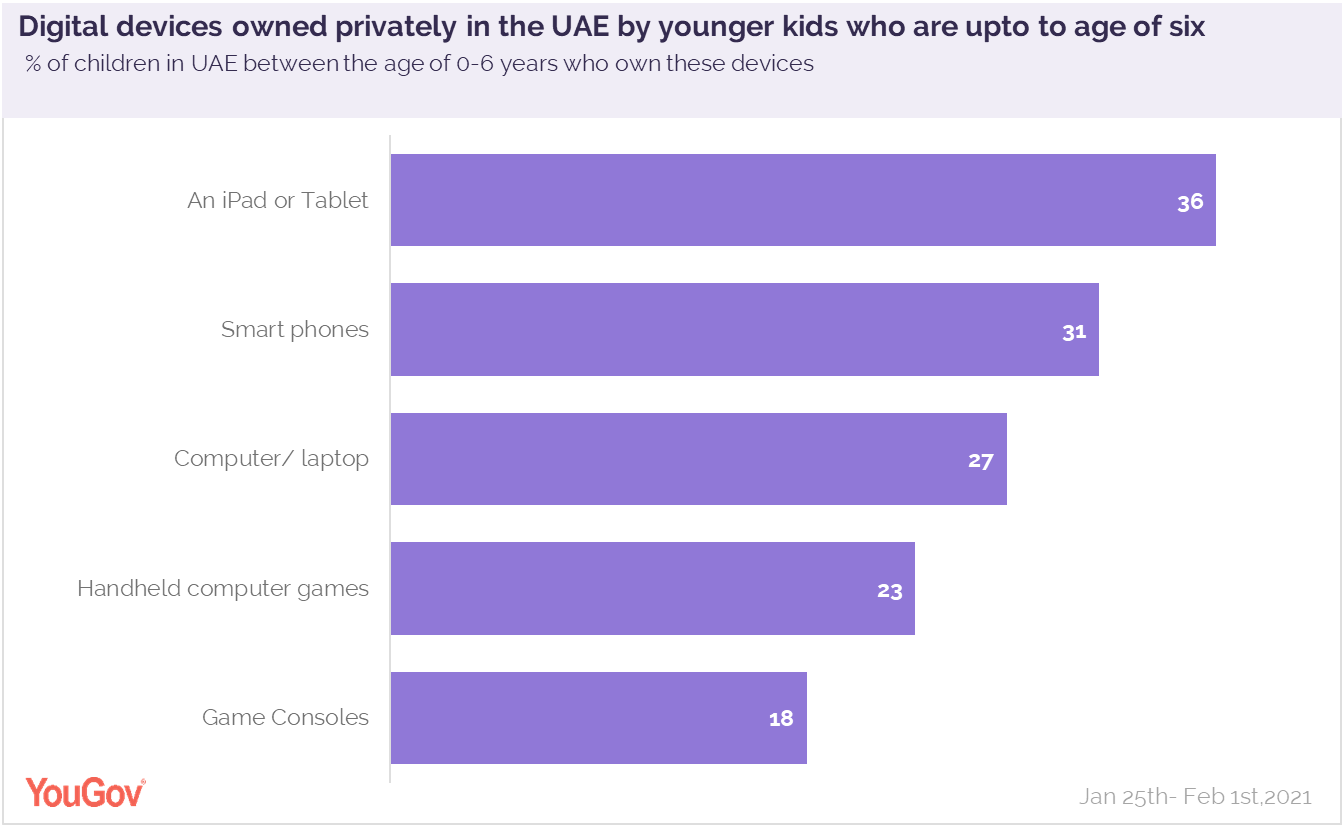 The coronavirus pandemic forced people to stay indoors, which resulted in a higher adoption of digital mediums and devices for education and entertainment.
Unsurprisingly, four in five parents in the UAE said their child's screen time has increased after the pandemic. Even though children's total screen time has increased considerably after the pandemic, not many parents perceive it to be a negative development.
Two out of five (40%) parents look at their child's interaction with digital devices favourably and said that it has positive impact on them. Three in ten (31%), however, think otherwise and feel digital devices affect their child negatively.
Parents whose youngest child is between 0-6 years were more likely to say tech gadgets affect their child positively, when compared to the rest of the parents.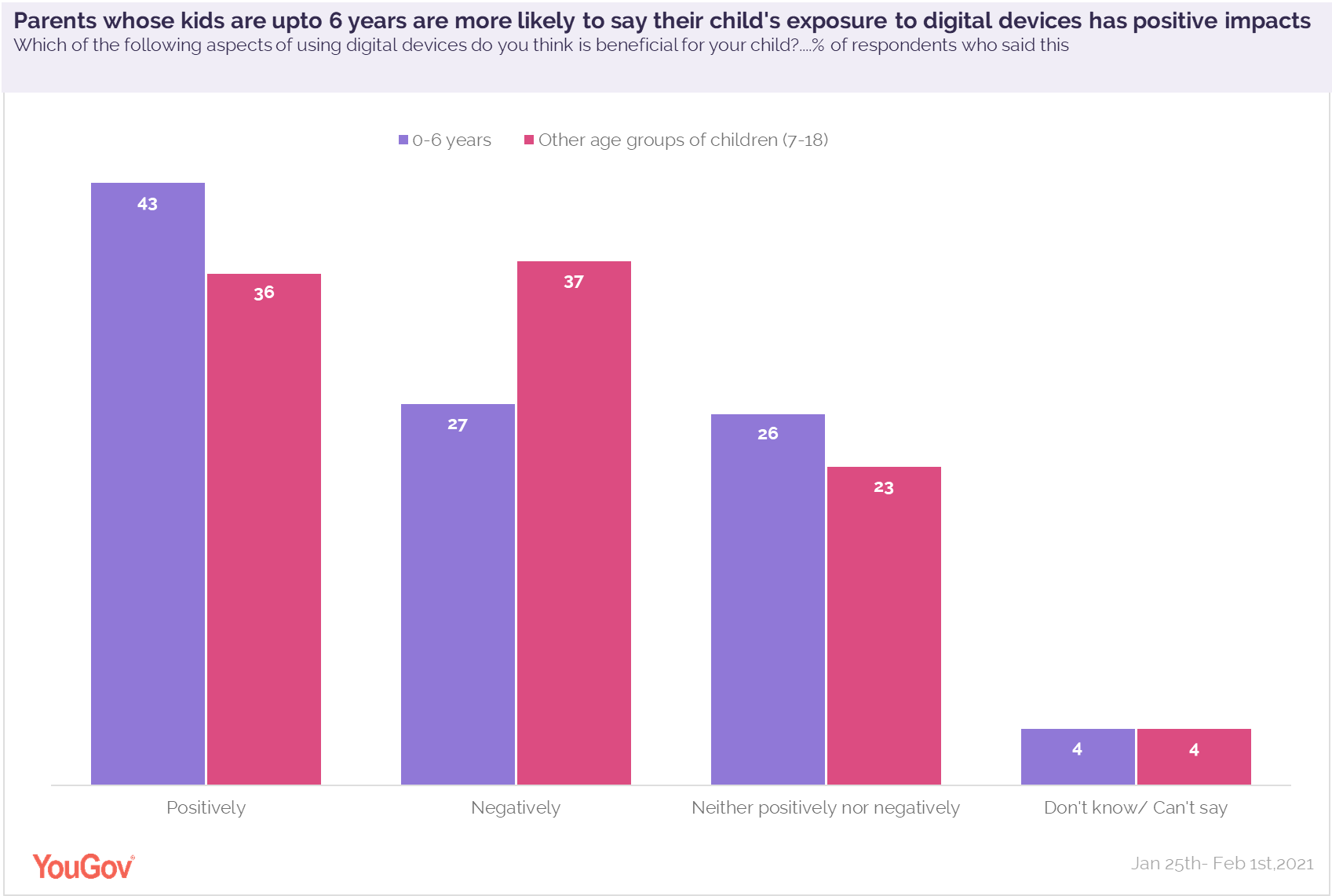 With schools moving online, it is not surprising to see a large majority of UAE parents (56%) saying digital devices help keep up with schoolwork during this time.
According to parents, other benefits of using digital devices include enhancement of their child's learning skills (42%) and exposure to a variety of ideas and opinions (37%).
A third of parents (32%) with children between 0-6 years age group claim digital devices have been beneficial in building their child's problem solving skills.
Talking about the negative outcomes, a majority of parents claim digital devices have a detrimental impact on their child's physical health (54%) and leads to excess time being spent online (52%).
Many are concerned about its effect on their child's mood (44%) and their exposure to inappropriate content (45%). Notably, all these concerns are greater amongst parents with older children (6 years and above).
In order to deal with these issues parents are taking several measures. Half the parents set a limit for screen use (50%), encourage their child to participate in fun activities and educate them about privacy concerns (48% each).
Keeping a check on their child's digital activity (46%), adding parental controls (45%) and restricting use of devices during bedtime (45%) are some of the other ways through which parents try to safeguard their child's usage of digital devices
Commenting on the survey results, Zafar Shah of YouGov said, "Children today are growing up in a digital age and devices have become a part of their daily lives. The data shows a considerable proportion of young kids have their own personal gadgets. Numbers are notably high for smartphones and tablets. Parents of young children in the UAE especially have a favourable attitude towards digital devices and allow private ownership of gadgets among kids. This presents a lucrative segment of consumers for device makers. Therefore, understanding the mindset and needs of parents becomes important in order to approach these potential buyers in the best possible way."
Data collected online for 573 parents in the UAE by YouGov's Omnibus between January 25th and February 1st 2021 using YouGov's panel of over 6 million people worldwide.