The top ten list this year sees a dominance of sportswear and travel brands
Adidas tops YouGov's Recommend Rankings 2021 in Saudi Arabia, with a Recommend score of 87.9. The brand's recent partnership with Challenge Team (Saudi's first ever Women's Football League champions) to support the Kingdom's vision of empowering women in sports won over the public, making it the most recommended brand in the country.
The rankings are based on YouGov BrandIndex's positive Recommend score, which measures the percentage of a brand's customers who would recommend it to a friend or colleague. Every brand in our Rankings has a minimum sample of 300 and has been tracked for at least 6 months, with all scores being rounded to a single decimal place.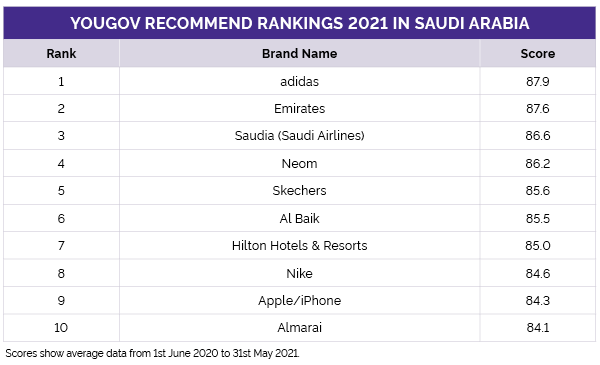 Travel & Airlines giant Emirates is a close second, with a score of 87.6, followed by Saudia in the third place (86.6).
Alongside Adidas, two other sportswear brands feature in the top ten list, highlighting the increased focus on fitness amidst the pandemic. Skechers is placed in fifth (score of 85.6) and Nike in eighth (84.6).
The rapid progression of vaccination in the country and the subsequent easing of restrictions has helped strengthen the position of hotels and destinations among consumers. Hilton Hotels & Resorts has seen notable improvement to its Recommend score year-on-year, also entering the top 10 list this year, in seventh (85.0).
Neom, Saudi's planned smart city, that also serves as a popular tourist spot, took fourth place with a score of 86.2.
Al Baik and Almarai represented local brands in the rankings, taking the sixth (85.5) and tenth (84.1) spots, respectively.
iPhone completes the list in the ninth place (84.3).
YouGov BrandIndex has also released the ten "most improved" brands that have registered the largest improvement to their Recommend scores among customers, in the past 12 months. Despite facing travel bans and restrictions, Travel & airlines companies, flynas and Egypt Air emerged as the "most improved" brands of the past year, with a rise of +9.7 points each to their Recommend scores. Saudia (Saudi Airlines) is the third best improver, with a change in score of +7.9 points.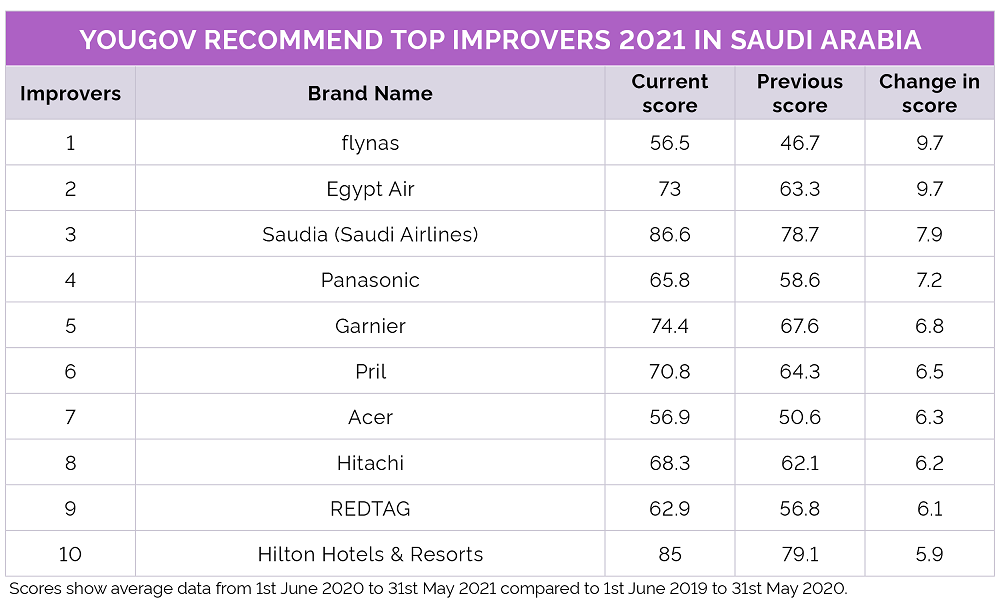 Apart from travel brands, consumer electronic brands heavily populate this year's improvers list, with Panasonic (7.2 change in scores), Acer (6.3) and Hitachi (6.2) taking a spot each.
Garnier (6.8), Pril (6.5), REDTAG (6.1) and Hilton Hotels & Resorts (5.9) are the other brands that complete Saudi's list of improvers in 2021.
Scott Booth, Head of Data Products, MENA, said, "KSA's most Recommended list heavily features sportswear and apparel brands and it is interesting to see how they have benefited from the increased enthusiasm for fitness during the course of the pandemic. The rapid progression of vaccination and the worldwide easing of restrictions have built the appetite for travel as we see many travel and airline brands strengthening their advocacy among Saudi consumers."
Methodology:
The YouGov Recommend Rankings 2021 are calculated using data we collect from members of the public in markets around the globe every day, from our flagship YouGov BrandIndex tool.
Every brand's performance is tracked daily against a range of metrics, and our Recommend ranking measures the percentage of a brand's customers who would recommend it to a friend or colleague. The rankings data can be further developed with YouGov Recommend+ a fresh approach to understanding consumer advocacy.
YouGov Recommend+ is a highly cost-effective NPS® diagnostics approach that gives marketers the full picture of what drives existing and potential promoters by speaking directly to those customers who recommend your brand.
YouGov BrandIndex draws data from interviews with our 15 million registered panel members across 40 sectors and more than 55 countries globally. This year's ranking includes consumer views from across 33 markets, including the USA, China, Germany, India and the UK, and many more.