Malls and entertainment venues dominate the top 10 list, with four leading names making the list
YouGov analysis reveals iPhone is the most recommended brand in Egypt by its customers, with a score of 86.5%.
The rankings are based on YouGov BrandIndex's positive Recommend score, which measures the percentage of a brand's customers who would recommend it to a friend or colleague. Every brand in our Rankings has a minimum sample of 300 and has been tracked for at least 6 months, with all scores being rounded to a single decimal place.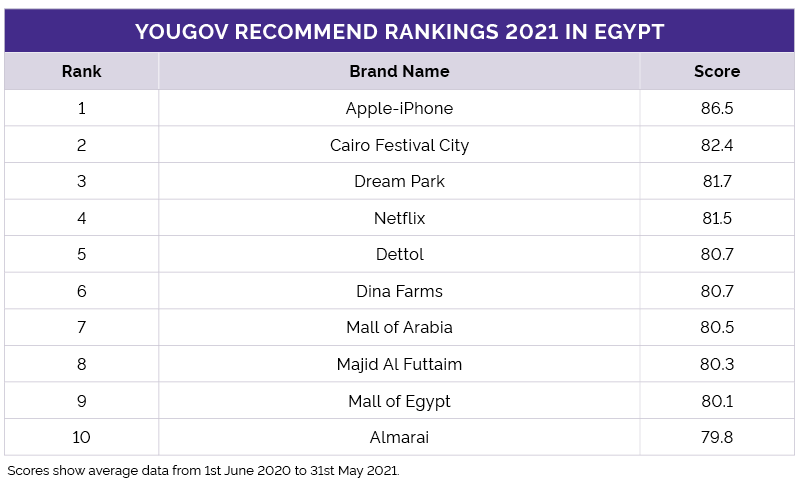 The introduction of 5G backed iPhone 12 series by the smartphone giant seems to have helped it maintain strong advocacy among customers, making it the most recommended brand in the country.
The top 10 list in Egypt is dominated by leisure and entertainment venues. Three leading malls make up the list, namely Cairo Festival City placed in second (82.4), Mall of Arabia in seventh (80.5) and Mall of Egypt in ninth (80.1). Alongside these, Dream Park also makes an appearance in the list, ranked third (81.7).
Whilst residents endured lockdowns with limited means of entertainment, Netflix benefitted from having deeper engagement with a captive audience. The brand takes the fourth spot in the rankings, with a score of 81.5.
Likewise, Dettol enjoyed strong advocacy amidst the pandemic, taking the fifth spot in the rankings (score of 80.7).
Dina Farms, Majid Al Futtaim and Almarai also make an appearance in the list, in sixth (80.7), eighth (80.3) and tenth (79.8), respectively.
YouGov also revealed the brands that made the greatest improvement to their Recommend score among customers over the past 12 months. McDonald's noted the biggest uplift (of +9.6) to its Recommend score among customers, from 65.5 last year to 75.1 this year.
Likewise, KFC has made great strides over the past year, making it the second most improved brand in Egypt (change in score of +7.3).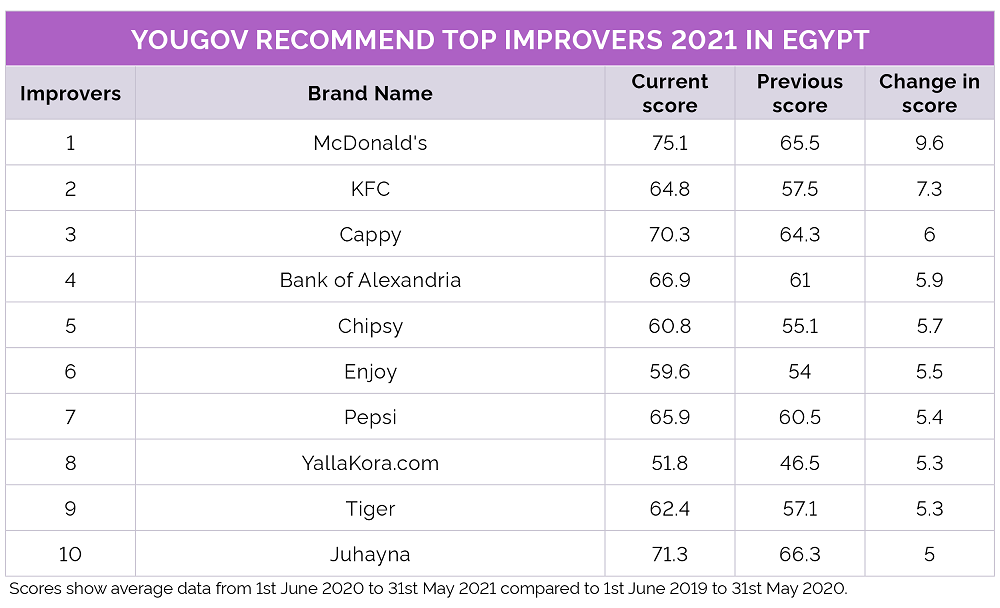 The improvers list is populated by many food and beverages brands such as Cappy (6.0), Chipsy (5.7), Enjoy (5.5), Pepsi (5.4), Tiger (5.3) and Juhayna (5.0).
Bank of Alexandria (5.9) and Yallakora.com (5.3) are other brands that complete Egypt's improvers list.
Scott Booth, Head of Data Products, MENA, said, "With Covid19 restrictions easing across the country, malls & destinations have strengthened their position among consumers and some of the most recommended brands fall within the gamut of leisure and entertainment. Most improved brands are focussed on food & beverages, highlighting the strong affinity of these brands with customers in the country."
Methodology:
The YouGov Recommend Rankings 2021 are calculated using data we collect from members of the public in markets around the globe every day, from our flagship YouGov BrandIndex tool.
Every brand's performance is tracked daily against a range of metrics, and our Recommend ranking measures the percentage of a brand's customers who would recommend it to a friend or colleague. The rankings data can be further developed with YouGov Recommend+ a fresh approach to understanding consumer advocacy.
YouGov Recommend+ is a highly cost-effective NPS® diagnostics approach that gives marketers the full picture of what drives existing and potential promoters by speaking directly to those customers who recommend your brand.
YouGov BrandIndex draws data from interviews with our 15 million registered panel members across 40 sectors and more than 55 countries globally. This year's ranking includes consumer views from across 33 markets, including the USA, China, Germany, India and the UK, and many more.