YouGov's Best Buzz Rankings reveal the brands that generated the most NET positive buzz in 2021
The Kingdom's national flag carrier Saudia has dethroned Almarai to become the top-ranked brand in YouGov's Best Buzz Rankings 2021 in KSA (46.6).
YouGov's BrandIndex measures the public's perception of brands on a daily basis across a range of metrics. The annual Buzz rankings are compiled using Buzz scores from the entire years' worth of data. Buzz scores measure whether people have heard anything positive or negative about a brand during the previous two weeks and the scores are reported as NET scores.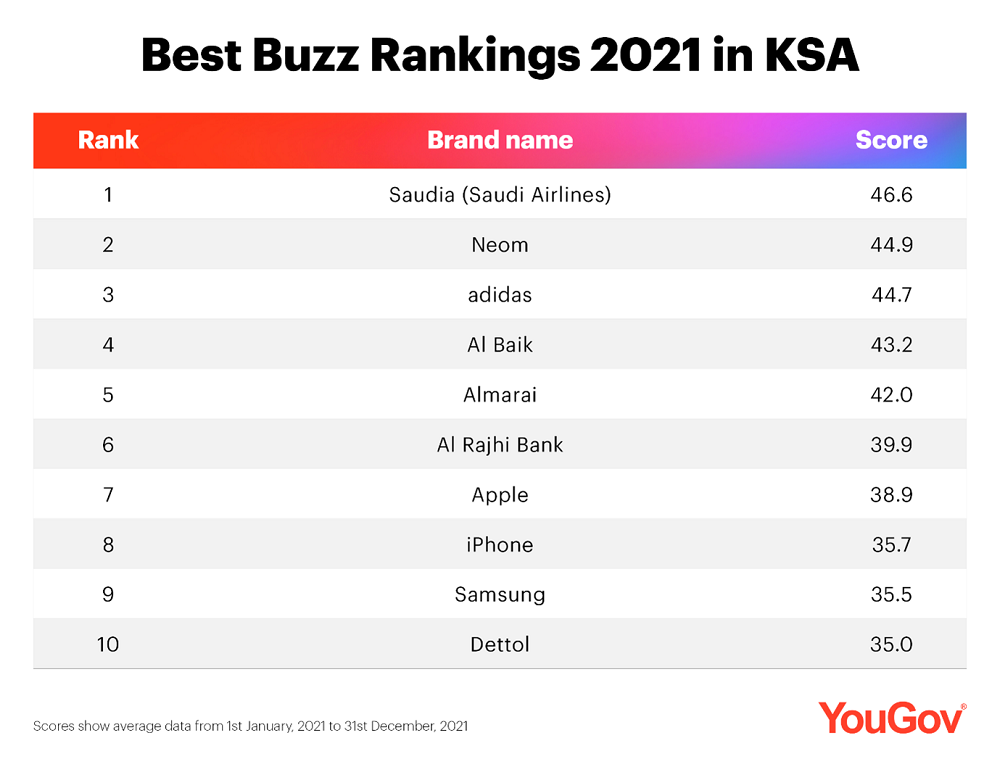 Dairy giant Almarai moved down four places to fifth (42.0), despite recording no change to its Buzz score compared to 2019 rankings (42.0 in both 2019 and 2021 rankings).
Neom, Saudi's planned smart city, which also serves as a popular tourist spot, makes an impressive new entry in second place with a lot of positive noise surrounding the destination (44.9) followed by another new entrant adidas, in third (44.7).
Al-Baik dropped down one place to fourth (43.2), while Al Rajhi Bank strengthened its positive sentiments among the residents and moved up three places to sixth (39.9) in the 2021 rankings in KSA.
Apple along with its smartphone brand iPhone, moved up to seventh (38.9) and eighth (35.7) place, respectively. While its competitor, Samsung, slipped down two places to ninth (35.5). The increased focus on health during the Covid-19 pandemic created a lot of net positive Buzz for hygiene brand Dettol, that takes tenth place in the top ten list (35.0).
YouGov BrandIndex has also released the ten "most improved" brands of the past year. Along with featuring in the 2021 KSA top ten list, Neom is also the "most improved" brand of the past year, with a change in score of +10.5 points. Other popular destinations like the Red Sea project and Qiddiya have also registered notable improvements in their Buzz score, featuring in the top 10 improvers list at third (6.0) and fifth (4.7), respectively. All three megaprojects are clearly being well received by residents in the Kingdom.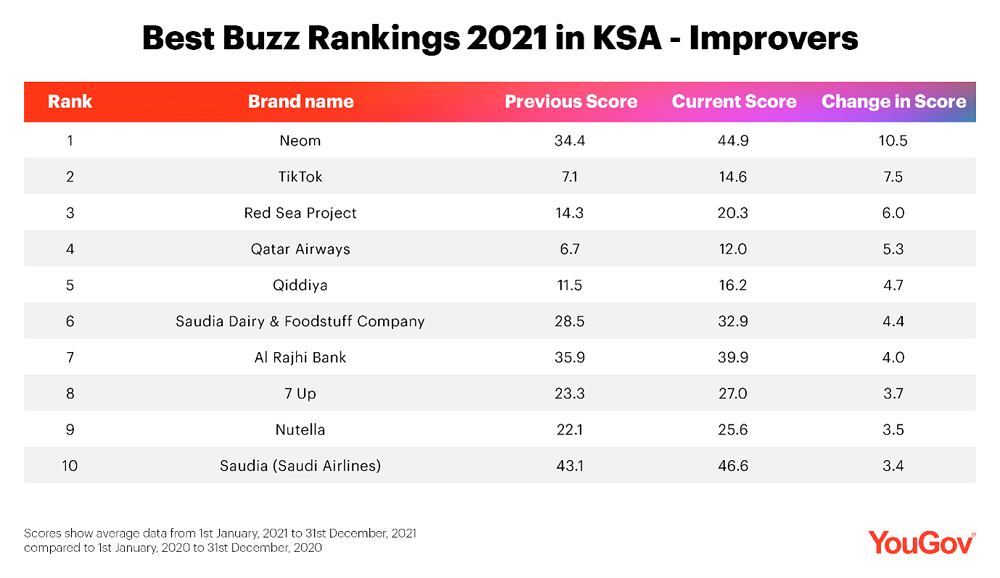 Tik-Tok is the second most improved brand of the past year, with a change in score of +7.5.
With the end of blockade and return of Qatar Airways to Saudi Arabia in 2021, the airlines made notable improvements to its score (change in score of +5.3), appearing fourth in the list of improvers. Saudia also features in tenth place in the improvers list.
Food and beverage brands; Saudia 4.4), 7 Up (3.7) and Nutella (3.5) all saw uplifts in their Net Buzz. Al Rajhi Bank, which also featured in the top ten list in KSA, secured seventh place in the improvers list of 2021 in KSA.
Methodology:
The brands in YouGov Best Buzz Rankings 2021 were ranked based on the Buzz score, which asks respondents, "If you've heard anything about the brand in the last two weeks, through advertising, news or word of mouth, was it positive or negative?" Scores are net scores, calculated by subtracting the percentage of negative responses from the percentage of positive responses for each brand.
The Buzz Rankings chart shows the brands with the highest average Buzz scores between January 1st and December 31st, 2021. The Buzz Improvers chart ranks the brands with the highest increase in Buzz comparing scores in years 2020 and 2021, to be included in the Buzz Improvers list, the variance must be positive.
All Buzz scores listed have been rounded to a single decimal place; however, we have used additional precision to assign ranks.
All brands must be tracked for at least 6 months to be included in the rankings and have been tracked for at least 6 months in the prior year's period (as well as being currently tracked) to appear in the Improvers tables.
Get in touch to know more